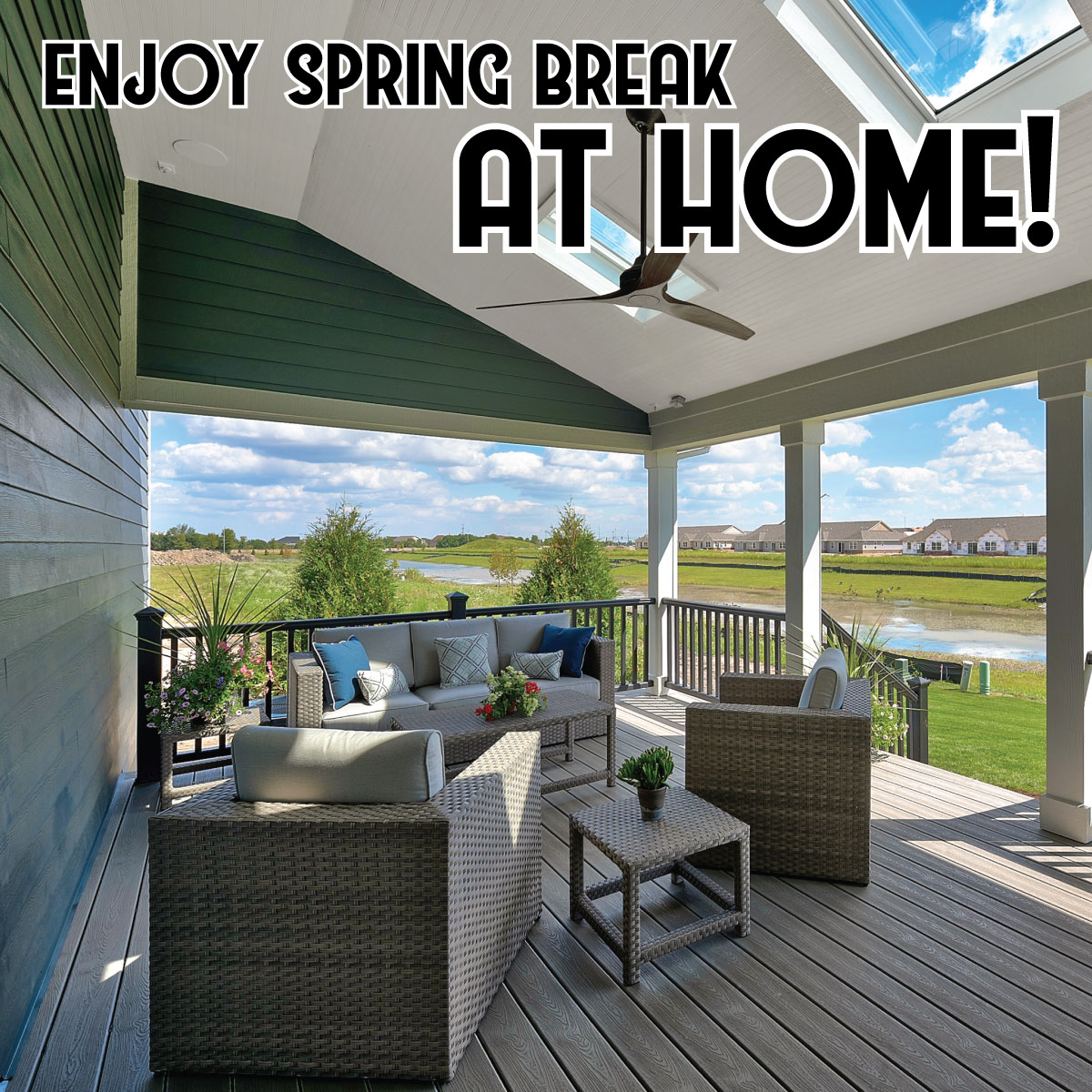 Spending Spring Break at Home
Who said you have to travel to have a good time? Spending spring break at home is cheaper and much less stressful than trying to navigate airports, bus stations, and rental homes. And with the pandemic sticking around longer than we'd hoped, it might be the safer option for your household too. With these tips, it can also be the most fun!
Warm Weather?
Break out the sprinkler and garden hose, it's time for some fun in the sun! Chances are you or your kids have been to a summer camp or school that's held a water day. There is an absurd amount of fun to be had with a couple of buckets and some sponges! Drip, Drip, Drop beats Duck, Duck Goose any day, and relay races can only be improved with water balloons. Water guns? Way better than getting hit with NERF ammo. Like to jump rope? A steady stream from a garden hose makes for a refreshing jump rope alternative.
If it's not quite warm enough to get wet, channel your creative side to cover your driveway or sidewalk with chalk art. Make up your own hopscotch game or draw a makeshift four square court– all you need is a basketball and a handful of players!
Damper Than Expected?
April showers bring May flowers, but they also bring a whole lot of puddles. Gear up and go dance in the rain! Splash through the puddles and enjoy having weather warm enough that the rain won't turn into snow. Then curl up by the fire and enjoy a movie marathon with your family. Missed the homemade bread craze during quarantine? Now is the perfect chance to try your hand at baking. Break out the puzzles and board games and relive the positive aspects of the stay-at-home days. Home spa day, anyone?
Want to Get Out and About?
Head to your local park or playground for a bit of sunshine and fresh air! More the scenery type? Take a drive somewhere you don't often go and take a moment to appreciate the view. Bonus points if you get up to watch the sunrise!
Spring break is also a great time to support local businesses. Go out and explore what your community has to offer!
Thinking of Renovating in Time for Summer?
Excel has got your back! We've been serving the greater Baltimore area since 1998 and are dedicated to quality customer service. We warmly welcome you to reach out to Excel with any questions you may have regarding any fence, deck or remodeling project. You may call us directly at 410-803-9499 or fill out our contact form here and one of Excel's representatives will contact you promptly. We can't wait to get started!