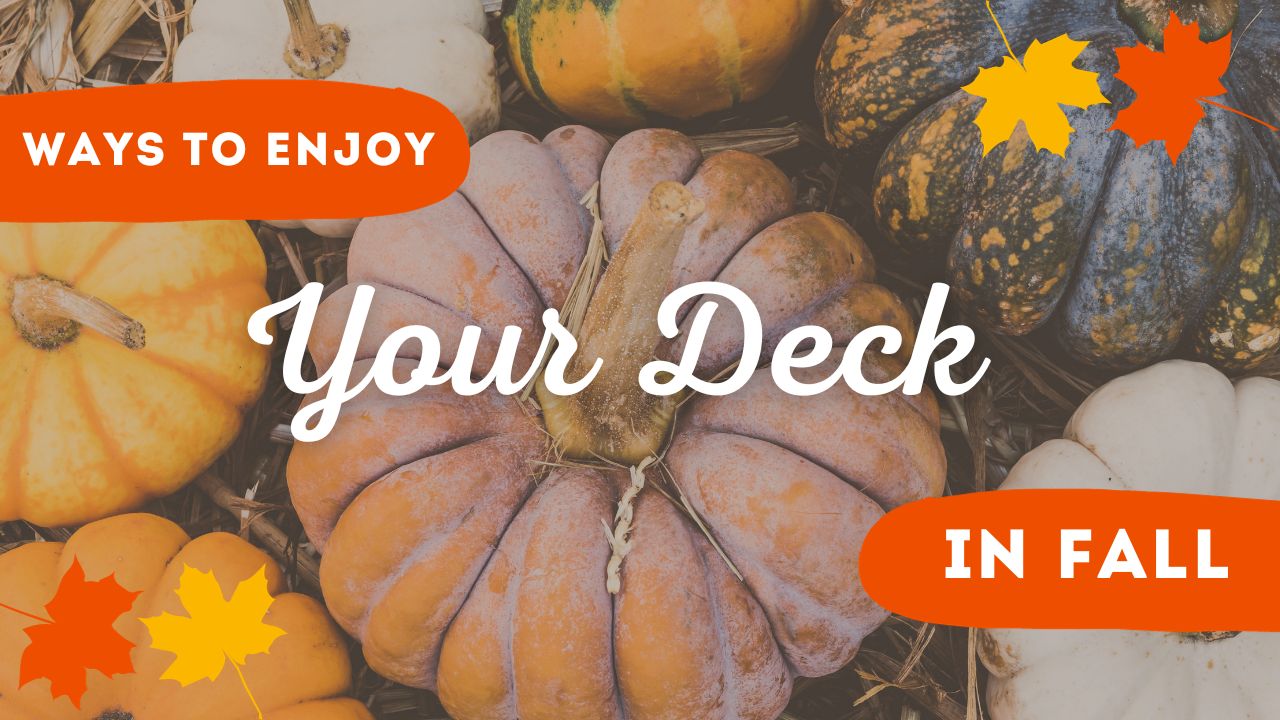 Ways to Enjoy Your Deck in Fall
Pleasant temperatures, bright foliage, and star-lit nights help create a lovely fall evening on the deck. Warm lighting and plants can make it pop even more. Here are some ideas to make your deck shine bright.
Fall Clean Up
When summer transitions to fall, it's time to give your deck a good cleaning.  Complete your annual maintenance tasks. Wash, stain and seal your deck to keep it in top condition. Use a power washer to quickly clean off dirt and debris. A composite deck can be brightened with a gentle power washing.
Fall Deck Furniture
You don't need to pack away all of your summer deck furniture come fall.  Cushions will do okay in cooler weather.  Leave them out, then give them a good cleaning before you pack them away for winter.  Change out furniture in fall with weather-resistant pieces that hold up in cooler weather.
Fall Decorating Ideas
There are several ideas to choose from when it comes to decorating your deck for autumn.
Lighting. It's a good idea to add decorative lights to your deck before the days get shorter.  Fall is perfect for evening activity.  There are many lighting options that will add warmth and glow to your outdoor space.  These include string lights, candles, lanterns and low-voltage lighting.
Greenery.  You can quickly update the look of your deck with greenery. Potted plants and seasonal flowers, like goldenrod and mums will add a pop of color.  Consider planting vines that will crawl up a pergola or lattice.
Fall Colors.  Replace the bright summer hues on your deck with more subdued, earthy tones.  Think cushions, accessories, rugs and carpets.  Popular fall colors include maroons, yellows, reds, oranges and rusts.   A red wagon or rustic wooden crates are perfect for displaying fall pumpkins and gourds. Fall foliage can also add a festive touch.
Make a Rustic Seating Area. Bring your deck or patio down to earth with a few rustic elements.  Set out an old, simple bench.  Add warmth and color with soft blankets, and pillows in plaid or popular fall hues.  A wood trunk can be used as a coffee table.  Everyone will enjoy this cozy space for sitting, chatting and drinking warm cocoa on a chilly evening.
Wreaths and Foliage.  Hang a wreath made of faux leaves in warm colors to add flavor.  Garlands consisting of vibrant fall foliage can add spice to a deck, patio, or doorway.
Cozy Deck Ideas
Here are a few other ideas to make your deck a cozy fall gathering place. A visual focal point is one.  This is a space that encourages people to gather in a particular spot.  It can be a seating area with a coffee table and comfy chairs.  A space with a stylish Chimenea also makes an inviting focal point.   Have a fun zone. Give yourself and your guests a treat with a hot tub or spa. How about a table for carving pumpkins, making crafts, and playing games?  Create cozy areas on a larger deck by pulling furniture together.  Have fun and be creative with your outdoor space.
Let Us Enhance Your Outdoor Oasis
Excel Fencing and Decking is your number one source in the Greater Baltimore Region for your fencing, decking, and interior remodeling needs.  We provide superior service to Cecil, Baltimore, Harford, Howard, and Anne Arundel Counties. Call us directly at 410-803-9499 or fill out our contact form for more information.