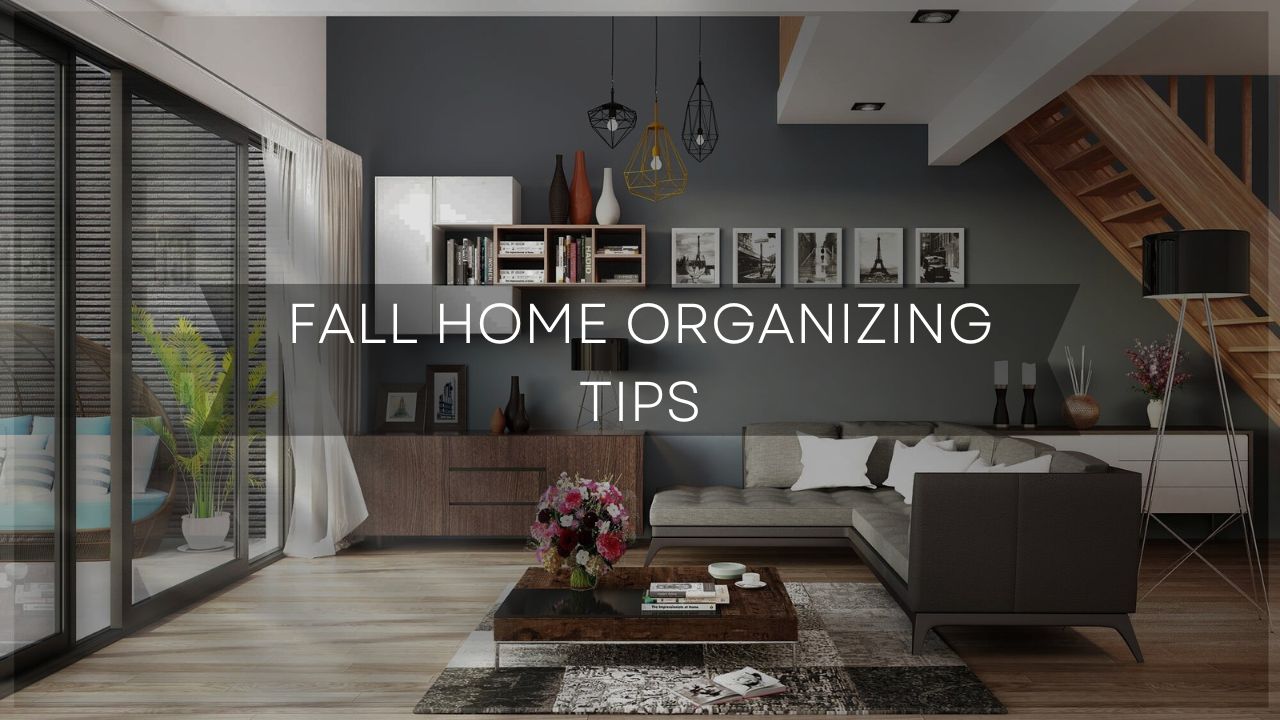 Fall Home Organizing Tips
Fall is well underway and it's a perfect time to get your home cleaned up and organized.  The holidays are coming and you'll likely have family and friends dropping by.  Don't wait until the last minute to tidy up.  Here are some fall home organizing tips and ideas to help get your home in tip-top shape.
Create a Checklist and Schedule
Staying organized and on schedule will make your clean up projects go faster.  Create a checklist with key tasks on it that you want to complete.  Set time aside for each one.  Check them off as you complete them.
Keep track of personal or family events and appointments on a calendar. Put it in the kitchen for everyone to see. Allow writing space for each day of the month to add more items.
Do One Task at Time
Don't take on too much at once.  It will only lead to frustration.  A good rule of thumb is to tackle one room or space at a time.  Pace yourself, set realistic goals, and have a flexible timeline.  Even one or two clean rooms are better than none.  Cleaning up is good for your mental health too. You don't want the extra stress of coping with clutter that's better off being donated or tossed out.
Tidy Up the Closets
You should keep only seasonally appropriate clothing in your main wardrobe closet.  Store the other clothes in bins or hang them in a spare bedroom closet.  Switch out the jackets in your entryway closet to match the current weather.  Don't forget the linen closet.  Heavy bedding and blankets should be replaced with lighter linens in spring.
When the seasons switch, it's also a good time to go through your wardrobe. Donate items you no longer want or wear.  Keep the clothes you truly like that make you happy.  An organized closet will also reduce the chances you'll buy something you forgot you already have.
Attack Kitchen Clutter
Give your kitchen a good cleaning and keep your food and storage areas organized.  Food storage spaces should be decluttered regularly.  Go through the refrigerator and toss anything that's not fresh.  The same goes for the pantry. Set aside food purchases that are still good, but will likely never get used. Donate them to a food bank.
Target Junk Drawers
Dump out the contents of each junk drawer separately in a large space. Have a garbage can and recycling bin nearby.  Go through the items and decide what's worth keeping. The rest can be tossed, recycled or donated.  Consider putting dividers in the drawers for better organization.
Declutter Main Areas
Clutter can add up quickly.  Declutter the main areas of your home.  These include the kitchen, dining and living rooms, the mudroom and the laundry room.   Create storage space with baskets, storage ottomans, drawers or shelves. You can toss blankets and pillows inside when they're not in use.
Store Away Seasonal Decor
When the season changes, put away summer and spring decor. Replace it with items that reflect the current season.  Good storage spots for seasonal items include the attic, garage, and basement. Space can also be set aside in a closet.  Put the decor in plastic bins so they can easily be pulled out later.
Let Us Tackle Your Remodeling Needs
Excel Fencing and Decking is your number one source in the Greater Baltimore Region for your fencing, decking and indoor remodeling needs.  We provide superior service to Cecil, Baltimore, Harford, Howard and Anne Arundel Counties. Call us directly at 410-803-9499 or fill out our contact form for more information.