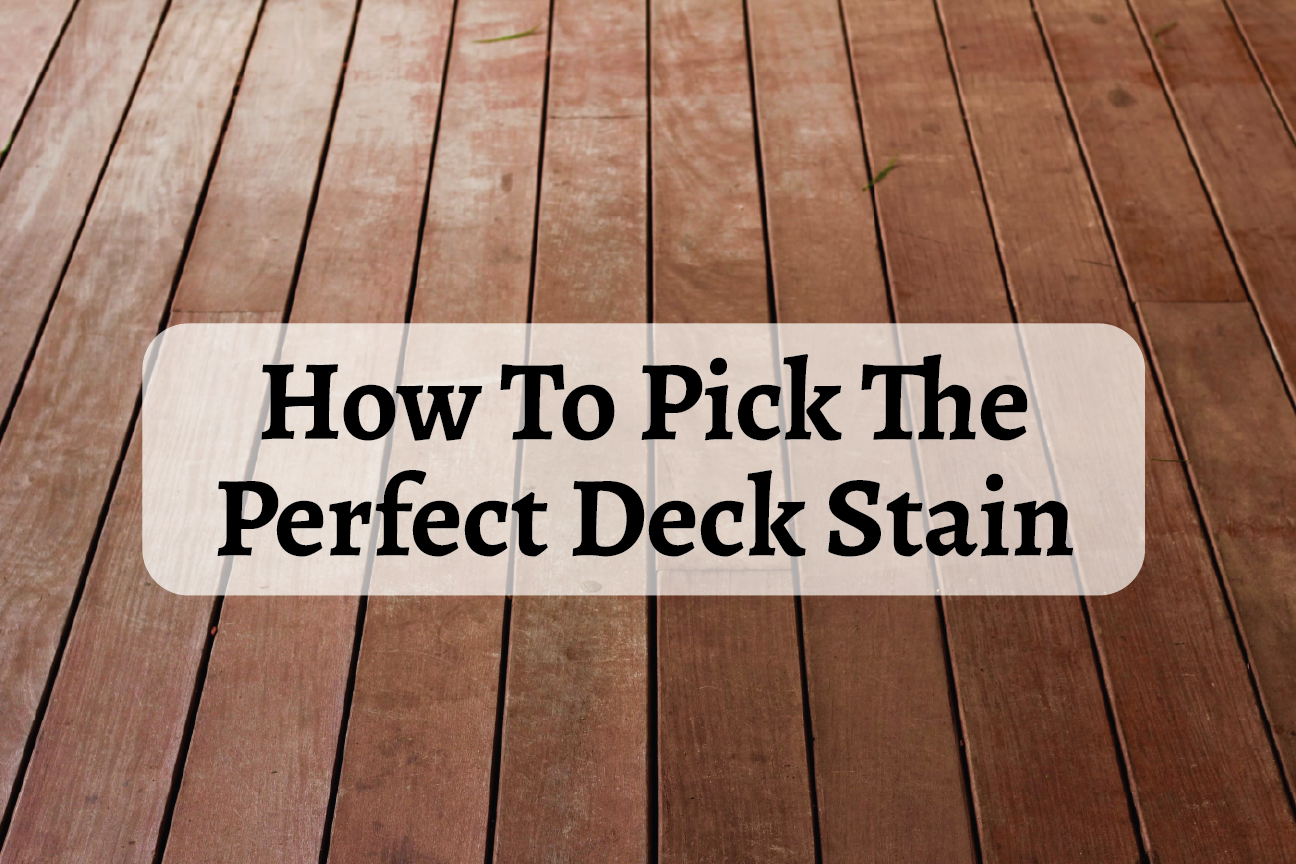 How to Pick the Perfect Deck Stain
The natural beauty of a wooden deck won't last long if you don't take time to re-stain it.  Rain, snow, sunlight, people and pets all contribute to wear and tear.  Here are some tips to help you find the right stain to protect and enhance your outdoor oasis.
When to Restain a Deck
A deck normally needs to have a fresh coat of stain every two to three years.  A coating offers protection and guards against damage from water, rot and mold.  It's time to re-stain the deck if drops of water quickly absorb into the wood. If the water beads on top, the wood will likely last a few more months.  If your deck is starting to show its age, a new coat of stain will perk it up.
How to Pick the Perfect Deck Stain
Remember the color wheel.  Pick out the most dominant color in your backyard. This is usually your home's exterior.  Choose its color complement for a stain.  Deck stain colors range from natural taupes and grays to bold reds and blues.
Know the deck wood type.  Every type of wood has a natural color.  If you don't like it, cover it with a semi-transparent or solid stain.  Use a clear stain to keep the color intact. You can also match the stain to the wood.  For instance, a green-tinted deck stain goes nicely with green-tinted pressed pine.
Test out the stain.  Once you pick out one or two shades, test them out. Try them on a small part of the deck that isn't noticeable.  Use a deck stripper to remove the stain you don't want.  Sanding will make the wood uneven.
Types of Deck Stains
Deck stains come in four opacities. This determines how much wood grain you want to see after your deck is stained.  For newer wood, use clean, transparent or semi-transparent stains.
Clear or natural.  This is best for new or expensive wood. This stain allows you to see the grain.
Tinted.  This stain gives just a hint of color, while allowing the natural wood tone to come through.
Semitransparent.  This opacity level shows the wood grain but has heavier pigmentation.  It's good for older decks where a few boards have been replaced and the color is uneven.
Solid.  This type of stain hides the wood grain. It works well on decks that have permanent marks or other aesthetic damage.  Solid stain also offers higher UV protection for the wood.
Preparing to Stain
There are a few things you need to do to get your deck ready for staining.
Check the forecast.  Make sure there's no rain coming. Wood stain won't adhere well to damp wood and can crack and peel.  Don't stain in direct sunlight.  Pick a time of day when the sun isn't hitting the deck.
Prep the surface. Wash the dirt and stains off the wood. It needs to be clean for the stain to adhere.   Sweep the deck and use a putty knife to clean between the boards.  Use a deck cleaner to clean the wood.
Use synthetic brushes.  These are ideal for working a water-based stain into the wood. Natural bristles are hollow and can go limp as they absorb water.
Apply thin coats of stain.  Use long, thin strokes to stain two or three boards at once.  Thin coats  prevent puddles of stain from forming. They don't soak into the wood and flake off when dry.
Let Us Fix Up Your Outdoor Space
Excel Fencing and Decking is your number one source in the Greater Baltimore Region for your fencing, decking and interior remodeling needs.  We provide superior service to Cecil, Baltimore, Harford, Howard and Anne Arundel Counties. Call us directly at 410-803-9499 or fill out our contact form for more information.