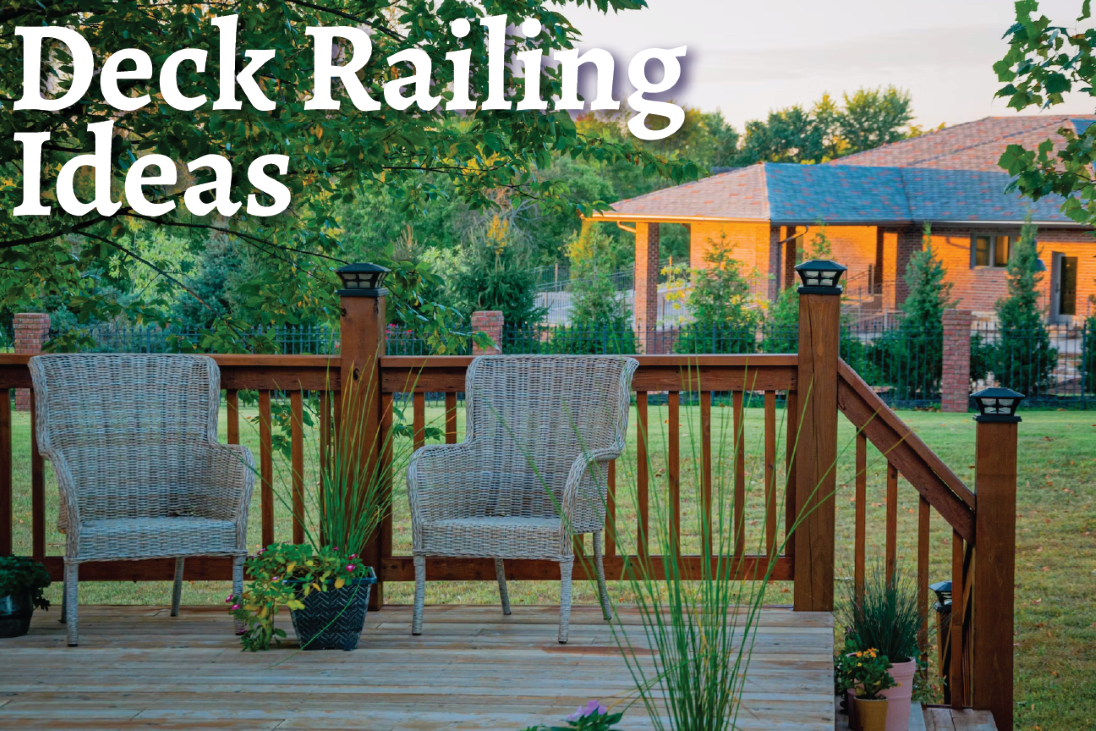 Deck Railing Ideas
Make your deck pop with a deck railing that features design and beauty.  There are many types to choose from to fit your personal taste and needs.  Think rustic, classic, modern, and elaborate.  Deck railings can be made out of wood, aluminum, glass, and even rope. Continue reading for some deck railing ideas.
Deck Railing Designs
Deck railings come in all kinds of patterns and designs. Here are some deck railing designs worth considering.
Rustic is an informal style. Each plank has a random design that looks like it came from the wild.
Craftsman style uses slim lines organized in a vertical pattern that mimics a picket fence.
Sawn baluster features vertical panels with a repeating design linked with a cutout shape in the middle.
Turned baluster uses a cylindrical shape with a series of curves for an elegant, yet traditional look.
Sunburst or fan design features a series of straight lines that bloom out of one spot.
A Rope railing comes in a variety of thickness levels. This design can create a nautical look.
Glass panels add a modern feel. They can be clear, semi-transparent, or come with etching.
Other Unique Design Ideas
Here are a few other deck railing design ideas you can choose from.
Powder-coated aluminum mimics wrought iron, but it isn't heavy or vulnerable to rust.  This style is sophisticated, sturdy, and decorative.  Drink rails have a flat top surface for people to set their drinks on.
Cable railing infills have a simple and sleek design. The slim, horizontal cables are paired with metal posts.
Wood offers a classic look and a nice style.  It's easy to stain wood and cut it into a variety of shapes.
Steel is durable and stylish.  It's sleek and modern and comes in several designs.
Wrought iron comes in classy patterns that offer a fancy look.   The material can be finished and painted in many colors.
There are also maintenance-free deck railing materials on the market that are growing in popularity.
Aluminum is lightweight, yet strong and long-lasting.  It won't rust and can handle bad weather.  Add some shine with a powder coat.
Composite railings and posts are a popular option.  They're made from a blend of wood fibers, and either virgin or recycled plastic, mixed into a paste.  The material resembles wood but is stronger and will last longer.
Vinyl railings don't stain or collect mold easily.  The surface is smooth and easy to clean.
Deck Railing Safety
The main benefit a deck railing provides is safety.  It stops people and pets from falling off the deck. People who are carrying a heavy load can also be steadied by a railing. The same goes for anyone who needs help with their balance.  A gripping material on top of a stair railing can prevent a fall. A deck railing should be at least three feet high.
Ready for a Fresh Look?
If you're in the market for a new deck or a replacement, we can help!  Excel Fencing and Decking is your number one source in the Greater Baltimore Region for your fencing, decking, and interior remodeling needs.  We provide superior service to Cecil, Baltimore, Harford, Howard, and Anne Arundel Counties. Call us directly at 410-803-9499 or fill out our contact form for more information.