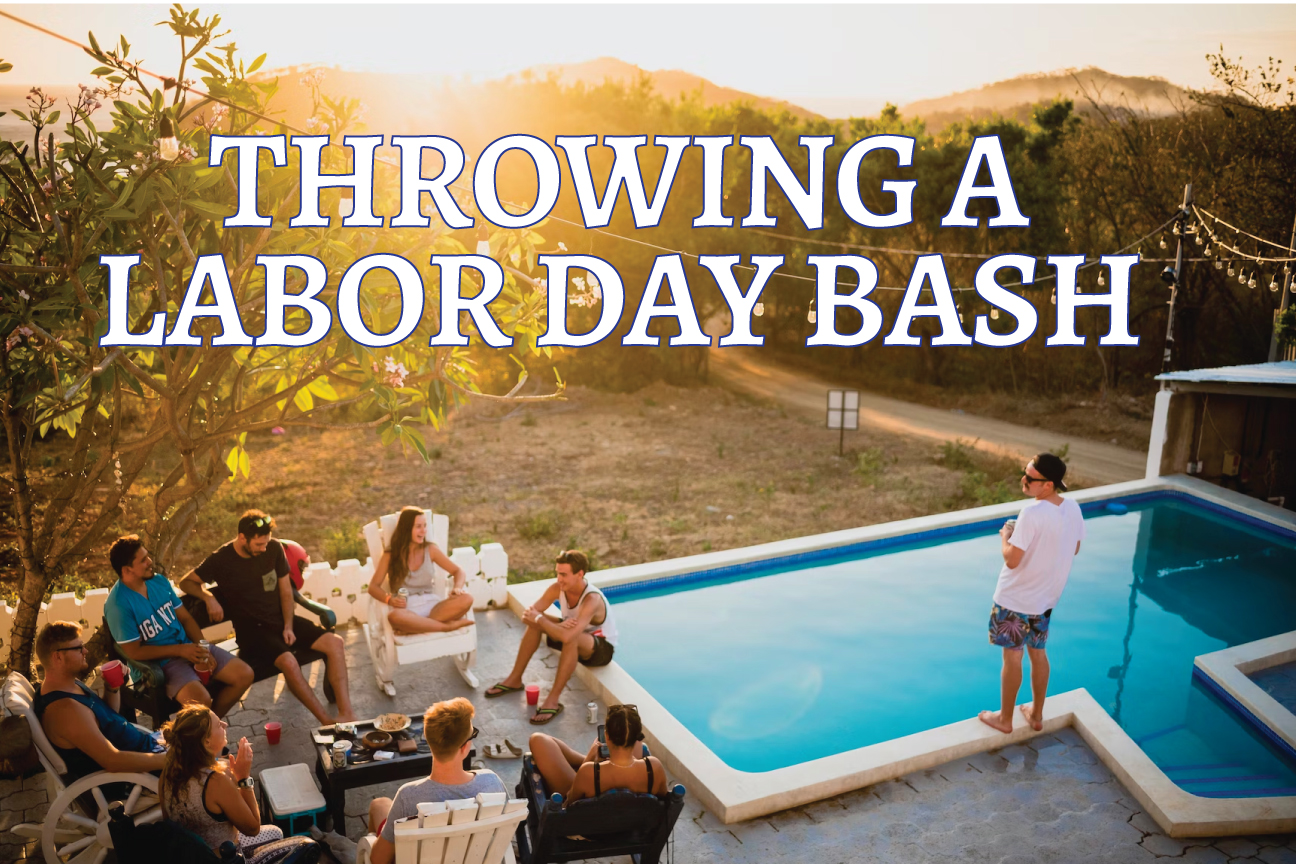 Throwing a Labor Day Bash
A Labor Day bash is a great way to celebrate the end of summer. It's the last weekend before pools close and fall schedules begin. The federal holiday is rooted in the late nineteenth century when activists pushed for a way to recognize the many contributions of America's workforce.  If you are ready to host a backyard celebration, here are some ideas to help make yours a hit.
Labor Day Party Ideas
Party Theme. Picking a party theme is the first order of business.  Themes can feature the traditional red, white and blue; a tropical, nautical, or beach theme, or a wear 'all-white' party.  Invite guests to dress in white since it's a tradition not to wear it after Labor Day.  Put up white decorations to top off the party.
Party Food.  Grilling is the most common choice for this holiday.  Instead of hamburgers and hotdogs, cook up something new. How does grilled Caesar salad or pizza sound?  Fan favorites still include grilled vegetables and corn on the cob. Shish kabobs and pasta salads are popular as well.
Cocktails and Mocktails.  There are plenty of good drink recipes with fresh fruit that you can serve to guests.   Whip up a pina colada, summer sangria, strawberry daiquiri, or classic margarita.  Skip the alcohol if you want to.
Outdoor Games.  Set up fun party games in the backyard. Cornhole and bocce ball are two that will keep guests entertained.  If it's hot out, set up the sprinkler or fill up some water balloons for the kids.
Easy Decor.  Decorate the party area with mason jars. Fill them with fresh flowers, pinwheels, or twinkle lights you can find in a craft store.
Hire Entertainment. If you really want to spice up the party, hire an entertainer or deejay, to serve up some music.  Reggae, Caribbean, jazz, or instrumental can set a relaxing mood.
Labor Day Bash Activities
Show a Movie.  Set up some chairs or pillows, find a screen, and host a movie night under the stars.  Don't forget the candy and the popcorn.
Pool Party.  If you have a backyard pool, a swim party is an ideal way to spend the day.  Fire up the grill, cut up some watermelon, add party snacks, and you're good to go!  Don't forget to play your favorite tunes to add to the atmosphere.
Ice Cream Social.  This favorite dairy treat is a summer classic.  Scoop up a few traditional ice cream flavors like vanilla, strawberry and chocolate.  Offer a wide variety of toppings, including sprinkles, hot fudge, chopped nuts and candy.  Your guests will have a blast!
Low Country Boil.  Celebrate the end of summer with a low country boil.  It's a simple meal to cook up.  You'll only need a big pot of boiling water, Old Bay seasoning, a little salt, and the main ingredients. These can include shrimp, crawfish, corn, potatoes, sausage and onions.  Line the tables with newspapers or picnic-style tablecloths and you're all set.
Have a Picnic.  What better way to celebrate Labor Day than a backyard picnic?  Lay out blankets and throw some pillows on top. Pack a picnic basket filled with your favorite summer foods and drinks and celebrate.
Favorite Labor Day Foods
Grilled ribs, macaroni salad, potato salad, hamburgers, hot dogs, and sweet corn are among the classic Labor Day foods.  If you are having a picnic, a menu featuring sandwiches, fruit, cookies, and potato chips can work well.
Let Us Spruce Up Your Outdoor Space
Excel Fencing and Decking is your number-one source in the Greater Baltimore Region for your fencing, decking and interior remodeling needs.  We provide superior service to Cecil, Baltimore, Harford, Howard, and Anne Arundel Counties. Call us directly at 410-803-9499 or fill out our contact form for more information.