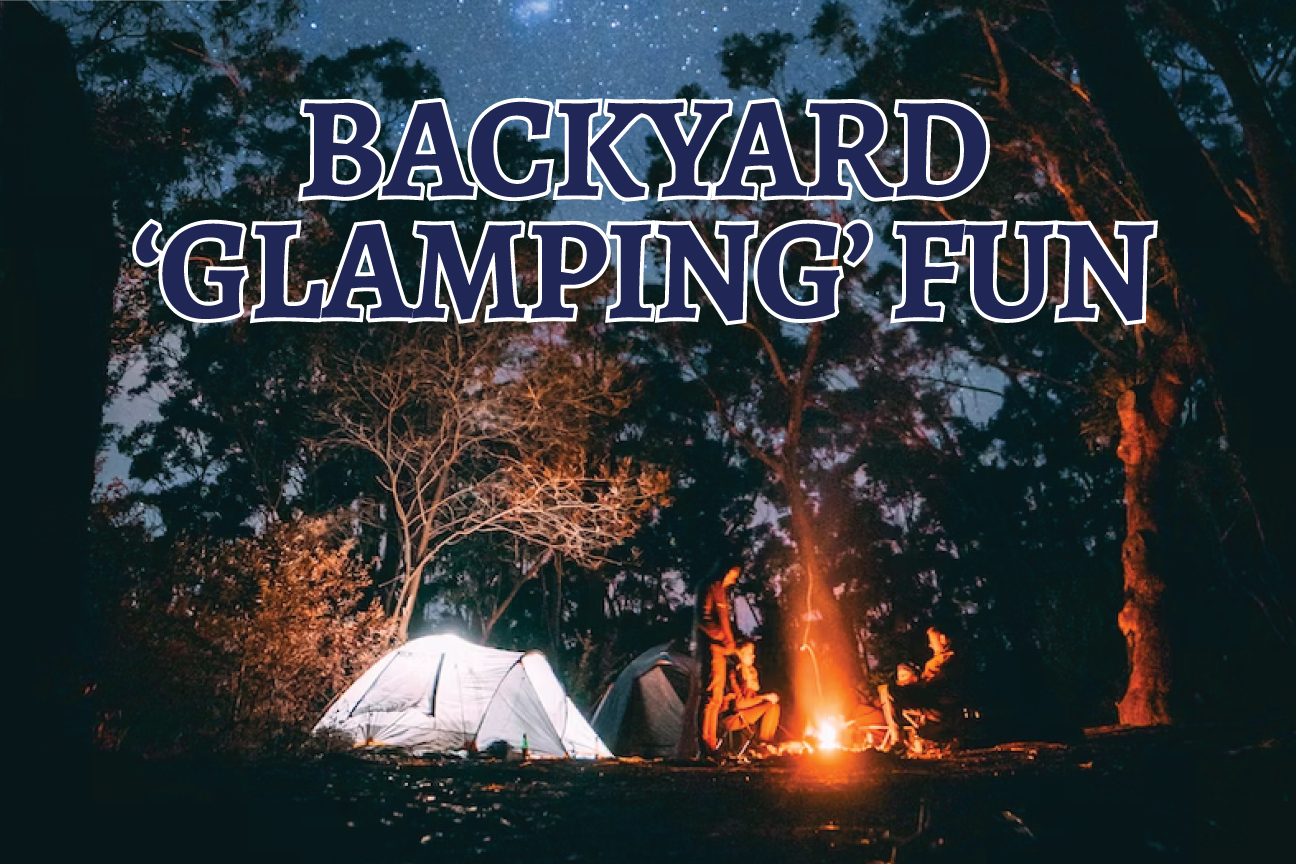 Backyard Glamping Fun
Fall is a perfect time to sleep under the stars.  The temperature cools down and the air is fresh and calming.  If you don't like the woods, backyard glamping may be more your style. Here are some ways to create a great backyard glamping experience in your own backyard.
The Difference between Camping and Glamping
Camping embraces the concept of "roughing it".  It involves a tent, a sleeping bag, and ghost stories around a campfire.  It's a great experience and can bring many memories. Backyard glamping involves bringing some of the comforts of home with you.  You're generally "glamping it up" when you sleep in a camper van or RV, have access to modern entertainment, private bathrooms, air conditioning and fine food.
The Basics of Backyard Glamping
You will need a tent, a bed, a portable kitchen and some basic accessories.
The Tent. Find one that is roomy and will stand up to the outdoor elements.  Pick a light-colored tent made of heavy canvas that can sit in the backyard for weeks. It will keep whatever you have inside dry and ready to use at any time.
Build a wooden platform if you plan to go glamping year-round.  The base will keep the tent warm and ground moisture out.  Use it for seating or a yoga zone when the tent isn't on it.
The Mattress.  A queen size, tri-folding foam mattress will provide lasting comfort.  Make sure it's 4-6 inches thick. A sturdy air mattress can also feel like you're in your own bed.
Bed Linens. Regular cotton sheets with a blanket on top will serve you well.  Grab pillows from your bed at home for maximum comfort.  A wool blanket will take the chill off at night.
Kitchen Essentials.  A camping kitchen consists of cookware and supplies in a large tub or duffle bag.  A camping stove is also a must to cook on.  A two-burner propane stove is a good choice.  If space is limited, try a small backpacking stove and buy fuel at your destination.    Don't forget a cooler to keep food and drinks cold.
Gear and Accessories.    Add some cozy touches to your glamping experience.  Set up a hammock or two for reading and resting.  Put a rug inside your tent. Put up twinkly lights to enjoy and solar path lights to see in the dark.  Tiki torches are fun too.  Don't forget comfy camping chairs to sit on.  Light up some Citronella candles to help keep bugs away.  Picnic blankets are perfect for meals and snacks.
Backyard Glamping Meals
It's a good idea to have classic camping recipes on hand.  Cook up some hot dogs, foil-wrapped burritos, barbequed chicken or grilled pizza.  Serve s'mores or campfire orange cake for dessert.  If you want to get fancy, grill up kabobs or a steak.
There are also very easy one-pot meals you can whip up. Cook them in a skillet, pot or cast-iron dutch oven over a fire, on a grill or camping stove.   A backyard fire pit or chiminea can be used for cooking.
Backyard Glamping Games to Play
There are plenty of games you can play to enhance a glamping experience.  Flashlight tag is a fun version of hide-and-seek.  The person who is "it" tries to tag everyone by shining a light on them and calling out their names.  The game ends when the deed is done.  Two Truths and a Lie is fun to play around the campfire.  One person shares three 'facts' about themselves and players try to guess what's true.  Scare up some Ghost stories to tell after dark.  Board or card games are perfect for competitive folks who want a challenge.
Let Us Spruce Up Your Outdoor Space
Excel Fencing and Decking is your number one source in the Greater Baltimore Region for your fencing, decking and interior remodeling needs.  We provide superior service to Cecil, Baltimore, Harford, Howard and Anne Arundel Counties. Call us directly at 410-803-9499 or fill out our contact form for more information.