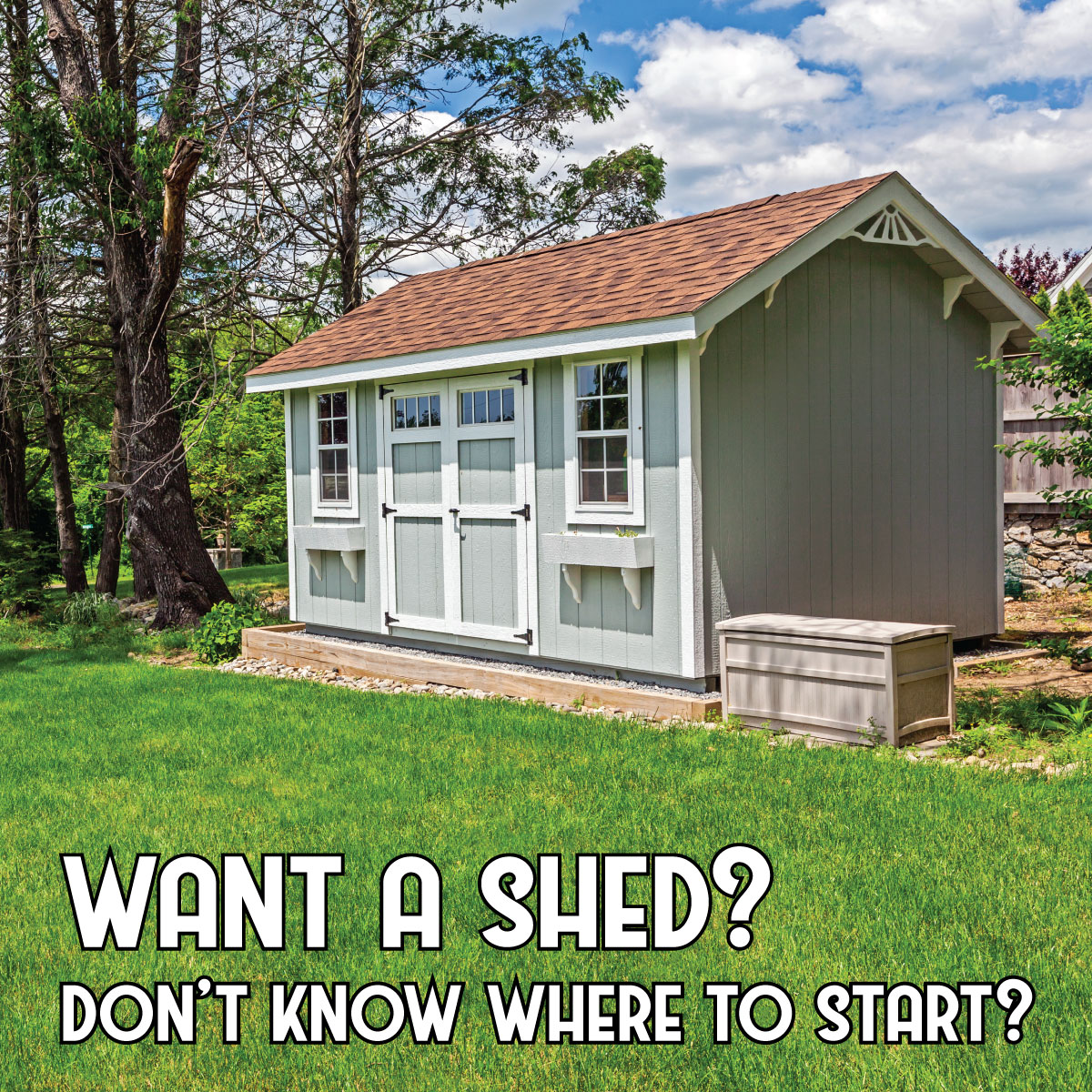 Backyard Shed
Having an outdoor shed to store tools, lawn equipment, and outdoor games is a great addition to any backyard.  If you are ready to build one,  here are some tips to get your started.
How to Build a Backyard Shed
An outdoor shed to store your tools, lawn care equipment or outdoor games can be a great addition to your backyard. If you are ready to move forward and get all of your outdoor stuff into one place, or build a space just for you, here are some tips to help you get started on a backyard shed.
Do Your Research
Consider exactly what you want to use your backyard shed for, what design is most suitable, and how much money you want to spend. Decide what size is best to suit your needs. Don't build a shed that is too small to hold your stuff or so big it looks out of place. Check if you need to get a permit from your local zoning authority and/or homeowners' association to build a new structure on your property.
Get Quality Materials
It may cost more upfront, but in the end high-quality materials will save you money. The siding is your shed's main protection against the elements. It should be water-resistant, durable, visually appealing and low in maintenance. If you are building a wood shed choose cedar, redwood, douglas fir or old cypress. These woods are more durable and weather-resistant. Make sure they are pressure-treated as well so they last.
Pick a Suitable Spot
Build your shed on a stable, level location, and never in a wet, low-lying area or on a downward slope. A proper foundation is crucial. Set the shed slightly off the ground to help drain water and reduce moisture transfer. Make sure your shed has good air flow on all sides. This will allow access for wind and sunlight to help remove moisture and mildew. Put vents on your shed as well to let fresh air in and get stale air out.
Build a Sturdy Door Frame
Make sure the door frame is sturdy and weather-resistant. Use pressure-treated lumber at least two inches thick for your floor frame. Anything less will eventually fall apart from exposure.
Pay Attention to the Roof
Three-tab shingles, architectural shingles, cedar cuts or shakes, and metal are the most common roofing options. The roof is your shed's primary protection against bad weather. Make sure the material you choose is waterproof or at least highly water-resistant. Building a roof with trusses is preferred. It is much easier than framing a roof one rafter at a time. You can build your own trusses or order them from the lumberyard.
Add Special Touches
Dress up your shed with a little design that fits with the architecture of your home. Ideas include a front porch, dormer, barn-style doors, shuttered windows, and decorative trim. Color can also go a long way in adding some pop to your structure. Brackets are a nice addition as well.
Ready to Spruce Up Your Outdoor Space?
Excel is your number one source in the Greater Baltimore Region for all of your fencing and decking needs. We've been in business since 1998 and pride ourselves on customer satisfaction. We never consider the job complete until you're 100% satisfied. For more information or to set up a consultation, call us at 410-803-9499 or fill out one of our contact forms.