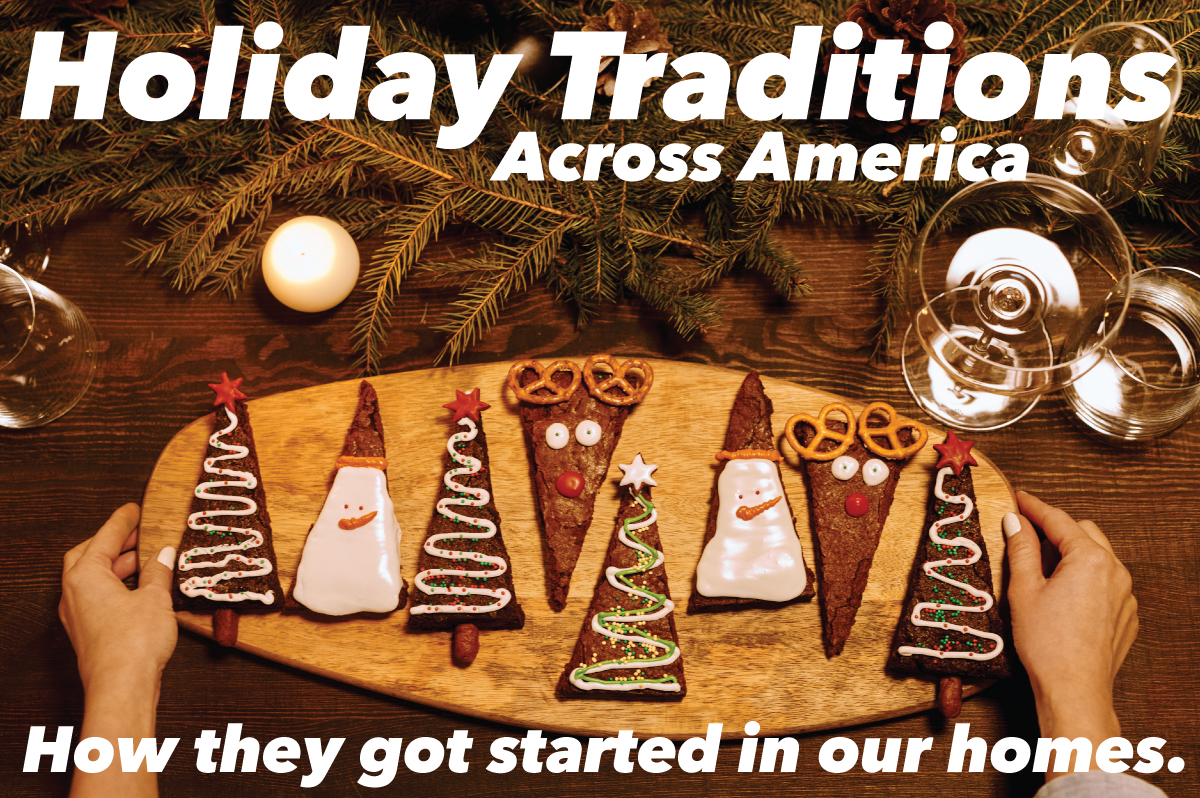 Celebrating Christmas Traditions in America
Holiday Traditions Across America: How they Got Started in Our Homes
When the holidays arrive, we enjoy bountiful meals with family and friends, portray the spirit of giving, and make new memories.  Many of us also decorate for the season, put up a Christmas tree, bake cookies, watch holiday movies and enjoy a warm fire.  Christmas celebrations across America are filled with traditions. Let's take a look at how celebrating Christmas Traditions got started in our homes.
Celebrating Christmas Traditions: The Christmas Tree
Decorated trees date back to Germany in the Middle Ages. Trimming the tree became popular in America in the early 19th century.  A survey by the American Christmas Tree Association shows 75% of U.S. households displayed a Christmas tree during the 2021 season.  Robust consumer demand for trees is expected to continue in 2022. Many families hang a favorite ornament that holds a special meaning for them. We also decorate the tree with lights, tinsel, garland, ornaments and personalized trinkets.
Christmas Movie Binge
Many folks traditionally watch popular holiday movies and TV shows.  Timeless movie classics include "It's a Wonderful Life", "Miracle on 34th Street", and "The Christmas Story".  Cartoons that remain a part of the holidays include "Rudolph the Red-Nosed Reindeer", "A Charlie Brown Christmas", and "Frosty the Snowman".  Modern-day film favorites include "Home Alone", "Elf", " How the Grinch Stole Christmas" and "A Christmas Carol."
Christmas Stockings
The tradition of hanging Christmas stockings has been around for centuries.   It reportedly began when Saint Nicholas, who was staying with a poor family, slipped gold into stockings hung by the fireplace, so the father could afford gifts for his daughters.  Many families today still hang stockings.
Celebrating Christmas Traditions: Hang the Mistletoe
This tradition of hanging mistletoe dates back to the 2nd or 3rd century. Mistletoe was said to have powers that bring good luck to a home.  More commonly, it was used as a sign of love and friendship.  This is how the custom of kissing under the mistletoe began.
Sharing Holiday Meals
Enjoying a delicious meal together is a common holiday tradition celebrated worldwide. It's a time when people come together to create memories and reflect on the year.  Staples that are often part of the Christmas meal include roast turkey, ham or chicken; potatoes, stuffing, and gravy.  People celebrate with their immediate family or invite friends over too.
The Gift Exchange
Gift giving got started after the Three Wise Men offered gold, frankincense, and myrrh to baby Jesus.  Today,  the gift-giving tradition is centered around showing how much we appreciate others and the role they play in our lives.  The time and place of gift exchanges can vary depending on where you live. In Germany, some presents are opened as early as December 5th, right before St. Nicholas Day.  In America, 'Secret Santa' gift exchanges are often used in work environments or clubs.
Sending Christmas Cards
Exchanging greeting cards has become a huge tradition in our culture.  In the U.S. alone, more than two billion Christmas cards are sent annually.  A Victorian entrepreneur commissioned the first Christmas card in the UK in 1843, as he was too busy to write individual greetings to friends.
Celebrating Christmas Traditions: The Christmas Pickle
One unusual tradition, said to have originated in Germany, is the hanging of the Christmas pickle.  Many American households have an ornament designed like a pickle that hangs in the tree.  The first child in the household to find it gets either an extra present or the privilege of opening the first gift on Christmas morning.
Ready to Spruce Up Your Outdoor Space?
Excel Fencing and Decking is your number one source in the Greater Baltimore Region for all of your fencing and decking needs.  We provide superior service to Cecil, Baltimore, Harford, Howard and Anne Arundel Counties.  As a full-service fencing and decking company, we offer the most competitive prices with the highest quality products. Call us directly at 410-803-9499 or fill out our contact form for more information.