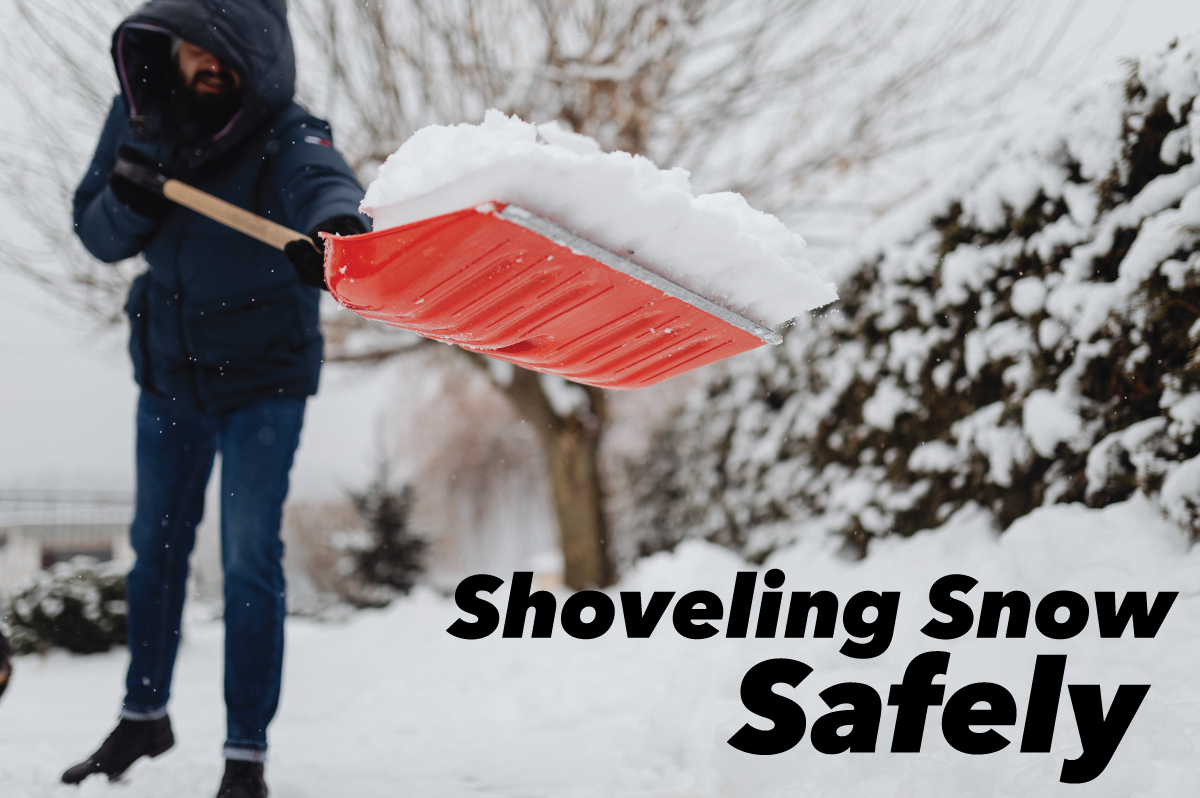 Snow Shoveling Safety
Helpful Tips for Shoveling Snow Safety
It's inevitable. The dreaded "S" word. Yes, when the weather is just cold enough, the first snow will fall in the mid-Atlantic. When it does, out will come the snow shovels, snow blowers, and the man, woman, or kid-power to operate them.  Before you tackle the first snowstorm, here are some snow shoveling safety tips to remember.
Snow Shoveling Safety
Snow shoveling can pose health risks for many people, ranging from back injuries to heart attacks.  According to the American Heart Association, when cold temperatures and physical exertion mix, it increases the workload on the heart.  Follow these steps to increase your chances of staying injury-free.
Before heading out, warm up your muscles by doing light movements. Do some stretching too.
Push the snow with a shovel to reduce strain on your body. If you must lift it, only partially fill the shovel, bend your knees and use your legs.
Choose an ergonomically designed shovel to reduce knee bending or a lightweight-plastic one to lessen the weight load.
Take frequent breaks. Consider doing this every 20-30 minutes. Also, keep up with the snowfall by periodically shoveling during the storm so there will be less work to do.
Drink plenty of water to stay hydrated.
Heart Attack Symptoms
The strain of shoveling snow can lead to heart attacks. Get familiar with the warning signs. They include chest pain or discomfort, lightheadedness, nausea or vomiting; jaw, neck or back pain; discomfort or pain in the arm or shoulder, and shortness of breath.  The most common heart attack symptom in both men and women is chest pain. Women are more likely to experience the other common symptoms listed above. Call 9-1-1 immediately if you experience any warning signs.
Snow Blower Safety
The most common injuries associated with snow blowers are finger injuries, including amputations; back and shoulder strain. If the blower gets clogged with snow, turn it off. Never clean the auger with your fingers.  Always follow the rules when operating a snow blower.
Consumer reports home expert Eric Hado shares some snow blowing tips. He says the best method for clearing driveways is to start in the middle and blow the snow to one edge of the driveway.  Make a U-turn, then come back down the other side. Keep alternating until the job is done.  If your house abuts the driveway, start on the side closest to the house.  That way, the snow won't be thrown onto pavement you've already cleared.
Proceed With Caution
Many people welcome freshly fallen snow as it can be a beautiful site. It is also the perfect excuse to stay curled up indoors or to head outside and play. However, for most grown-ups, it also means shoveling the driveway and sidewalks so we can move about.  Remember to proceed with caution so you and your family stay safe, and can enjoy fun times together.
Ready to Improve Your Outdoor Space?
Excel Fencing and Decking is your number one source in the Greater Baltimore Region for all of your fencing and decking needs.  We provide superior service to Cecil, Baltimore, Harford, Howard and Anne Arundel Counties.  As a full-service fencing and decking company, we offer the most competitive prices with the highest quality products. Call us directly at 410-803-9499 or fill out our contact form for more information.