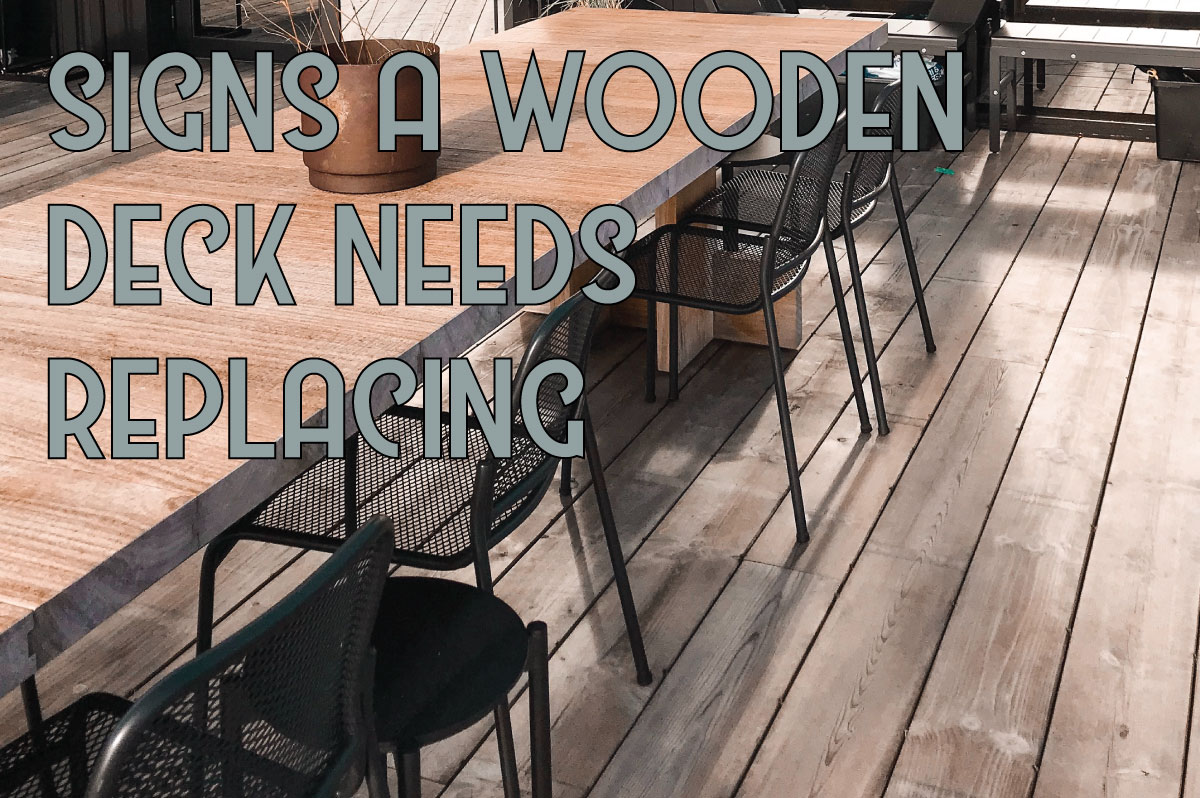 Signs a Wood Deck Needs Replacement
Wooden decks are undoubtedly sturdy and beautiful, but they will need to be replaced before too many years pass. The typical wood deck lasts 10 to 15 years, but there are signs that a Wood Deck Needs Replacement. In contrast, a composite deck can last 20 years or more, while one built out of capped polymer can stick around for at least 50 years.
Signs that it's time to replace a wood deck include noticeable wood damage, loose railings, and missing hardware.
Wood Deck Needs Replacement When Damage is Noticeable
It's likely time for a new deck when you spot missing pieces of wood, deep grooves caused by falling debris, and boards that have bowed.  There may also be rot due to heavy rain, moisture, mold, and mildew.  Wood rot spreads quickly, weakens the structure of your deck, and causes deterioration.   If you see a lot of rotting wood, it's time for a new deck.
Wood Deck Needs Replacement When Railings are Loose
Loose railings can pose safety risks.  If they are wobbly or missing, someone can fall on your property and get hurt.  Several factors contribute to loose railings, including weather and age.
If your railings are wobbly, secure them as soon as possible.
Wood Deck Needs Replacement When Hardware is Missing
Missing hardware could be the reason for loose boards or posts.  Check the base of your deck to make sure none of the screws or fittings are loose, missing, or covered in rust and deteriorating.  This is more likely to happen on older decks.
Wood Deck Needs Replacement When Boards are Bowing
Boards that are lifted or not secured can cause people to trip and hurt themselves.  If you notice wobbly boards as you walk across the deck, trouble may be brewing.  The deck can also be weakened from water damage, rot or pest damage, which can cause the boards to begin bowing.
The Impact of Age
If your deck is old and outdated, it's likely time for a new one or a significant upgrade.  No deck materials last forever.  If yours is showing signs of aging and is over 20 years old, you should start thinking about a deck replacement. How long your wooden deck lasts depends on the type of wood it's made of and how well you maintain it.
What to Consider Before Replacement
If a new deck is on your shopping list, here are some things to consider before you dive in.
Evaluate your home and lifestyle and decide what deck material best fits your needs. Do you prefer the beauty of wood or the low maintenance of composite material?  Find a licensed contractor specializing in exterior projects and can help guide you with materials, design, and colors.  Figure out your budget. Ask your contractor what maintenance is required to ensure your deck lasts.
Ready to Improve Your Outdoor Space?
If your deck needs to be replaced, we can help.  Excel Fencing and Decking is your number-one source in the Greater Baltimore Region for all of your fencing and decking needs.  We provide superior service to Cecil, Baltimore, Harford, Howard, and Anne Arundel Counties. Call us directly at 410-803-9499 or fill out our contact form for more information.