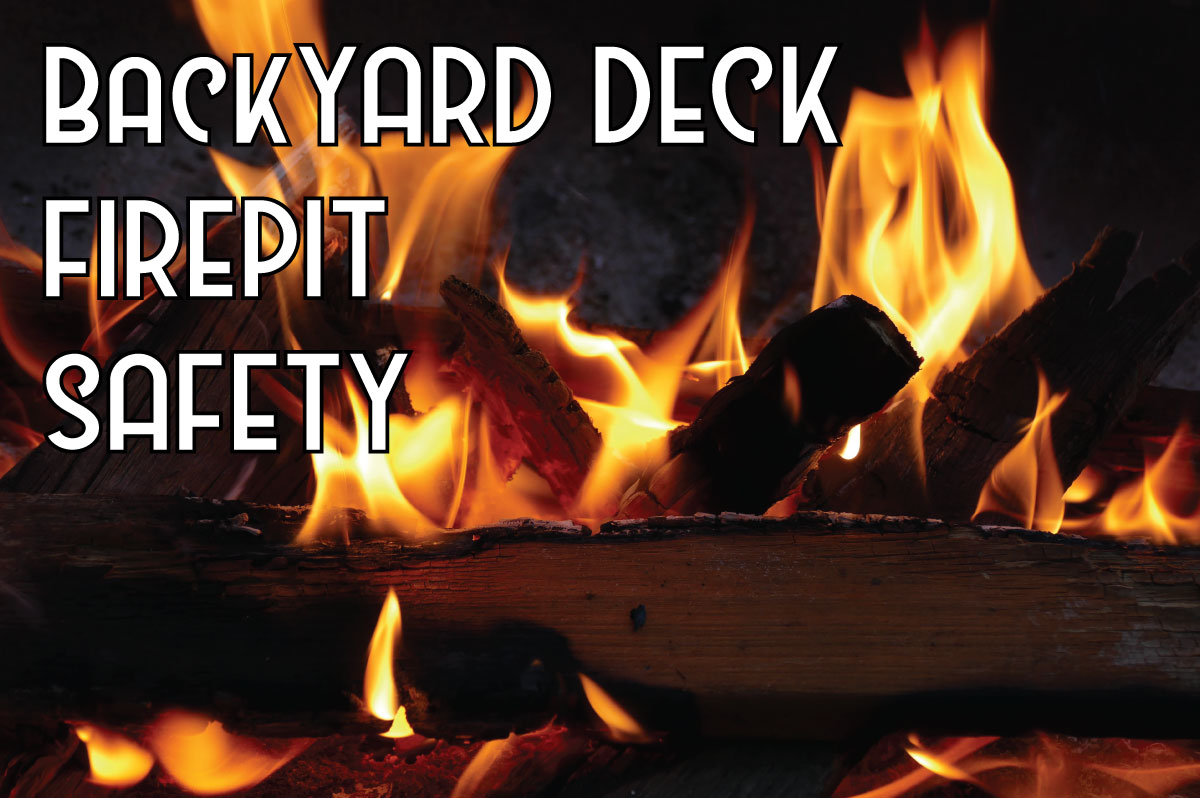 Backyard Deck Fire Pit Safety
Lighting up a fire pit while you enjoy a cool evening outdoors is a perfect way to cap off your day.  However, if you plan to put a firepit on your deck to enjoy the warmth, don't forget Deck Fire Pit Safety. Here are some do's and don'ts for placing a fire pit on your deck.
Deck Friendly Fire Pits
Gas-burning fire pits are ideal for putting on a deck due to their design and the fact that they produce less heat than wood-burning ones.  If you prefer the wood type, there are several portable styles to choose from.  Cast iron or metal fire pits supported on sturdy legs are the best for use on decks.  Don't put a wood-burning fire pit on a deck that attaches to your home.
Deck Fire Pit Safety
Before you go out and buy a fire pit for your deck, there are some key safety guidelines you need to follow.
If you prefer a wood fire pit, make sure it's not close to furniture, overhangs, or any other items that can catch fire.  This includes rugs, hanging plants, flags, and children's toys.  Wind can also catch the flame and blow it toward flammable items.
Never place a fire pit directly on the surface of a deck.  Put a fire pit pad underneath the feet of the stand. These pads protect the deck from gas, embers, or ash.  They are often made of stone, metal, or heat-resistant materials.
Use a mesh screen cover. This will keep sparks and embers from flying out of the fire pit and reaching combustible materials.
Deck Fire Pit Distance Guidelines
Some wood-burning fire pits can emit temperatures exceeding 1,000 degrees F and must be kept far away from the deck's surface.  If not, there is a risk of damage.
A good deck fire pit should have adequate clearance between the main heat source and the wood or composite deck surface it is sitting on.  The typical portable gas fire pit will have about a 4–6-inch clearance, with the heat source 4-6 inches above that.  For a standard wood-burning fire pit bowl, a clearance of at least 8 inches is ideal.
Make sure your fire pit is a safe distance away from the house, especially if your home has vinyl siding.  Industry recommendations call for a minimum of 3 feet of clearance on each side of your fire pit, 6 feet if you have vinyl siding.  Allow at least 8 feet of clearance above your gas fire feature.
Deck Fire Pit Heat & Debris Considerations
Another advantage of a gas pit is that they direct heat from the flame upward and outward.
The intense heat from a wood-burning one is designed to go upward, but much of the heat will radiate downward, causing damage to your deck over time.
Gas fire pits seldom emit material that is harmful to your deck, but be sure to choose the right kind of rocks to prevent any damage.  Stay away from rocks that are water and air permeable.  Only use fire pit rock specifically marked for a fire pit or grill use.
Sparks and hot embers can fly out of wood-burning pits and can cause, at a minimum, cosmetic deck damage.  Keep an eye on the type and quality of the firewood you use.
Important Tip
Make sure to obey the law. If you plan to put a fire pit on your deck, check with your Homeowner's Association and local ordinances for any requirements that need to be followed.
Ready for a Deck Improvement?
Excel Fencing and Decking is your number-one source in the Greater Baltimore Region for all of your fencing and decking needs.  We provide superior service to Cecil, Baltimore, Harford, Howard, and Anne Arundel Counties.  As a full-service fencing and decking company, we offer the most competitive prices with the highest quality products. Call us directly at 410-803-9499 or fill out our contact form for more information.