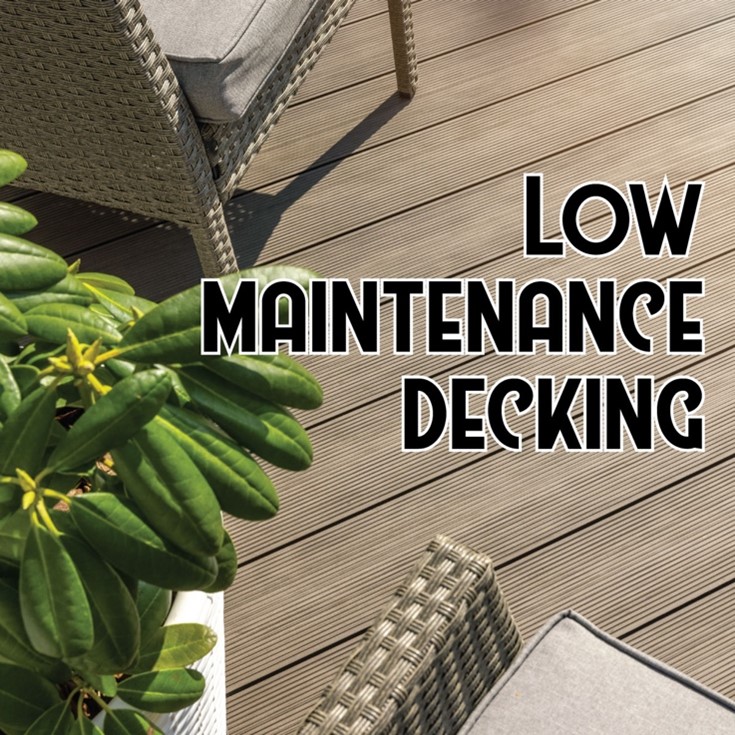 Low Maintenance Decking
Low maintenance decking sounds great, but what does that term actually mean? Here's exactly why we love low maintenance decking!
We love a classic wooden deck, but low maintenance decking is at the top of our list when it comes to deck options. Durable, stylistically flexible, and easy to keep clean, here's why many homeowners are choosing to install low maintenance decking!
What Does "Low Maintenance" Mean?
When we say "low maintenance decking," we're talking about composite or synthetic materials, which are about as hassle-free as you can get when it comes to exterior upkeep! You might have heard the term "maintenance-free" thrown around by other companies, but we prefer to be straight with you– when it comes down to it, there's no magic decking material that requires absolutely no maintenance. But trust us, when we say "low maintenance," we mean it!
You'll likely want to give your deck a quick scrub once or twice a year at most. As with any home exterior feature, your decking is subject to the elements, and will eventually collect some grit, pollen, dirt as the months pass. Luckily, it's pretty easy to remove. Spray the boards with soap– dish soap usually does the trick– and take a soft-bristled brush to the soapy section. Rinse before the sun has a chance to dry the soap and make sure you're getting the dirty water off the deck (otherwise it will dry in place and you'll be back at square one!). It's easiest to scrub your deck in small sections so you don't have to worry about the soap and dirty water drying before you can take care of it. It's as quick and easy as washing your car!
If you're looking for an even more swift deep clean, composite decking can also be power washed. Unlike wood decking, you won't have to worry about restaining or painting, and there's much less risk of damage. Much like the soap and scrub brush method, professional power washing companies will give your deck a pressurized bath using a blend of detergents that target outdoor grit. With low maintenance decking, you always have options!
What Does Synthetic and Composite Decking Look Like?
That's up to you! Composite decking incorporates a mix of natural and synthetic materials to achieve a pleasing aesthetic while also ensuring durability. Composite decking boards are made up of various types of plastic and wood. This results in a strong, durable plank that resembles the natural beauty of wood decking but carries far greater resilience in the face of the elements. Excel is proud to feature premium decking products from Wolf PVC Decking, Azek, and Trex. We'll provide you with a wide range of options, from color to design, so your outdoor vision can come to life!
Ready for a Remodel?
We can help! Our team's expertise extends well beyond the realm of fencing and decking. If you need any interior or exterior home remodeling in or around Baltimore, MD, then Excel is your go-to company. We offer the best in customer service alongside unbeatable prices and top-quality construction materials. Contact us today through our quick online form or give us a call at 410-803-9499 and let the journey with Excel Fencing and Decking begin!