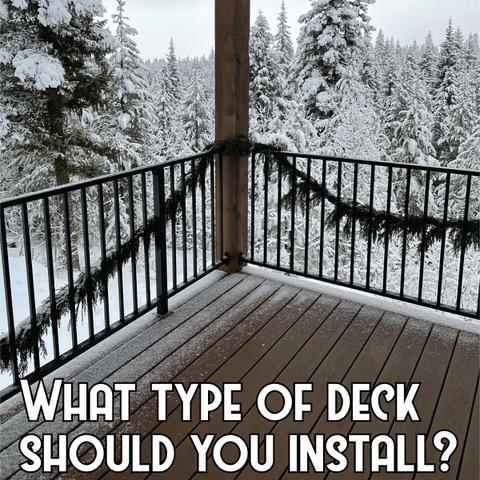 Which Type of Deck to Install ?
Installing a deck is a great way to improve your outdoor living at home. However, there are different types of decks to install, and each has different strengths. In this article, we will go over some common qualities, benefits, and characteristics of different type of deck to install.
Wrap-around deck
This deck can fit a lot of needs. A wraparound deck can allow for lots of extra room and can also allow for a front porch option. This deck wraps all the way around the house and can lead to a further deck in the back. These decks can allow for more shade and sunlight throughout the day and act as an extra room for your house in the warmer months!
Multi-Level deck
If you have a larger house or want some changes in elevation, this may be the deck for you. Whether it be the deck leading to your backyard, an open area, a pool, etc. it can fit many needs. Most consumers that have used this deck have taller houses and are looking for multi-level spaces to expand their homes.
One level Deck:
This type of deck is usually attached to your home. It usually is just attached to the back end of your house and is most often a square shape Some are at a slightly different elevation compared to your home, but most are at the height of your doorways. This is the most common type of deck, allowing for extra living space without a great deal of additional work.
Detached Deck
This type of deck to install is not as common, but it has its benefits over other types. A detached deck is just that: a standalone deck that is apart from the home. Most are installed in a backyard, and some are contained within small garden sections. People like a deck space where they can get away from their home so if that sounds like you, maybe it's time you investigate a detached deck.
For more information on decking techniques and professionals who will install the deck to fit all your needs contact Excel Fencing and Decking at 410-803-9499.