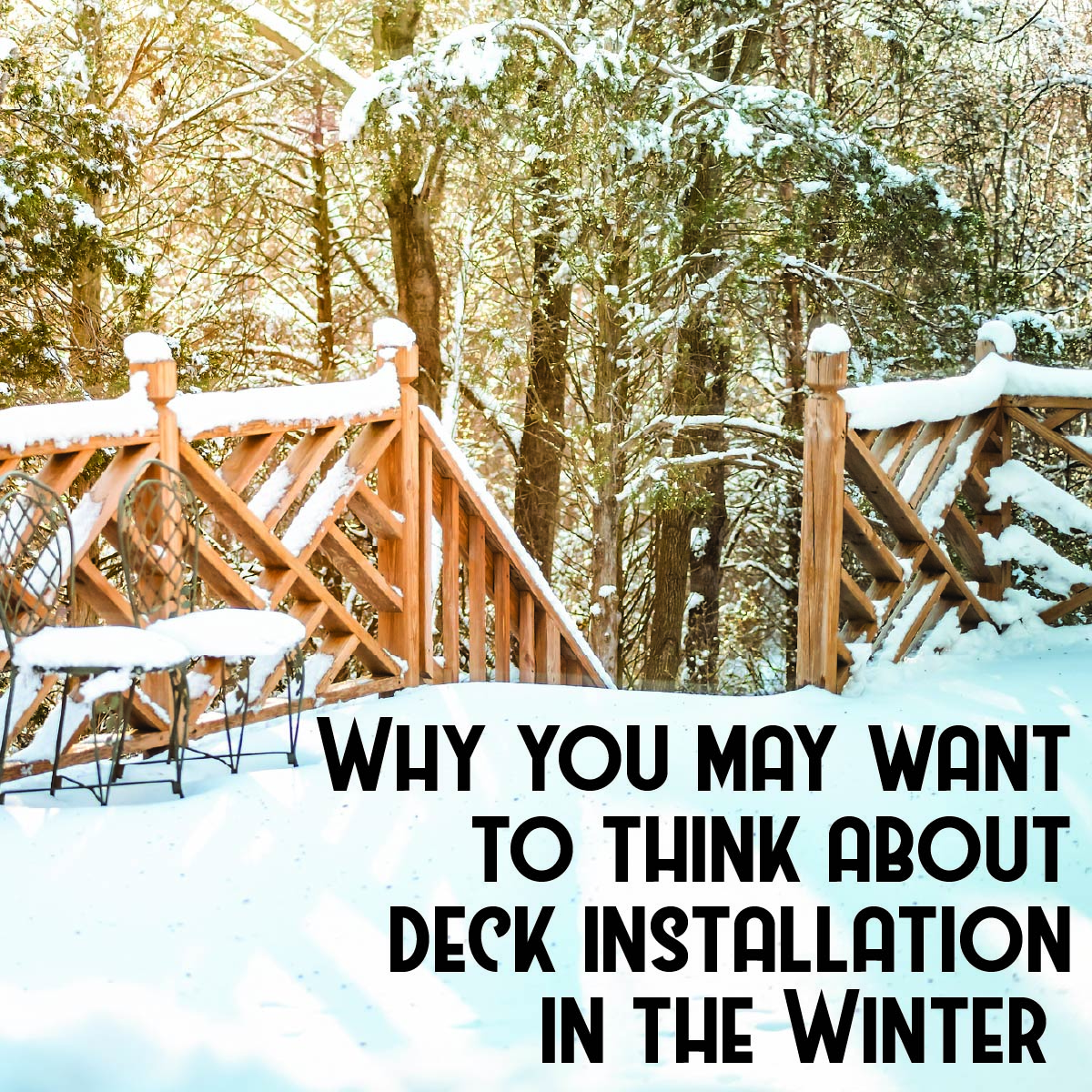 Deck Installation in the Winter
Deck installation is usually reserved for warmer months. However, winter deck installation has its own benefits!
Winter helps prepare a deck
Deck installment in the Winter may be good for you because the upcoming snow, frost, and other weather conditions can help get a deck prepared for these different conditions in the future.  As the deck withstands the elements it's tolerance and strength has been proven and resistances can be more than verified!
During Winter there is little humidity or heat
Winter is a good time for deck installment also because the ground is often dry or frozen. When installing a deck in the spring/summer months, it often causes more damage due to the increased moisture in the ground from rainfall and warmer temperatures. When putting in a deck in the Winter, by the time spring and summer roll around your yard along with your deck will look brand new.
Labor costs may be down as the Winter may be seen as the "offseason" for some deck builders
Many people would not think of the Winter for being a good time to install their new deck. Deck builders are probably used to this drop in sales during this time because of the season. This would be a great opportunity for homeowners to get good labor costs and have exceptional service because these deck builders won't be as busy.
For great deck installment any time of the year contact Excel Fencing and Decking at 410-803-9499. Excel Fencing and Decking is proud to meet the needs of every customer, whether searching for deck designs, a wrap around porch, or repairs to wood decking. Excel is a full-service fencing and decking company working throughout the greater Baltimore area since 1998. Excel carries top brands including Trex, Azek, Shoreline Vinyl Systems, and Wolf PVC Decking. Reach out to Excel with any questions you may have regarding any fence, deck, or remodeling project.