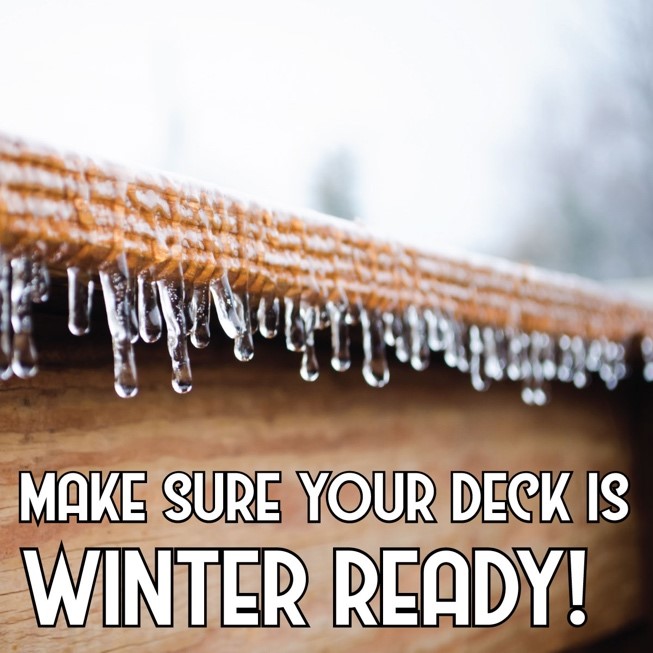 Winter Deck Care
Preparing Your Deck to Survive Winter
As you sit on your deck the last few weeks of fall, soaking in the beautiful weather, make sure your deck is prepared to survive the winter.  Taking winter deck care preventive steps now will keep the deck in prime shape, helping you avoid costly repairs when summer arrives. It seems like a daunting task, but with a little preparation and elbow grease, you can get it done before the chill arrives.
Winter Deck Care Tips
Our decks endured heavy use over the summer months, and ground-in-dirt, food spills and stains are becoming noticeable.  If it's not cleaned up, the mess may cause degradation of the wood.  Weather also plays a role. Wood can turn gray, due to sun exposure, and moisture can cause mold and mildew to grow.  Use a bleach-free cleaner designed for wood to restore your deck and prepare it for a new protective coating.
After cleaning, apply a water-repellent finish to your deck to protect it. Snow, sleet, ice and rain can soak into an unprotected surface and cause splitting, cracking and warping.  There's a wide variety of premium exterior wood finishes on the market to choose from.
Inspect the Deck
Be on the lookout for peeling paint and stain.  If left alone, moisture from the wet winter and spring months may seep into the wood underneath, leaving mold and mildew behind. Replace any boards that have been damaged by water and may be moldy.  If the railing around the deck is loose and wobbly, it needs to be replaced.  Rotting deck posts and joists are more serious issues indicating you may need to have a new deck built.
Remove Outdoor Items
Be sure to wash outdoor tables and chairs and store them for the winter. Also, remove planters, pots and storage containers.  Any items left outdoors can attract moisture, resulting in mildew, decay or discoloration. Thoroughly clean your deck after it is clear, then repair any damage you find.
Sweep the Surface
Regularly sweep the leaves off your deck in autumn, and clear any snow that falls in the winter.  A snow blower is best, but if you prefer shoveling, push snow with the planks to avoid any damage to the wood. Allowing snow and ice to remain on your wooden deck can lead to damage and fading.
Taking the time now to clean up your deck and get it ready for winter will save you from extra stress when the warmer weather returns.  You will be happy you did the prep work so you can once again enjoy summer barbecues and gatherings with ease.
Need a Deck or Fence Redo?
Excel Fencing and Decking is your number one source in the Greater Baltimore Region for all of your fencing and decking needs. As a full-service fencing and decking company, we offer the most competitive prices with the highest quality products. Call us directly at 410-803-9499 or fill out our contact form for more information.