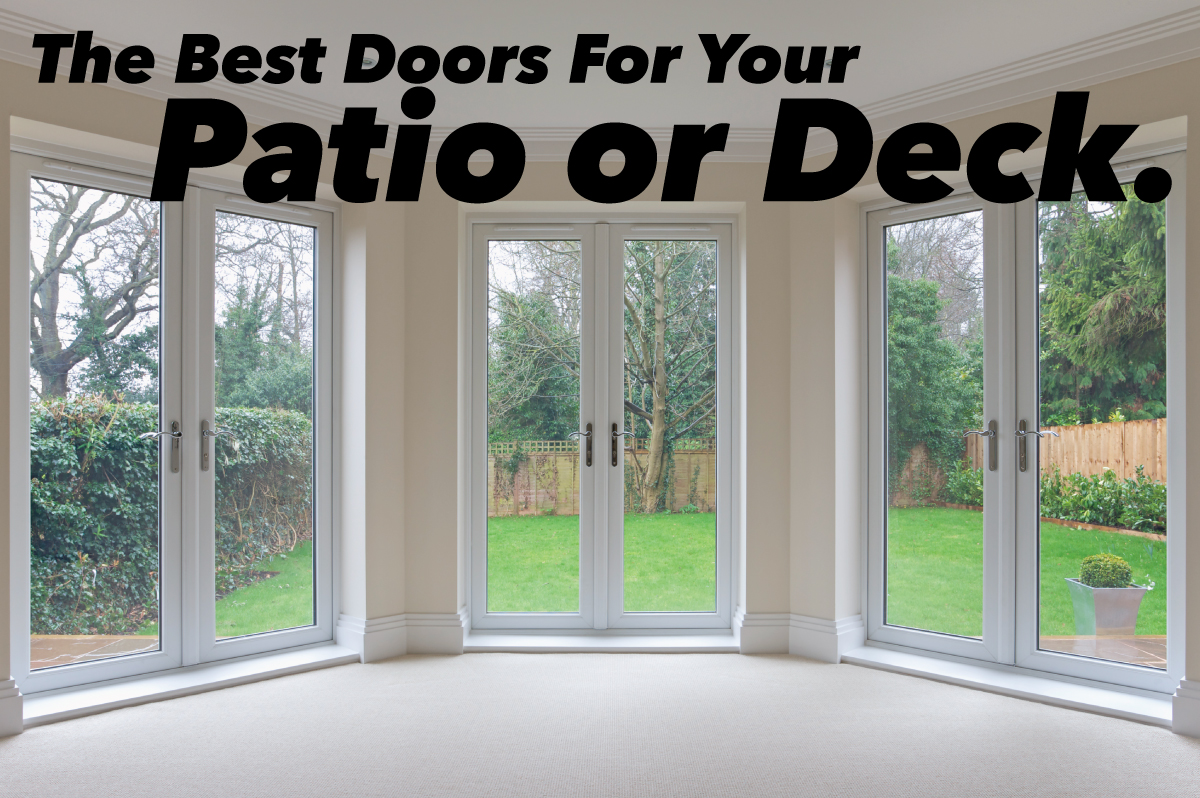 Best Types of Doors for a Deck or Patio
If you are ready to invest in a new door for your deck or patio, here's what to consider to ensure you pick the best doors for a deck or patio.
Sliding glass doors are the most common. Their glass panes sit inside a mental frame that has a track on the top and bottom.  One side is usually fixed in place, while the other side moves. These doors are affordable and easy to operate, and an experienced DIYer can usually install them.
Hinged or French patio doors meet in the middle when closed, and when opened, offer much more space than sliding doors do. Make sure you have a three-foot space for them to swing. The wide opening comes in handy when you are moving large furniture in or out. These doors usually come in a pair and are attached to opposite sides of the door frame with hinges.
Bifold doors have up to eight panels that fold to the side, accordion style.  They have a very large opening, but need space to swing open.  These doors offer a wide, unobstructed view when open, but multiple frames break up that view when closed.
How to Choose the Best Doors for a Deck or Patio
When it comes time to select a patio door, keep these considerations in mind. For hinged doors, you need enough space for them to swing open, and not bump nearby furniture.  For scenic views, consider a door with large, uninterrupted panes of glass.  Make sure the door you pick matches the style of the rest of your home.  Consider the price of the door and the cost to install it.
Types of Frame Materials
While most manufacturers make patio doors with glass panes, there are other materials to choose from for the frames.
Wood is attractive, low maintenance and generally durable. However, wood can be damaged by water and swelling over time due to temperature variations.
Vinyl is highly resistant to rapid temperature changes and is energy efficient. Vinyl doors are less expensive than other materials, but are not as durable.
Aluminum is solid, low-maintenance and resistant to corrosion and rusting.  The lightweight material is ideal for sliding patio doors.  However, metal isn't a good insulator and can lead to higher heating and cooling bills.
Steel is the most durable option for a patio door. It can withstand harsh weather and extreme temperatures, but has a low level of energy efficiency. Homeowners may also need to give them a regular paint job to prevent rusting.
Fiberglass is a lightweight material that won't warp or fade in harsh weather or rapid changes in temperature.  Fiberglass is an ideal choice for energy-efficiency.
What is Energy Efficiency?
Patio doors that are more energy efficient offer better insulation.  Warm air stays inside in the winter and cool air stays indoors in the summer.
Solid wood is a better insulator than metal.  Many sliding glass doors have two panes to glass to ensure better insulation.  Look for the Energy Star logo on products to ensure they are highly energy efficient.
Ready for a New Look?
Excel Fencing and Decking is your number one source in the Greater Baltimore Region for all of your fencing and decking needs.  We provide superior service to Cecil, Baltimore, Harford, Howard and Anne Arundel Counties.  As a full-service fencing and decking company, we offer the most competitive prices with the highest quality products. Call us directly at 410-803-9499 or fill out our contact form for more information.