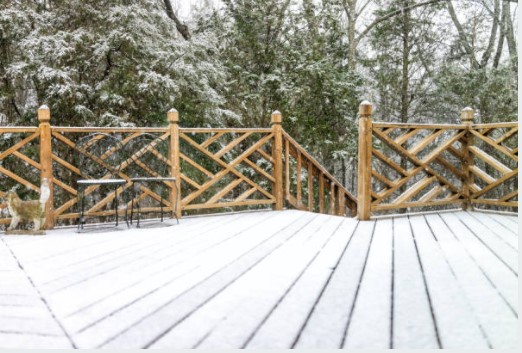 How to Prepare Your Deck for Winter Weather
Winter's coming early to
Maryland
! After the wettest year on record, we honestly can't say we're surprised. If you haven't already done so, now's the time for you to get ready to prepare deck for winter weather ahead. By following these steps, you'll keep your deck strong and sturdy for whatever the season holds.
Step 1: Clean Up
It's officially time to put away all those outdoor entertaining pieces you won't be using as much over the next couple of months. By storing your grill, furniture, and any other pieces not secured to your deck, you're doing double duty when it comes to protection. Not only are you preserving the furnishes
(which
aren't really made to withstand snow, ice, etc.), but you're also protecting your deck! Although it's hard to believe, we often get the most moisture during winter. So, problems with rust, mold, and mildew only will only increase soon. Furthermore, you don't want to leave these items outside to get blown about during a winter storm—potentially
scratching
your deck in the process. Once you have everything safely stored, you can move on to the next part.
Step 2: Repair & Seal
With a clear deck, you can fully inspect the area for potential damage. If you note any rotted or
warped boards
now, it's best to replace them now before winter makes them worse. We also recommend a thorough cleaning before it gets too cold, so the dirt, grime, mold, mildew, etc. doesn't have the chance to really set in. After this, the most important thing you can do is properly seal your deck! When it comes to extending the life of your boards, this step is essential. Whether you're a DIYer or want professional assistance, it's important to act fast. We usually need a couple of consecutive dry days to allow the sealant to become effective. This year, that's been hard to come by! But, just know if you need quick, efficient help repairing or
maintaining your deck
, our team is ready!
Taking precautions against winter weather is one thing, but when it actually arrives, there's still plenty to do. The main thing is to try to keep your deck as clear as possible. Allowing too much snow and ice to accumulate can put additional weight
(and
additional strain) on the structure. But we caution you again using rock salt or other chemical fixes. Even with a new layer of sealant, these compounds can cause damage to your deck. Especially when you have natural wood boards. Instead, try to come out and sweep the snow off at regular intervals. Yes, we said sweep, as opposed to shovel, since that tool can leave large scratches or grooves behind. Instead, a large push broom will be your best option. So, if you stay on top of it, keeping your deck clear should take no more than a couple of quick sweeps every hour.
Taking the time to prepare your deck now will make
preserving
it through winter so much easier! These tips are
necessary
for natural wood decks, but they can really apply to any type of material. Hopefully, you won't have to use this
snow removal
technique too much this year, but regardless of what the weather brings, stay safe and warm this season!