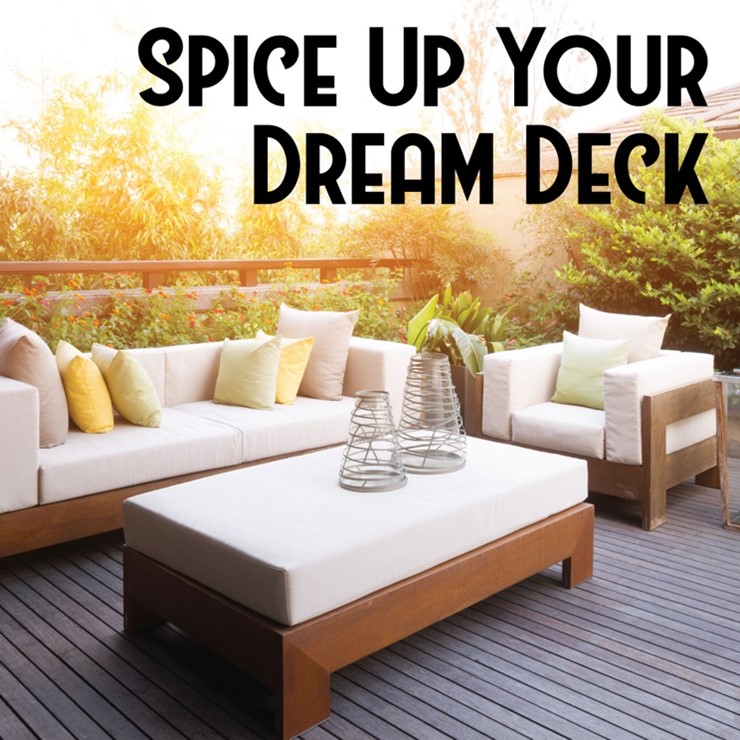 Deck Design
We've worked on a lot of decking projects over the years, so we know first hand that there are tons of cool features you can use to spice up your dream deck design!
Dreaming of your own backyard oasis? Planning to update your old deck? We've got some inspiration for you! Spice up your dream deck sketches with a few design features that will turn your backyard into your favorite spot to relax at home.
Layers and Levels
Give your deck a lovely layered look by playing around with levels and stairs. Begin with a small open area around your back door and grow your levels from there, bridging each widening space with one or two graceful steps. Place your lawn furniture accordingly, creating several "rooms" to eat, play, and relax in as you look out over your property. Your backyard will never have seemed so spacious!
Deck Design with Pillars and Pergolas
For the perfect finishing touch on a wide, flat space, add a pergola or set of elegant pillars and a canopy. Pergolas come in all shapes and sizes, so you'll be sure to find one to fit your vision and deck design. They're aesthetically attractive and useful, adding an extra layer of protection between you and the elements. Plus, they look lovely draped in fairy lights or greenery!
To Rail Or Not To Rail
The decision of whether or not to trim your deck with a railing largely defines the space. Adding strong posts and graceful rails can pull your whole look together, and choosing to go without leaves your deck feeling more open and spacious than ever. Of course, some decks make the choice easy– you'll certainly want a railing if yours is ten feet off the ground– but for those that sit just a step or two away from the grass, you'll be able to choose between an elegant railing or a wider, more open set of steps.
Deck Design with a Firepit
No matter the season, fire pits are a design feature you won't regret. Whether yours is a simple circle of stone masonry to roast marshmallows over or more closely resembles a brick pizza oven, a firepit is the perfect place to gather in the evenings. Throw in some comfy lounge chairs, cushions, or even a few wide logs for group seating and you're set!
Growing Greenery
Take advantage of the great outdoors and incorporate some greenery into your deck. Use your railing to support climbing roses or include some latticework for the complete springtime effect! Don't want to displace the small tree or two growing where your deck will be? Include an open square a couple feet wide to allow it to grow and provide natural shade. Just make sure to keep it trimmed!
Ready for a Remodel?
We can help! Our team's expertise extends well beyond the realm of fencing and decking. If you need any interior or exterior home remodeling in or around Baltimore, MD, then Excel is your go-to company. We offer the best in customer service alongside unbeatable prices and top-quality construction materials. Contact us today through our quick online form or give us a call at 410-803-9499 and let the journey with Excel Fencing and Decking begin!