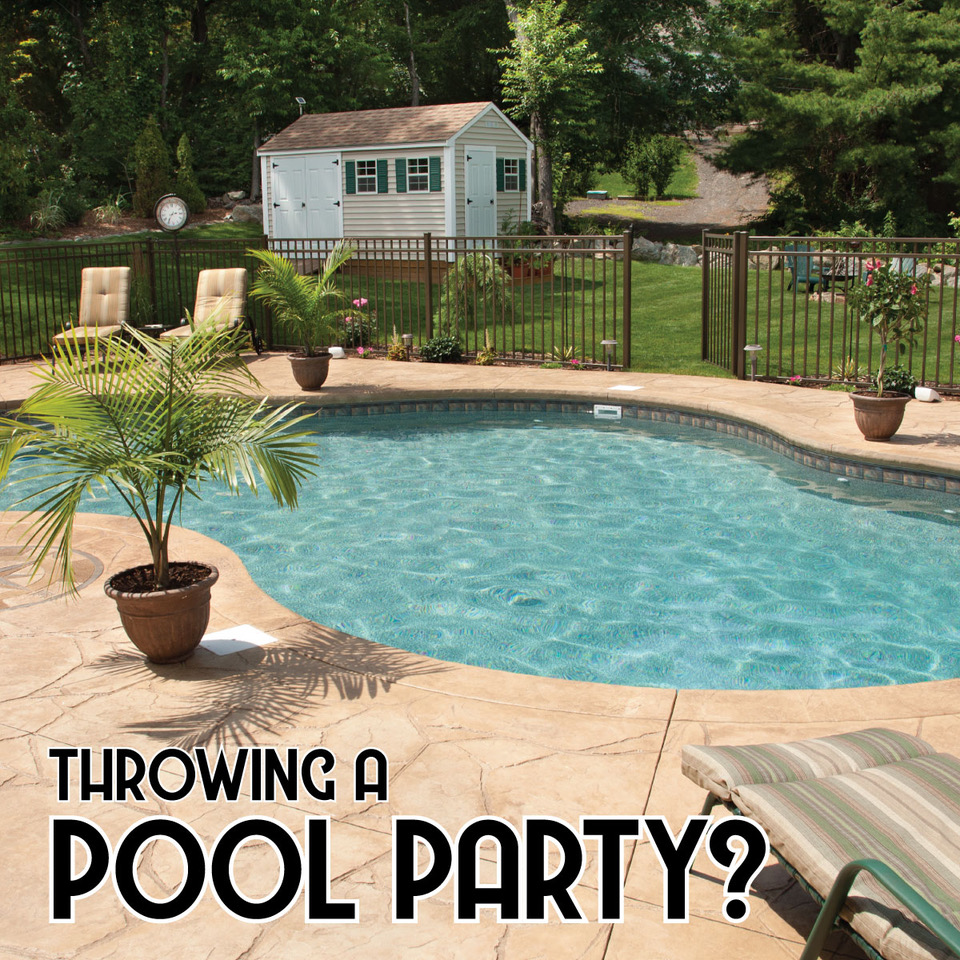 Pool Fence
Cannonball! The days are long, and the sun is hot, so it's time to uncover the pool again. If you've just had a beautiful new pool fence installed to compliment your pool deck or patio, you're in luck– there are so many fun ways to decorate for your next pool party bash. Here are a few theme ideas when decorating your pool fence this summer!
Beach Party
You have the sunscreen, the swimming, and the beach chairs– all that's missing is the inescapable grit of sand! Enjoy the sunshine and "waves" without worrying about the surf reaching your beach bag and decorate with cutouts of beach balls, surfboards, coconuts, and the like. Add some faux-tiki torches to your fence posts and hang out long after the sun sets. Just don't forget the tiny umbrella drinks!
Some Enchanted Evening
Create a lovely and relaxing atmosphere with twinkling string lights at sunset. Add some battery-powered or scented tea candles and watch the flames flicker like fireflies as the stars emerge above your head. Use colored cloths to cover outdoor tables or drape them over the fencing for more color and cohesiveness. Sit back and enjoy your enchanted evening!
Under the Sea 
Got a birthday party to plan for? Go under the sea with clear beach ball "bubbles" and cardboard cutouts of sea creatures to hang about. Green streamers double as seaweed and are easy to tape up or wind around railings. When in doubt, go with blue, green, and white for any tablecloths, additional streamers, or balloons. Drop diving toys shaped like bits of coral or fish to the bottom of the pool for young guests to find. "Scuba" masks or snorkeling gear is a bonus!
A Magnificent Garden Party
If you're fortunate enough to own a pool with a stone border, a garden party or forest theme might be just right for you! Turn your pool area into a quiet pond or woodsy pool with plenty of flowers and plants. Weave false vines through your fence's slats or rails and find rubber "lily pads" to float on the water's surface. Bonus points if your plant decorations are enough to provide extra shade from the hot sun!
Ready for a Remodel?
We can help! Our team's expertise extends well beyond the realm of fencing and decking. If you need any interior or exterior home remodeling in or around Baltimore, MD, then Excel is your go-to company. We offer the best in customer service alongside unbeatable prices and top-quality construction materials. Contact us today through our quick online form or give us a call at 410-803-9499 and let the journey with Excel Fencing and Decking begin!