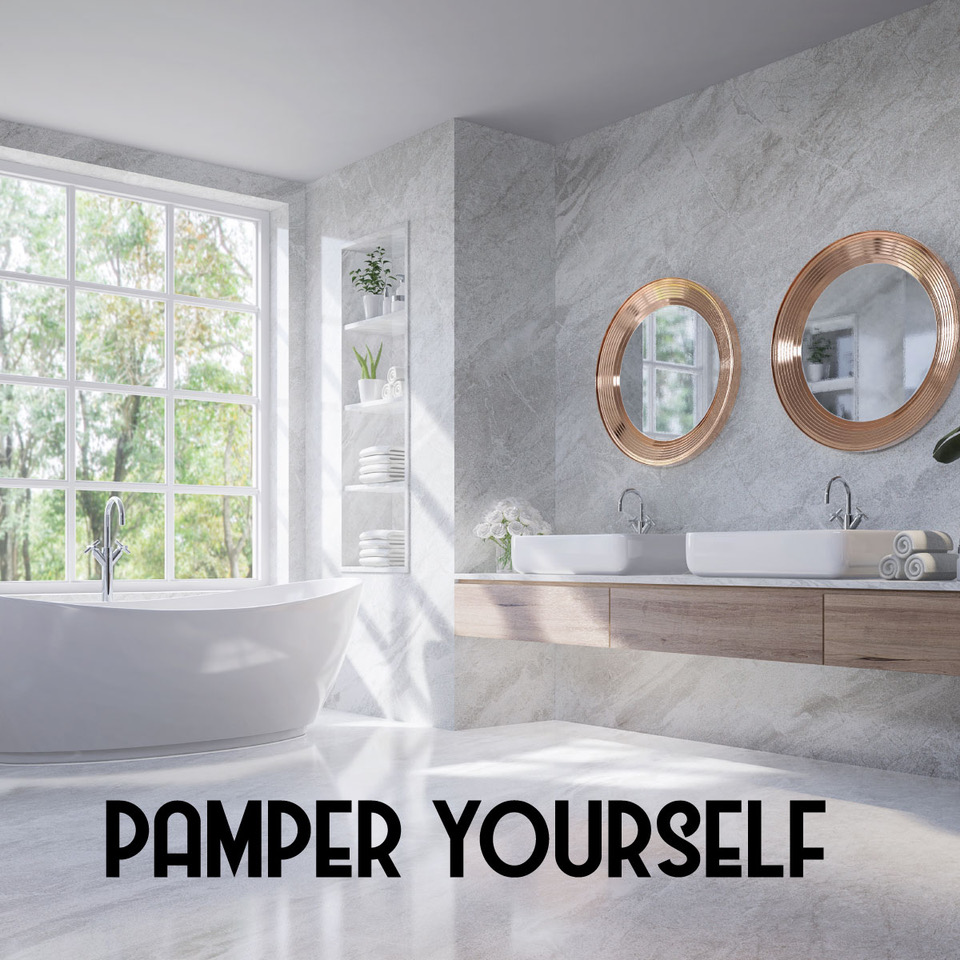 Remodel
Who doesn't love a little self-care? The most necessary room in your home doesn't have to be the most spartan. From powder rooms to full baths, a bathroom remodel can go a long way in shaping your home into an escape from life's stressors.
Squeaky Clean
Whether you like to start your morning off with a quick scrub or relax in the tub after a long day, your shower and/or bathtub are a key aspect of any full bath. The smallest changes can make a world of difference. Consider adding a new showerhead for better water pressure and more settings, or replace your plastic shower curtain with a sleek glass door. Want to add a touch of elegance? Transform your tub and showerhead combo into a walk-in shower complete with tiled floors and walls. Did you know that you can remodel a bathroom by reglazing or refinishing a tub or shower? Use the extra room to add a luxurious bathtub wide enough to soak in and go for the full 5-star spa atmosphere. Throw in a few fluffy towels and some aromatherapy and you're golden!
Vanities Aren't Vain
Planning to move in with your partner? Congratulations and best wishes! Welcome them home with a brand-new double vanity. With plenty of space for two, take the opportunity to add an extra-wide mirror with a frame that compliments your bathroom décor. Nothing says domestic tranquility like brushing your teeth side by side without jostling elbows. Celebrate taking the next step with fun couples' touches like matching towels or even toothbrush holders. Do you rise and shine at a different time than your partner? Hang a small chalkboard on the door or grab an erasable window marker for the mirror to leave a sweet or funny message to start their day off right.
Redo the Floors
Water damage is no joke, but proper plumbing and flooring should keep your home safe from bathtub splashes. Depending on the material, floors can take a beating in a room that's constantly steaming up, especially if your shower doors have a tendency to leak. If your bathroom floor has been a bit grungier or more warped than you'd like for as long as you can remember, it's probably time for a change. Retile your floors in beautiful colors or patterns to evoke memories from your honeymoon to Greece or choose a simple creamy white with soft throw rugs your toes can sink into. No one wants to step onto a cold floor first thing on a winter morning!
Ready for a Remodel?
We can help! Our team's expertise extends well beyond the realm of fencing and decking. If you need any home remodeling in or around Baltimore, MD, then Excel is your go-to company. We offer the best in customer service alongside unbeatable prices and top-quality construction materials. Contact us today through our quick online form or give us a call at 410-803-9499 and let the journey with Excel Fencing and Decking begin!