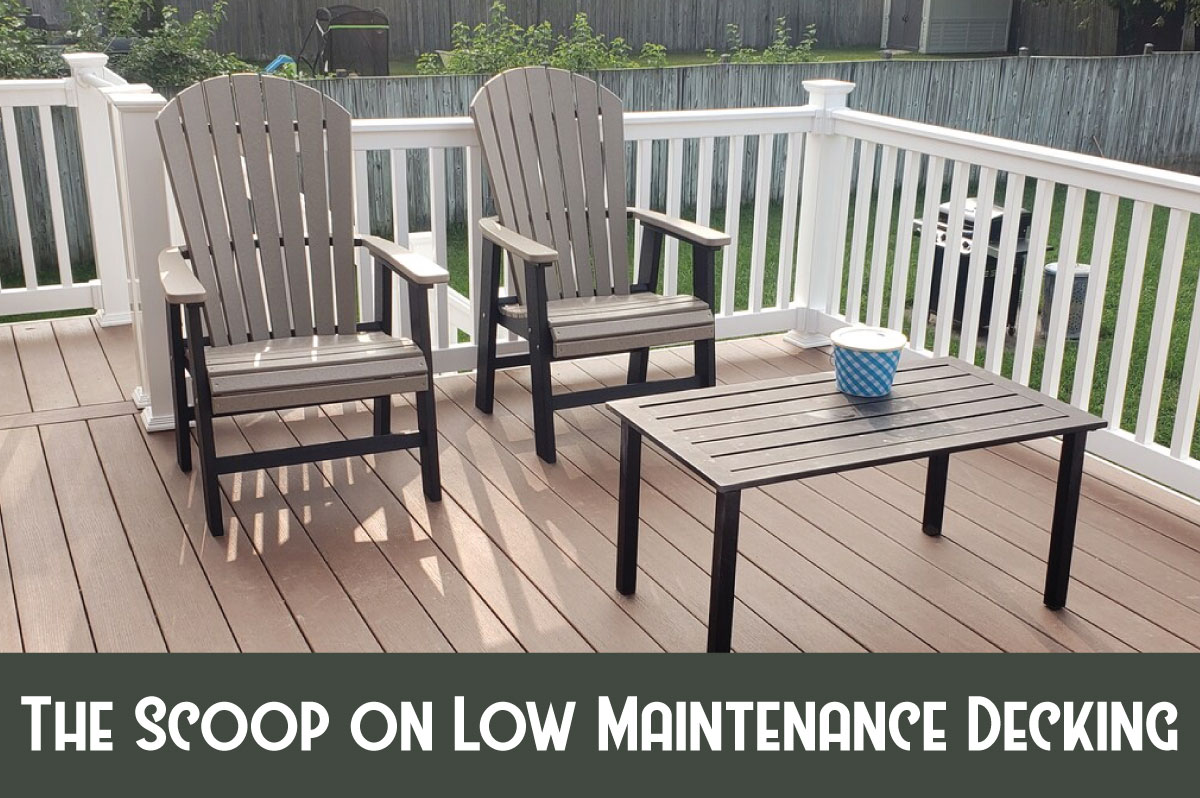 The Scoop on Low Maintenance Decking
Do you love your deck but don't want the hassle of maintaining it? There are many decking materials to choose from that require little upkeep.  Here's the scoop on the pros and cons.
'Maintenance-Free' Decking
This refers to decking materials that require minimal maintenance throughout their lifespans.  Keep in mind there is no such thing as 'zero maintenance' as the name implies.  These decks are made of hearty composite materials and have a tough resin finish that resists the elements.  Basic, easy cleaning is all they need. This type of deck is durable and generally lasts 25 to 30 years.
Composite decking is a popular, low-maintenance option. No sanding, staining, or sealing is required. The material is also resistant to pests and mold.  It features a blend of natural wood fibers, plastic, and other synthetic materials. The resin-enhanced outer layer resists rot and water damage.
PVC decking is a popular alternative to wooden decks.  PVC  is completely synthetic ,and resists pests, rot, and cosmetic damage from high foot traffic.  However, the vinyl material won't hold up well in hot and sunny areas.
Aluminum decking is another common alternative to wood decking.  It's low maintenance, fire-resistant, and very long-lasting.  The material is available in a variety of colors and styles to match your home.
Types of Wooden Decking
If you truly love the look of wood, here are some types that are worth checking into.
Pressure-treated  lumber is a very common decking material. It's treated with chemicals that deter insects, inhibit mold and mildew, and protect the wood from rot. The material is also easy to work with.  A stain can make the lumber more attractive.  However, it's best to let the wood weather for a few months before applying.
Cedar is a natural, higher-quality wood used for decks.  It gradually weathers into a soft gray tone over the years. It's also more resistant to decay, infestation and rot.  If you choose a quality cedar and refinish it annually, the wood can last longer than pressure-treated decking.
Hardwoods consist of a hard, dense material that resists termites and decay.  Exotic hardwoods, such as ipe, are a great material.  Mahogany, tigerwood, and cumaru are other hardwood options.
Deck Material Costs
Cost can play a key role in the decking material you choose.  It's as important as climate, ease of maintenance, and overall aesthetic.
Natural wood is durable and beautiful, but can be pricey.  Expect to pay about $3.75 per square foot for cedar and $8 per square foot for redwood.  Some exotic hardwoods cost more than $20 per square foot.  Wood tends to fade or crack and requires regular maintenance.
Pressure-treated wood runs $1.50 to $2.50 per square foot.  It's widely available and generally the least-expensive option among wood materials.
Composite decking costs $4 to $10 per square foot.  The material is durable, attractive and requires little maintenance.
Plastic and aluminum decking costs $7 to $10 per square foot.  These materials are durable and easy to maintain.  However, plastic lacks a natural look, and aluminum gives off an industrial appearance.
Let Us Spruce Up Your Outdoor Space
Excel Fencing and Decking is your number one source in the Greater Baltimore Region for your fencing, decking and interior remodeling needs.  We provide superior service to Cecil, Baltimore, Harford, Howard and Anne Arundel Counties. Call us directly at 410-803-9499 or fill out our contact form for more information.