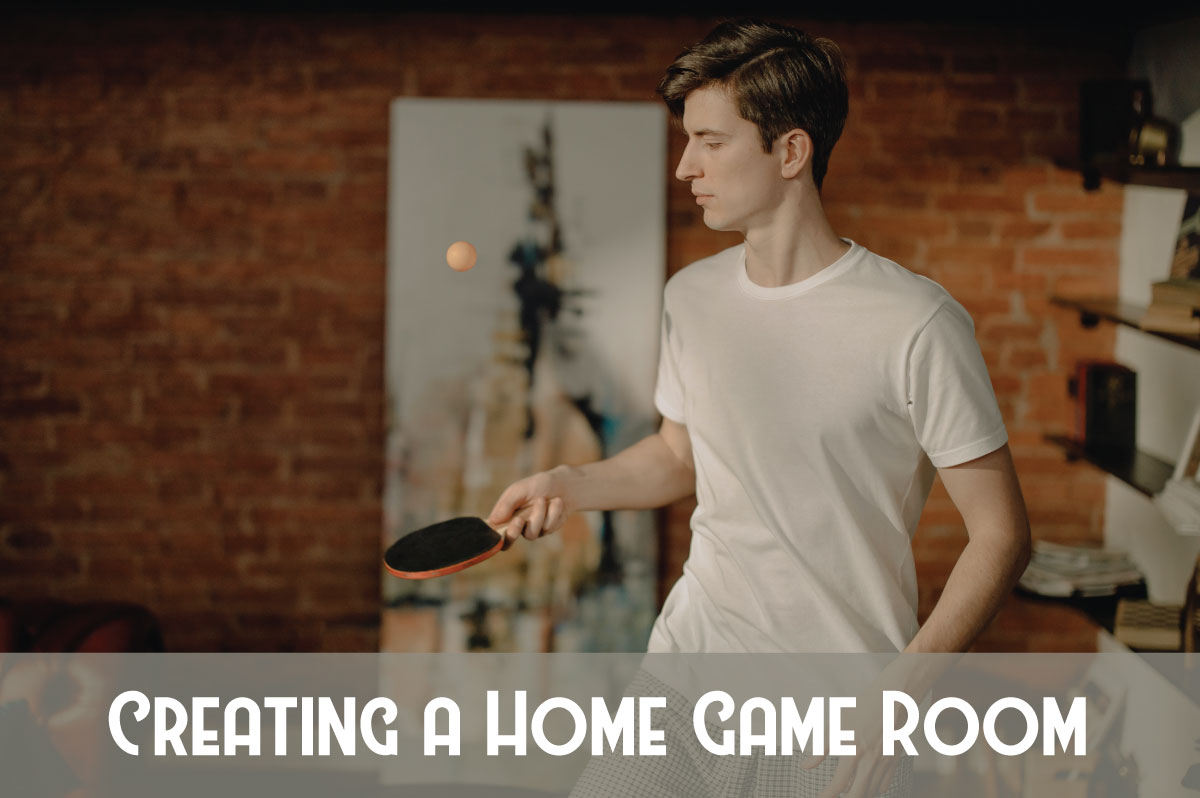 Creating a Home Game Room
How to Create a Home Game Room
If you are stuck inside on a rainy day, gather up the family or friends and head to the game room. Perk up your rec room or set aside a spot to play games in the comfort of your home. An entertainment area invites conversation, family time, laughs, and fun!  Here are some tips if you're ready to jump on board and need ideas for creating a home game room.
Places for a Game Room
You can create a game room in an attic, a large shed, playroom, basement, in the corner, or a spare room. Game rooms come in all sizes.  Be creative and make the space fun.
The game room should be flexible so it can grow with your family.  The uses for the space will change over time. Some items you may want to include are a movie-watching area, a table for board games, and a spot to enjoy a snack or beverage.
How to Decorate a Game Room
Create a game room theme with wall art.  Movie posters are a good choice for a fun atmosphere.  Sports memorabilia will also dress up a space.  In small areas, consider vertical storage options such as floating or portable shelves. A good sound system and lighting are also essential.
How to Set Up a Game Room
A typical size for a gaming room is 100 square feet, or roughly the average size of a bedroom.  If you need a larger spot, a bigger bedroom, basement or sunroom will do.
Your game room should have a workstation, a chair, shelves and room for other people to play games with.  Make sure the space works for you.  If it's too big, expect a lot of empty space. If it's too small, the room will feel cramped and overcrowded.
Elements of Creating a Home Game Room
Along with the basics, there are other key items you may want to make room for.
A quality sound system.  Don't just rely on headphones.  Invest in a solid loudspeaker arrangement.  A pair of wireless speakers is a good option.
A comfy chair.  You'll be spending a lot of time sitting so make sure you invest in a high quality chair.  It should also have strong lumbar support.
Soundproofing.  Game rooms can become noisy, so consider installing soundproofing.  Insulating foam, carpets, pads and sound-absorbing panels are some ways to keep the noise down.
Wide gaming monitor.  If you have the space, a large gaming display will enhance the game room experience.  Most PC/laptop monitors are not big enough. A projector and screen are beneficial if you are playing games with others.
Game Room Lighting
The lighting sets the mood in a game room.  Hang a chandelier above the ping pong table or put in skylights.   LED lights, RGB lights, and light strips are also worth considering.  So is natural lighting. The lighting in the game room should be functional, allow you to see, and provide the right ambiance.
Game Room Themes
Make sure your game room allows you to relax and fits your personality and interests.  Popular themes include sports, music, retro, multi-purpose, safari, Las Vegas style, and favorite games or passions.  Make sure the furniture you choose for your room is consistent with the theme.
Ready for a Redo?
Excel Fencing and Decking is your number one source in the Greater Baltimore Region for your fencing, decking and interior remodeling needs.  Whether you want a fancy new bathroom, a home theater, help creating a home game room, or a functional dining room, we can help. Call us directly at 410-803-9499 or fill out our contact form for more information.