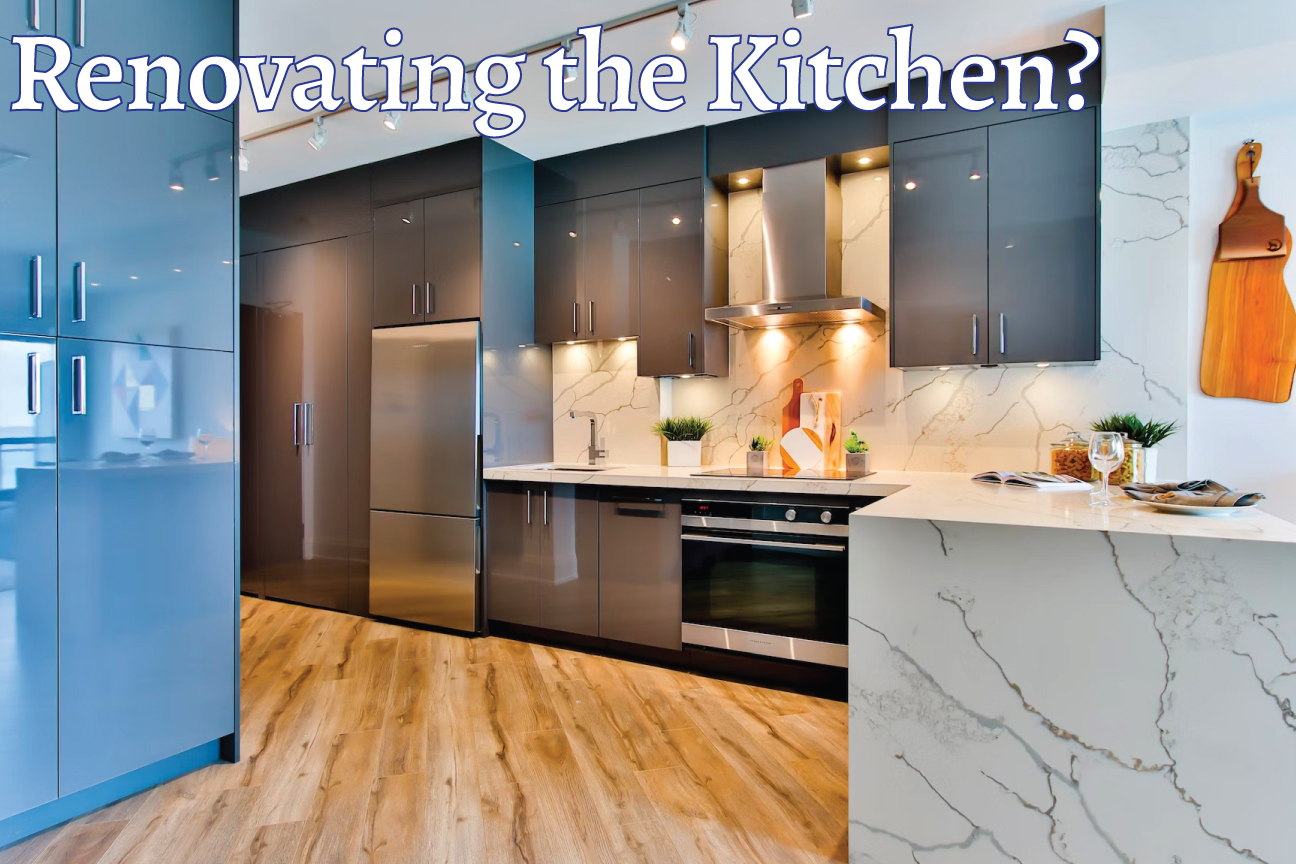 Are you Renovating the Kitchen or in the market for a kitchen remodel?  While you are redoing the kitchen cabinets and countertops, give the kitchen floor a new look too.
Types of Kitchen Flooring Styles
There are many flooring styles to choose from to fit your lifestyle and personality.  Put a little fun into renovating the kitchen to ensure it remains the most popular room in the house.
Do-it-Yourself Flooring Options
Hardwood floors are very durable, but they do lose their shine after some time.  Instead of replacing them, simply restain or refinish them to buff out scratches and repair discoloration and dullness.  This is a DIY project that can save you money and only needs to be done about every 10 years.
If you enjoy the DIY route, consider adding a new coat of paint to freshen up linoleum, wood, or tile flooring. This is an affordable way to brighten your kitchen and give it a new look. Remember to prep your floor before you begin painting.
Popular Flooring Styles
If you want a sturdy kitchen floor that is waterproof and easy to clean, luxury vinyl flooring may be the perfect choice.  It mimics the look of more expensive floorings like hardwood, ceramic, or porcelain.
However, you won't have to deal with extra costs or constant maintenance.
Bring the retro style back with linoleum.  With a variety of colors and patterns to choose from, you can bring the classic look into your modern kitchen.  Linoleum floors are durable, made of all-natural materials, are easy to maintain and water-resistant.
Manufactured tiles are durable and stain resistant.  Ceramic and porcelain are among the most popular types. However, ceramic can be cold and uncomfortable to stand on for long periods of time.  Porcelain is durable, versatile, and fits well in a kitchen with a simple style.
Fun Styles to Try
Put a jolt of energy into your kitchen renovation with a patterned tile.  There are many types to choose from, including bold or printed patterns, mosaic and checkered. A geometric pattern like triangles, diamonds or hexagons can be very eye-catching.
Cottagecore is a popular design that is gaining ground.  It focuses on nature, simplicity, comfort and spaces decorated with rustic touches. Bring some of this charm into your kitchen. Whitewash dark floorboards, or add a stencil design to your tile flooring.
The Elegant Look
Natural stone flooring is resistant to scratches, heat and stains.  Stone floors come in many colors and materials, but it comes with a high price tag.
Marble is elegant and is common in luxury homes. No two slabs are the same, so you are assured of a one-of-a-kind style in your kitchen.  Marble flooring is expensive, but it works well in high-traffic areas and comes in many colors.
Flooring Styles for the Price Conscious
Rustic engineered wood mimics solid wood flooring, but is less expensive.  With many colors, widths and types to choose from, engineered wood floors are a very versatile option.  They can be installed over concrete or existing flooring, and are easy to care for.
Laminate flooring features planks that are snapped and locked into place. It is DIY friendly, inexpensive and comes in several textures, finishes and patterns.
Renovating the Kitchen
Excel Fencing and Decking is your number one source in the Greater Baltimore Region for all of your fencing, decking, and renovation needs.  We provide superior service to Cecil, Baltimore, Harford, Howard and Anne Arundel Counties.  As a full-service fencing and decking company, we offer the most competitive prices with the highest quality products. Call us at 410-803-9499 or fill out our contact form for more information.