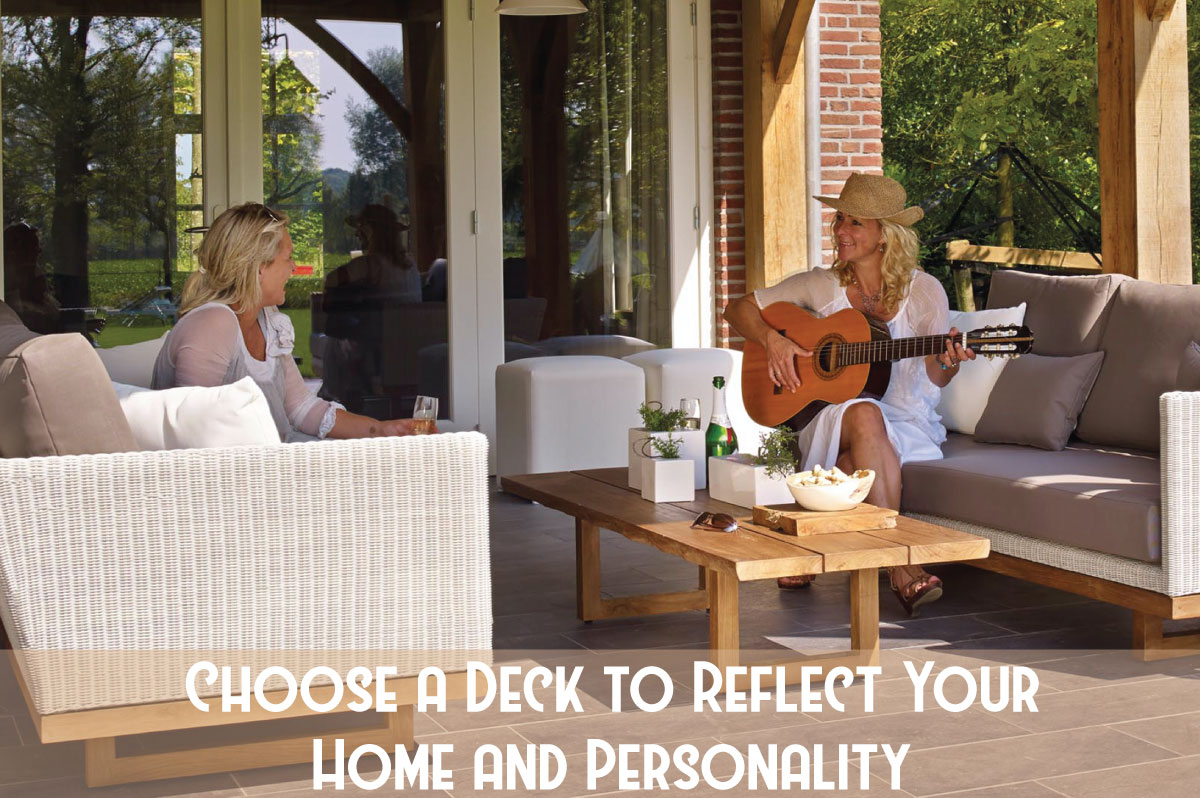 Choose a Deck to Reflect Your Home and Personality
Make your house a 'home' with a backyard deck that suits you.  There are a variety of styles and designs to choose from. Here's how to Choose a Deck to Reflect Your Home and Personality.
Deck Designs and Styles: How to Find a Good Fit for You
A house really isn't a 'home' until you spruce it up with a functional deck or patio. These outdoor spaces are perfect for grilling and entertaining, relaxing, and stargazing too!  Throw in a pool or hot tub, and you've got it made! There are many deck styles and designs to choose from.  Find one that is a good fit for your personality and enjoy it for years to come!
Deck Designs
To ensure continuity, pick a deck that matches the architectural style of your home.  Choose a design that fits with a traditional home, for instance, or a more contemporary dwelling.  You can go all-out with decorating your deck as well. Make it look like a tropical oasis, or choose a more rustic look with the right furniture and accessories.
Deck Styles
If the time is right for you to invest in an outdoor space, there are many decking styles and types to choose from.  Decks with multiple levels are popular. There are also single layer decks, freestanding, and elaborate styles too.
An attached deck is anchored to the home.   It usually extends from an existing room, like a kitchen or dining room, and is accessed by doors.  This category ranges from ground-level platforms to multi-level structures with stairways and landings.
A detached island deck is great for providing seating areas in the yard.  Platform or "floating decks" are freestanding and often include a pathway that leads to the house.  They can also rest on concrete blocks or short posts.
A wraparound deck is often slightly elevated and continues around two or more sides of the home.  These decks can be narrow or spacious, depending on your budget and available space.
Multi-level decks are best on large properties with changes in elevation.  They are made of separate decks connected by stairs.  They fit well in areas with hills, slopes and rocky landscaping.
A side yard deck can provide a private getaway spot and improve an area's appearance. They can turn places that aren't being used for gardens, pets or storage into functional space.
A dedicated-use deck is designed for a specific purpose. These can include activity and dining areas, a large seating space, or a serene lounging spot.
An entryway deck can create a welcoming atmosphere into your home.  It can be a front porch style design or a series of attractive steps and platforms.  You can also add benches or planter boxes.
A Note About Colors
The colors on your deck and your home exterior should match. When choosing paint and stain colors for your deck, take a look at the existing hues on your siding and trim.  Pull out one of the colors or select an accent hue that blends.
Pick a color scheme with a dominant, secondary and accent color.  You can use these hues on your siding, trim, doors, decking, and outdoor furniture. Use the less-dominant colors on accent accessories, like outdoor pillows and planters.
Your landscaping can also influence the colors on your deck.   If there is a lot of greenery surrounding it, choose colors that complement the green hue. If you have a colorful landscape, pick neutral color tones for your deck.
Ready for a New Deck?
Excel Fencing and Decking is your number one source in the Greater Baltimore Region for your fencing, decking and interior remodeling needs.  We provide superior service to Cecil, Baltimore, Harford, Howard and Anne Arundel Counties. Call us directly at 410-803-9499 or fill out our contact form for more information.