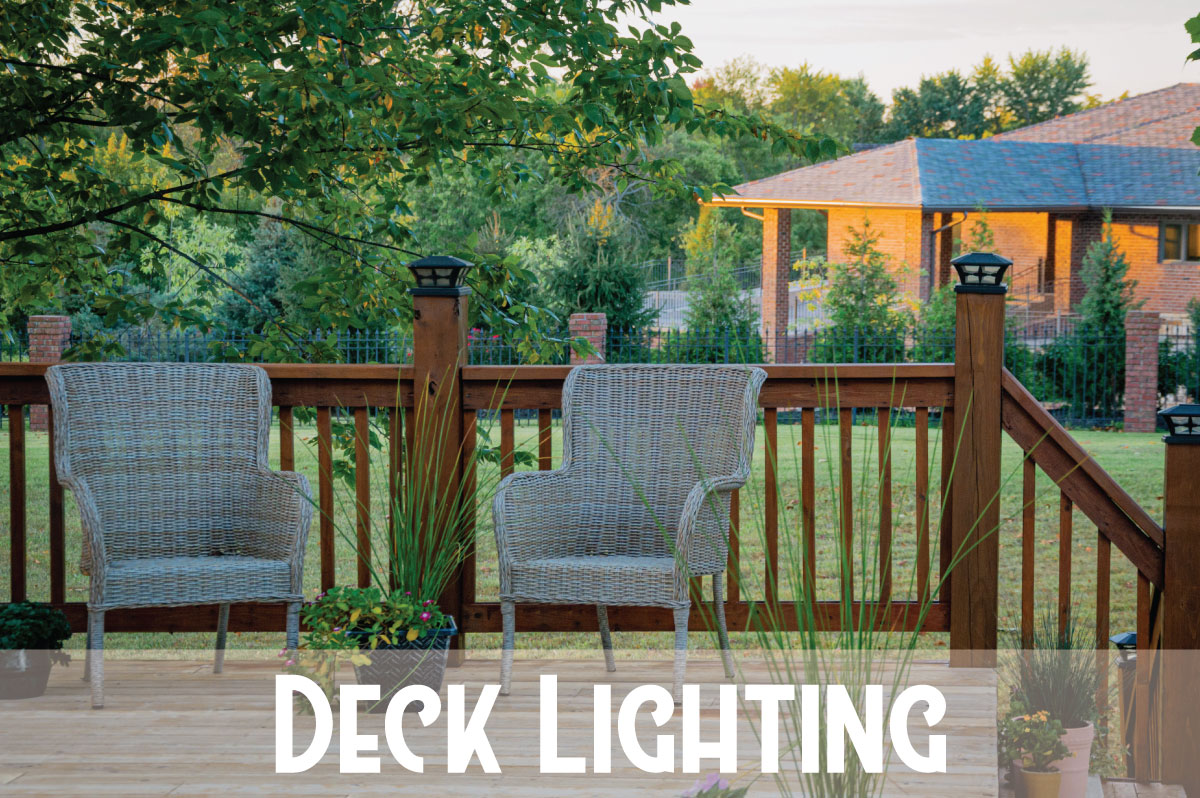 Deck Lighting
Backyard decks are a popular place during summer. Deck lighting that is both functional and decorative is a must-have for your gatherings. Here is our guide on how to make your deck shine.
Make Your Deck Pop with Lighting
Backyard decks are a popular place to spend time during summer.  People gather for cookouts, play games, socialize, or simply relax. Deck lighting that is both functional and decorative is key to a rewarding get-together.
Types of Deck Lighting:
There are a variety of deck lighting options to choose from. Pick your favorite, depending on the type of deck you have and what the best fit is for your needs.
Deck Stairs and Rails
Lights on deck stairs softly illuminate where people walk so they can see where they are going.  No one wants to stumble in the dark. In-floor lighting also goes nicely in corners, near steps, and by seating. There are many low-voltage options to choose from. Integrated stair lighting is great for tiered decks.
String lights on railings are festive and can stay up year-round for a beautiful glow. Consider using LED lights as they have many benefits and are good for the environment.  LEDs use 75-percent less energy than incandescent lights, reduce greenhouse gas emissions, are cool to the touch and last longer.
Putting solar or LED-powered lights underneath the deck rail gives your deck a soft glow.  They also blend nicely into a deck's design.
Deck Post cap lights are another good option for a special touch. They come in both LED and solar-powered varieties. They can be found at home improvement stores or online.
Recessed Lighting
Recessed lighting  is useful and has many benefits. Lights placed underneath work spaces, like outdoor grilling areas, allow the eyes to see.  If your deck has a covered area, recessed lighting will be protected from the outdoor elements. These lights give the space a dramatic appearance and don't require constant cleaning. If you have a raised deck, put lights underneath the floor. They are perfect for entertaining below, or to illuminate a storage area.
Overhead Lighting
Spotlights can be useful if you have a covered deck area.  They direct light to places you want to illuminate such as your deck table at meal time.  They can also highlight special deck features, like a fountain or sculpture.
Ceiling mounted light fixtures can work well on your deck.  Battery, and solar-powered pendant lights come in a variety of styles.  Lighted ceiling fans are another good option if your deck has a roof.
A pergola is often found on a deck to provide shaded seating.  The structure's posts, beams and rafters are good spots to hang or string lights.. There are many outdoor lighting options you can use for pergola lighting.
In-Floor Lighting
If your deck ceiling doesn't have space to attach a fixture, light up the floor instead.  In-floor lights are mounted to the deck's surface and offer a soft glow.
Budget-Friendly Lighting
Outdoor lanterns are a quick and inexpensive way to light up the deck. Portable lanterns with battery-operated or solar bulbs can be placed anywhere they are needed.
Solar or battery-operated lights are another easy option to light up your deck. They don't require wiring and can be placed on deck posts, walkways and even planter boxes for that special touch.
Putting it all Together
There are many different ways to add lighting to a deck. A mixture of elements often works best. For instance, low-level recessed lighting can light the way, while spotlights will show off decorative details. Each type of lighting has a unique feature that can be used to make your deck a home.
Let Us Spruce Up Your Outdoor Space
Excel Fencing and Decking is your number one source in the Greater Baltimore Region for your fencing, decking and interior remodeling needs. We provide superior service to Cecil, Baltimore, Harford, Howard and Anne Arundel Counties. Call us directly at 410-803-9499 or fill out our contact form for more information.