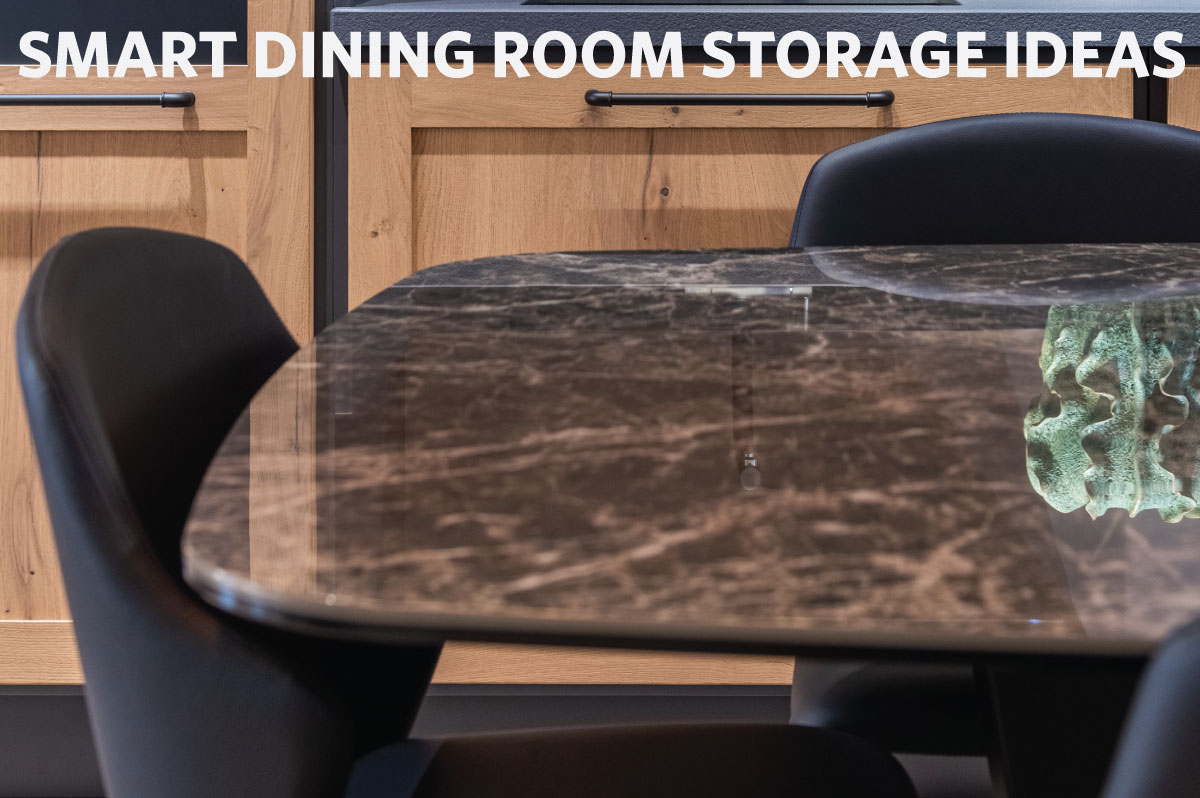 Smart Dining Room Storage Ideas
Smart Dining Room Storage Ideas
A well-designed dining room is more than just the style of tables and chairs.  Of course, the wall and floor coverings are also important, but there is something else, too. Storage space.  Don't forget you need a spot to tuck away your china, serving dishes, placemats, tablecloths, and candles. Here's how to make the most of your dining room storage space.
Where to Start
Before you move into your dining room set, take a look at the available space you have.  Mark out on the floor how much space is needed to access cupboards and storage areas.  You don't want the dining set to block the route.  Make sure there's enough room to pull the chairs out too.
Types of Dining Room Storage
If you live in a small apartment,  slim built-in cupboards that frame the dining area are best for an uncluttered look.  The tall cupboards can be hidden behind a door that looks like paneling.  If you have money to spend, a piece of bespoke joinery is a perfect storage solution for small dining rooms. Their custom designs are personalized and can fit any space.  A banquette seat along with artwork that pops can add an extra touch.
Sometimes the dining area is part of an open-plan space or is shared with the kitchen or office.
Practical storage space is essential.  One idea is to build a storage nook under the stairs. It's a great spot for a nice cabinet to put dishes in, or other essentials.  Highlight the cabinet with a decorative wall light.
Use the vertical space in small dining rooms.  You can hide just about everything in floor-to-ceiling cabinetry.  Keep the design simple, however, so it fits with the style. Painting the walls and the cabinetry the same color can help it blend in with the rest of the room.
Built-in furniture, such as dresser-style wall units are ideal for dining room storage.  Down below, there are cupboards and drawers to house the boring stuff. The top features a display case where glassware and your favorite pieces can be seen.  Dressers can also stand alone, providing lots of drawers for storage.  You can even paint them to blend in the room.
Good old fashioned shelving can fit just about any space.  They can be built-in or freestanding.  A narrow shelving unit can work well in a small space.  A console table is another piece of versatile furniture you can put anywhere.
The Scoop on Vintage Furniture
Vintage pieces can also add personality to a dining room.  With a little elbow grease you can put new life into a valuable relic.  Antiques have some very special qualities.  They are typically made of high-quality, durable materials that have lasted for generations.  These pieces also reflect the beautiful detail and craftsmanship from earlier times.  They are also great conversation starters.  Vintage furniture usually isn't expensive and you can find some good deals.
Let Us Spruce Up Your Home
Excel Fencing and Decking is your number one source in the Greater Baltimore Region for your fencing, decking and interior remodeling needs.  Whether you want a fancy new bathroom, a home theater, or a functional dining room, we can help. We provide superior service to Cecil, Baltimore, Harford, Howard and Anne Arundel Counties. Call us directly at 410-803-9499 or fill out our contact form for more information.