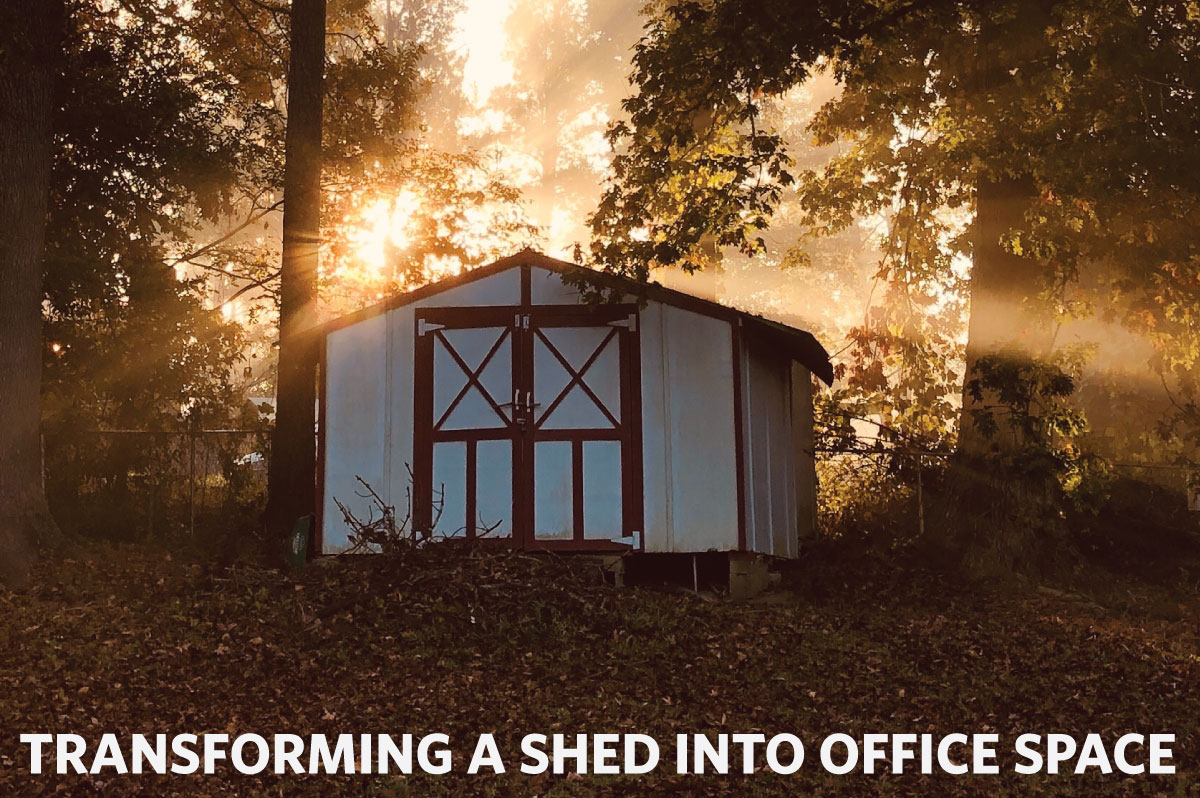 Transforming a Shed into Office Space
How to Transform a Shed into a Home Office
The use of outdoor sheds as office space is a trend that is growing fast.  U.S. demand for outdoor storage products is forecast to rise to $1.6 billion in 2023. Future growth is also anticipated as consumers continue spending money on home repairs and renovations.
What is an Office Shed
The shed office, also known as the backyard office or pod office, is a small building you use in your yard for work.  It can be a retrofitted garden shed, a prefab or custom built structure, or a DIY shed.   A shed office is separate from your home and doesn't take up existing floor space.
Types of Shed Offices
Here are a few types and styles of office sheds on the market to choose from.
Custom Made.  A custom shed office is one that's built to fit your needs.  Shed companies create backyard structures with residential use in mind.  You choose the size and style, the flooring and the front door.  The pre-built shed is then shipped to you and assembled on site.
Do It Yourself.  Some people prefer to build their own shed.  There are plenty of websites that sell building plans for sheds. Just remember you will have to do the interior finishing work.
Prefab.  You can buy these online. The basic components of this type of shed are built for you. However,  DIY assembly is required.  Many come with YouTube videos to help. Customer service is also just a phone call away.  Even if you hire a local handyman, this option is still cheaper than buying a custom-built shed.
Converted Garden Shed.  Insulation, drywall and electricity can be easily added to a garden shed to turn it into a home office. Make sure the structure is built to residential standards.
Install Proper Equipment
Make sure your office shed is properly equipped.  If it's going to be permanent, set it up like a professional workspace. Get an adjustable chair, extra lighting, and other key work tools you will need on a daily basis.
Backyard Office Advantages
There are many reasons why people are choosing to work in backyard offices.
No Commute.  There's no need to hit the road. All you have to do is walk from your backdoor to the office.  The average one-way commute in the U.S. is 27.6 minutes, adding up to almost an hour each day.
It's Customized.  You can design and build your backyard office exactly how you like it. The space can fit your personal needs and wants.
Complete Concentration.  When you are alone, it's easier to focus.  This will lead to higher productivity and improve the quality of your work.
More Cost-Effective.  It's much cheaper to work out of a backyard office than a shared one.  It makes good business sense to have your own space.
Backyard Office Prices
Converting a shed into an office can cost anywhere from $1,500 up to $30,000.  The final price depends on factors such as site preparation, permits, building materials and electrical needs.
A pre-assembled shed you buy online is a convenient and affordable option.  There are also many designs to choose from.  However, it will cost extra for interior upgrades you need to finish and labor you hire to help assemble it.
A custom-built shed is the most expensive. The price tag can range from $20,000 to $50,000 and up.  The best part is they are ready to use from the start.
Let Us Improve Your Space
Excel Fencing and Decking is your number one source in the Greater Baltimore Region for your fencing, decking and indoor remodeling needs.  We provide superior service to Cecil, Baltimore, Harford, Howard and Anne Arundel Counties. Call us directly at 410-803-9499 or fill out our contact form for more information.