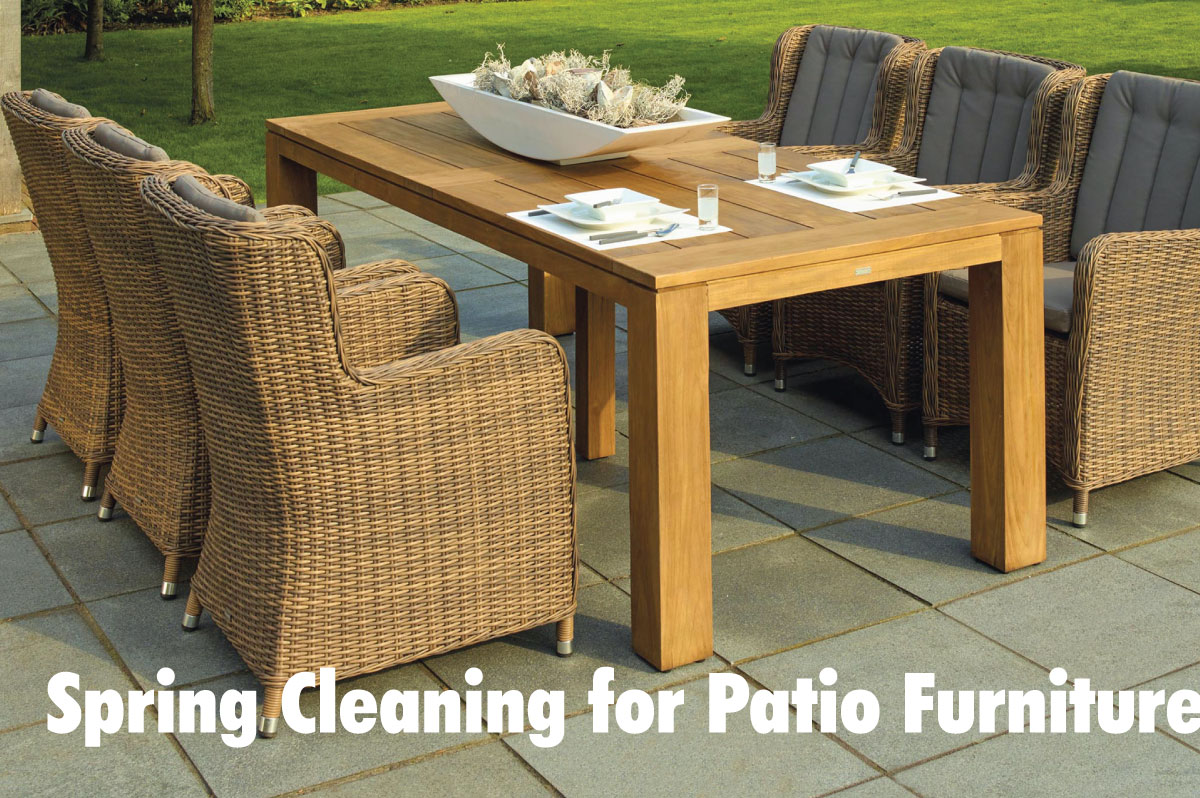 Spring Cleaning for Patio Furniture
Spring Cleaning: How to Make Patio Furniture Shine
The time is nearly here for warmer temperatures and the chance to enjoy our outdoor space again.  This means tidying up our deck or patio and giving the outdoor furniture a face-lift.  A good deep spring cleaning for patio furniture is just what the doctor ordered.  Here are some quick and easy ways to get the job done.
The Deep Cleaning Process
It's a good idea to deep clean your furniture at least twice a year. Once in the spring before peak season begins, and again in the fall before you put it away.  You don't want your guests to be greeted with yucky, dirty furniture.  Here are a few cleaning tips to get you going.
Remove Debris.  Brush excess leaves, twigs and other debris that has collected off the furniture.
Wipe it Down. Wipe off plastic, resin and metal furniture with an outdoor all-purpose cleaner. For wood or wicker, a mild oil-based soap is recommended.  Be sure to clean your furniture regularly.
Different Furniture Types
Outdoor furniture is made from a number of materials.  Here are some cleaning tips for the most basic types
Wicker Furniture
To remove dirt or debris, use a vacuum with a dust-brush attachment, or a dry paintbrush.  Clean it with a mild soap and water, rinse and dry. Sunlight and wicker furniture don't mix. If your wicker is going to be outside for a while, put a cover over it.
Wood Furniture
If your wood furniture only needs a light cleaning, use a moist cloth and a mild soap solution. To get rid of stains or mold, try mixing water with dishwasher detergent or oxygen bleach. Scrub the wood with a soft brush.  Remove tough stains by lightly sanding in the direction of the grain and rinsing the surface.
Metal Furniture
Scrub a metal surface with a mild soap solution, rinse and dry.  Remove rust stains or mold with a fine-grit sandpaper.  Wipe it off and apply touch up paint if needed.
Fabric Covered Furniture
Performance fabric is designed to resist sun damage, stains, moisture and mildew. Solution-dyed fabric is less prone to fading and can withstand strong cleaners better than piece-dyed fabric. Mold can usually be cleaned off of solution-dyed fabric with warm water and oxygen bleach.  Check the care guide to be sure.
Removable fabric covers can sometimes be machine-washed in cold water with mild soap.  You can also hand wash them using gentle liquid soap and lukewarm water.
Plastic Furniture
Scrub with mild soap and water.  If the care guide gives you the green light,  add chlorine bleach to water to clean tough stains or mildew.
Using Natural Cleaners
The most effective way to clean outside furniture is with mild soap and a bucket of warm water.  A dish soap solution safely cleans most outdoor furniture materials, including wood, metal and plastic.  For stubborn stains, let the soapy solution sit for a few minutes, then scrub and rinse off.  To remove tough stains or mildew, try mixing white vinegar, baking soda and warm water.
Let Us Spruce Up Your Outdoor Space
Excel Fencing and Decking is your number one source in the Greater Baltimore Region for your fencing, decking and indoor remodeling needs.  We provide superior service to Cecil, Baltimore, Harford, Howard and Anne Arundel Counties. Call us directly at 410-803-9499 or fill out our contact form for more information.