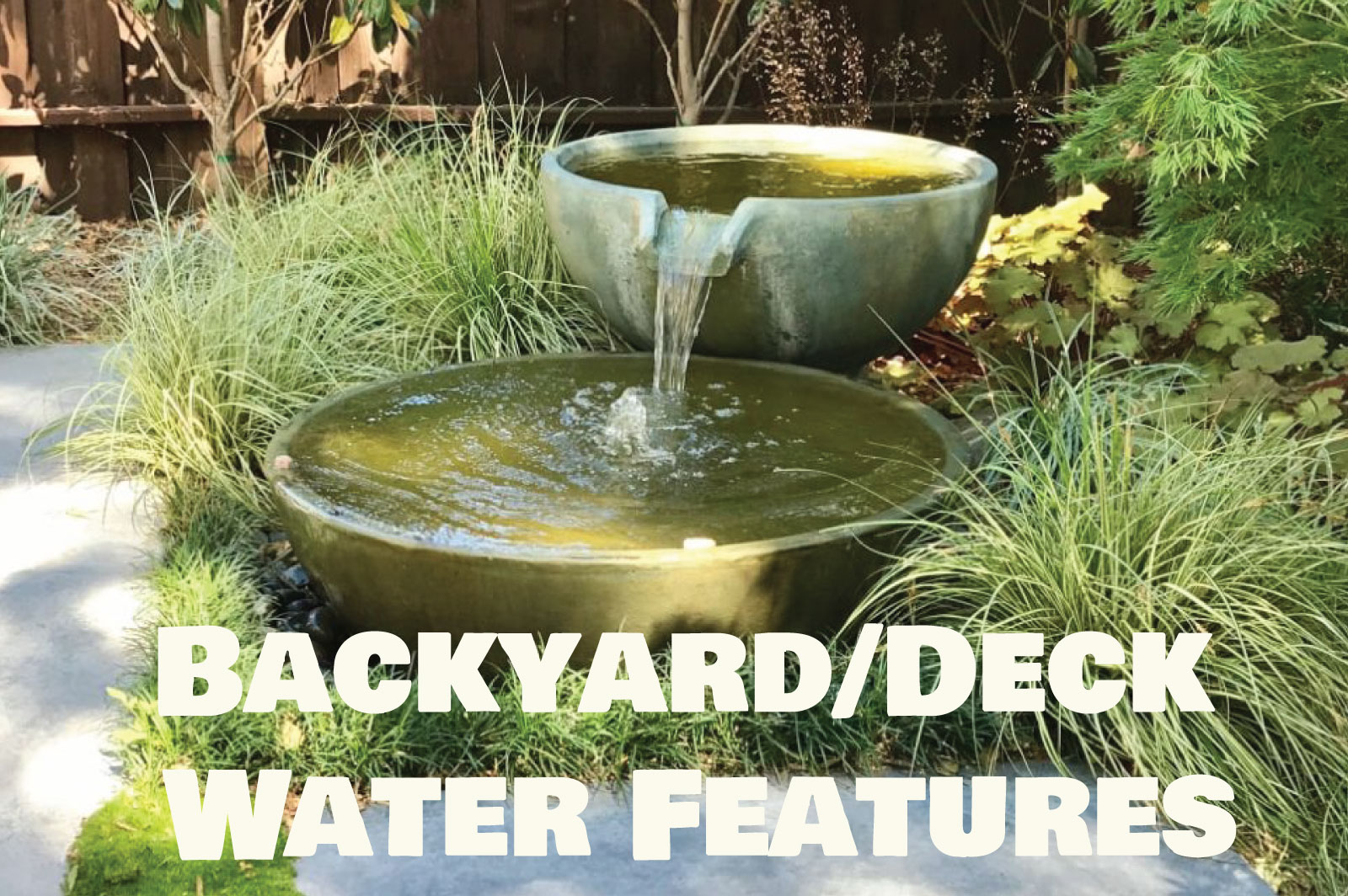 Backyard/Deck Water Features
Enhance Your Backyard Look with Water Features
There is nothing more relaxing than hearing the sound of water.  Enhance your deck or backyard space with a fabulous water feature. There are several types to choose from to fit your lifestyle and budget.
Backyard/Deck Water Features Water Fountains
These are a great way to add water to your backyard landscaping. Fountains typically come in kits and can be easily installed.  There are a variety of styles to choose from.  Rock gardens, spouting fountains, and spheres are just a few.  Wall fountains, log fountains, and spiral fountains are also available.  Fountains come in many sizes and can be placed on tabletops, a pedestal, or a prominent spot like the garden..  Many come with LED lights for that special touch.
Pondless Waterfalls & Streams
These pondless water features have a water pump that circulates water from a basin back to the top. They are child-friendly since there is no pond,  and fun for kids.  Concrete, rocks, and fiberglass can be stacked to create a path for water.  Grasses, succulents, and flowers can add a pop of color.  Plants and stones can add a natural look. These water features require very little upkeep once they are up and running.
Bird Baths
Bird baths are easy to install and maintain. They're a budget-friendly way to add a water element to your outdoor space.  Bird baths that include a fountain offer the element of moving water.  They also provide a water source for birds and can be a focal point for your garden. Make sure the basin is shallow, and check the material too. Concrete bird baths are heavy and durable, while resin ones are light and easy to move.
Backyard/Deck Water Features Aquatic Gardens
These feature blooming water plants such as water lilies, arrowheads and water hyacinths.  You can also have a mini water garden on a patio, deck or balcony.  Keep it in a sunny spot for at least four hours daily.  Aquatic gardens can be enjoyed in a container year-round in a mild climate. In colder areas, bring it inside during winter, or empty the container and put the plants in a compost pile.  Clean it out and store it for next year's garden.
Koi Ponds
If you have a large spot, a Koi fish pond is worth looking into.  Space is necessary for the fish to live comfortably and grow.  You'll also need to add non-toxic plants for the fish to eat, such as water lettuce or water lilies.  If you don't want the koi fish, there are many fishless pond designs to choose from.
Tabletop Backyard/Deck Water Features
These small water features are ideal for balconies, small decks and intimate dining or sitting areas.  They can be moved to wherever you need a fun focal point.  They don't require a pump or power. However,  you will need to change the water on a regular basis.
Enhance Your Outdoor Space
Ready to give your outdoor area a face-lift?  Excel Fencing and Decking is your number one source in the Greater Baltimore Region for all of your fencing and decking needs.  We provide superior service to Cecil, Baltimore, Harford, Howard and Anne Arundel Counties.  We offer the most competitive prices with the highest quality products. Call us directly at 410-803-9499 or fill out our contact form for more information.