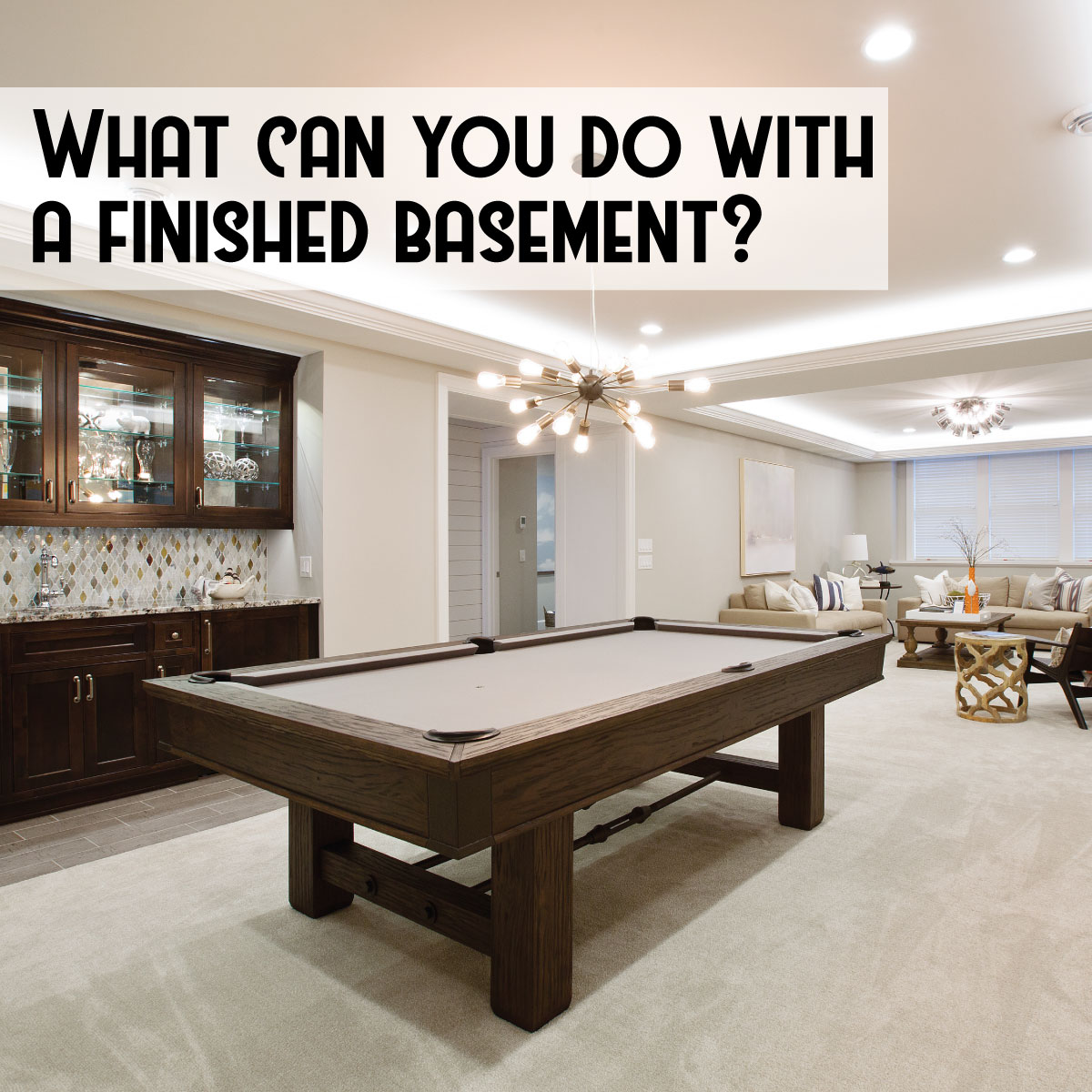 Finished Basements
Storage junk and clutter can find another home– you're finally finishing your basement! But what to use finished basements for now that it has a carpet…nice walls…central heating…and livable conditions? Here are a few ideas to spark your imagination!
Playroom
Are your kids' toys taking over the entire house? Worry not– your finished basement is here to save the day. Give your kids a big open space to spread out in and store toys, arts and crafts supplies, and games as they grow.
Want to get really creative? Take inspiration from their favorite book and turn the basement into Narnia, Hogwarts, or the place Where the Wild Things Are! Even a simple coat of paint, a couple curtains, and some creative organization can transform an ordinary room into Wonderland.
Game Room
Time for play isn't just for kids. Whether you're a video game geek or a foosball fan, fill your finished basement with your stockpile. Add a couple of comfy chairs, a fridge for snacks and drinks, and you're golden!
Bar
The perfect place to entertain cold-weather guests, a personal bar setup will serve you well (no pun intended). Whether you choose to go classy or casual, this room can display your liquor and/or glass collection at its finest. Like to entertain? Add some speakers for a great musical atmosphere.
Kitchen
The first room most prospective homeowners look at when touring houses, the kitchen is undoubtedly one the most important spaces in a house. If your original kitchen is getting a bit cramped, consider turning your finished basement into a culinary wonderland. Gain extra storage space with another fridge and add a table for overflow seating– a "kids' table" if you like. This is also a great choice to combine with the playroom plan for slightly older kids; a space to make their own!
Guest Bedroom
Family growing almost too fast to keep up? Another bedroom might be in order. Add a nice spot for Grandma and Grandpa to sleep over or in case your teenager starts to demand "more privacy." Always ready to take in a friend or hold a last-minute sleepover? That extra bedroom will no doubt come in handy.
Library
Too many books, too little time! A library and/or reading room is a lovely addition to any house. Just make sure your finished basement has good climate control and isn't a flood risk– moisture doesn't mix well with paper and ink. Block off a peaceful place to kick back with a good read and you'll speed through your to-read list in no time.
Family Room/Den
Hate the winter cold? This is the perfect room to curl up under a soft blanket with a hot drink of your choice. Consider installing an electric or wood-burning fireplace to take your winter relaxation to the next level. There's no better place to be on a freezing cold night than in front of a crackling fire. Bonus points if you're able to make s'mores!
Movie Theater
Film buffs unite! Turn off the lights and make the room as dark and quiet as you like for the quality home theater experience. Surround sound? No problem– speaker systems can be installed around the room. Got a collection of old movie posters? This is the perfect place to hang them. Want to channel Joey and Chandler from Friends? Buy a couple of recliners and snack to your heart's content.
Home Gym
Who needs a gym membership when you've got a fitness center in your own home? Roll out of bed and into the weight room when you turn your finished basements into a home gym. There's no need to worry about membership fees or hyper-competitive gym buffs here! The best part? You can plan a routine as light or hardcore as you like and no one will be there to judge you.
Practice Room
Whether we're talking instruments or sports, the basement is the best place for an indoor practice room. Contain the noise and store bulky equipment in what's likely the most open and secluded space in your home. Got a kid that loves gymnastics or ballet? Hang mirrors on the walls, put a couple of gym mats on the floor, and invest in a barre. Got a tap dancer? Save your kitchen floor and lay down a practice mat for their use– yes, they sell those. Encourage your family's passions and watch them shine!
Ready to Remodel?
We've got you covered! Our basement remodeling team can transform even the dingiest of basements into practical and beautiful finished basements, a space fit for the whole family. Whether you're building a home theater or office space, we'll get the job done and on a budget that works for you. For Excel, no basement finishing project is too big or small. Give us a call at 410-803-9499 or request a free quote through our quick online form and let your journey with Excel Fencing and Decking begin!