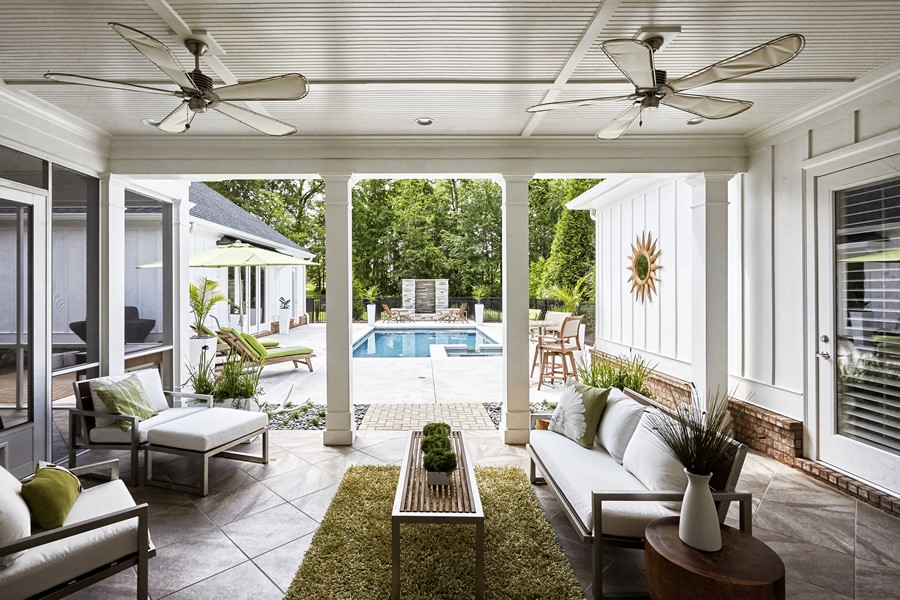 Walkout Basements You'll Love
What's better than reclaiming the square footage in your basement?  Turning your downstairs into one of these amazing walkout basements!  Since this feature opens up naturally to your backyard, you can easily incorporate an indoor/outdoor living arrangement your entire family will love.
Walkout Basements with a Patio
When your walkout basement transitions seamlessly to a patio, you can basically double your square footage!  Plus, you won't have to worry about tracking as much dust, dirt, and grass back into your home.  Still, there's plenty of room for you to insert your personal style.  Imagine having a wet bar downstairs or secondary kitchen with your dining area outside on the patio.  Or you can have elements that echo one another, such as a stone fireplace inside and an inlaid fire pit outside.  That way, you can utilize this space in any season!
To the Pool
If you have a pool, linking your walkout basement to your deck is the way to go!  You may want to keep water-resistant seating and flooring throughout both areas—just in case.  But also, be strategic about your storage.  With the right design and flow, you can keep all pool-related items and wet guests downstairs. Create a place where they can access towels, pool toys, and also hang things up to dry when they're done.  To really open up your walkout basement to the pool area that lies just outside, consider installing French doors!  With all the windows and light, you'll be able to enjoy the view whenever you'd like.
And a Multipurpose Playground
Not a literal playground, but rather a giant entertainment space for adults and children alike.  Think about the activities you enjoy individually and as a family.  Is there a way you can incorporate these into a multipurpose space?  With a group of movie buffs, a home theater or media room could be a good fit.  On nice nights, you can extend this outside your walkout basement with a projector and screen!  Maybe you'd rather have a game room where everyone can come together and play pool or board games.  Now that it's warming up, you can carry this theme outdoors with corn hole, horseshoes, or limbo!  Honestly, we've seen some pretty over-the-top walkout basement renovations.  Find a project that works with your home, needs, and budget.
If you need any help with this process, our team is ready to go!  Once you decide which walkout basement style best suits you, we can work with you on design, permitting, and remodeling.  Don't let the name fool you!  We're a lot more than fencing and decking here.