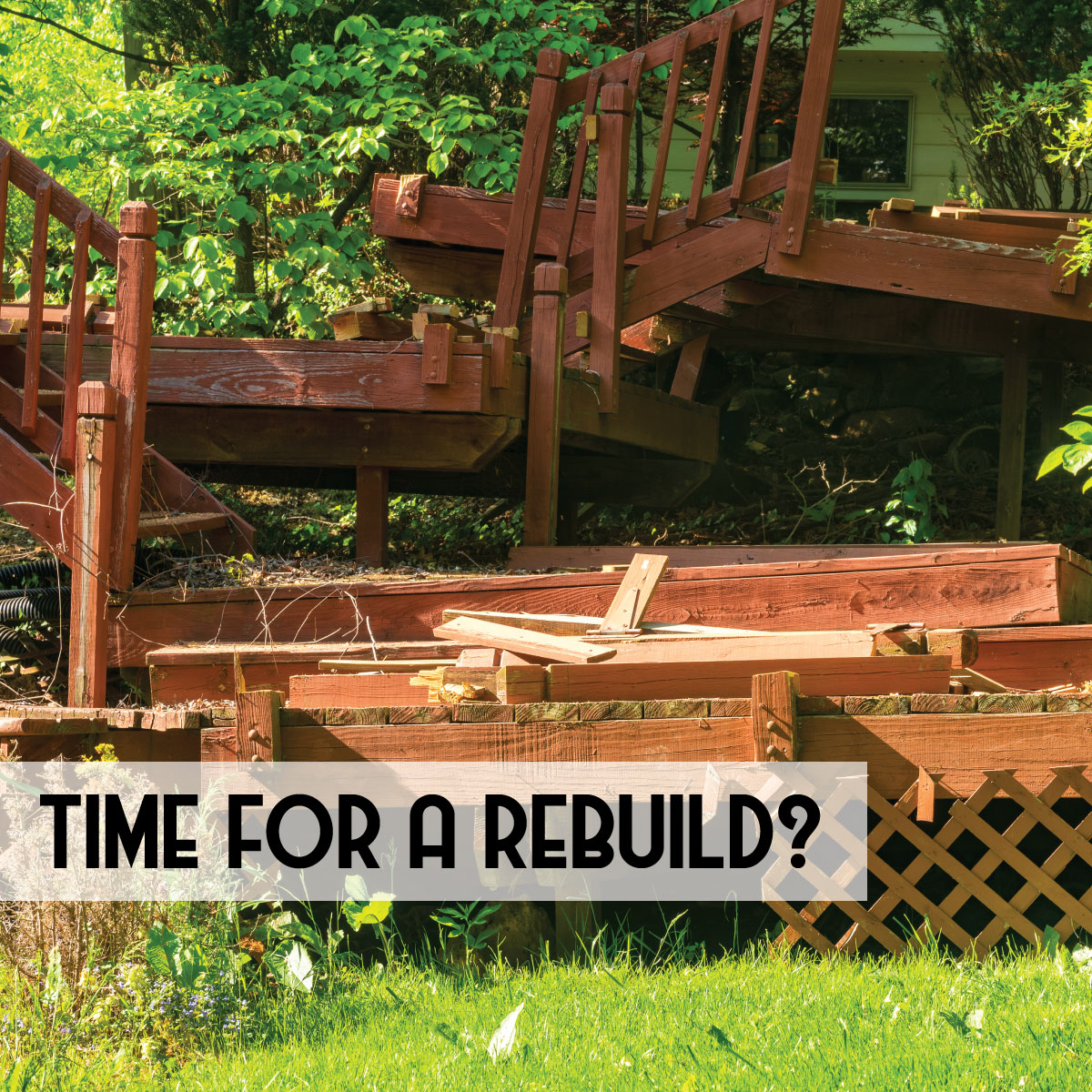 Revitalize a Deck
Is Your Deck Looking Tired? Revitalize A Deck with a Rebuild!
Over the years, however, our decks have to stand up to a lot of wear and tear resulting from harsh weather and prolonged exposure to sunlight. When you revitalize a deck, you can boost both the appearance and functionality of your home and outdoor living space. If your deck is beginning to look worn and tired, you can restore it this summer with these tips!
Consult with an Expert
If your deck needs TLC, you'll want to speak with a deck-building expert before making any modifications or trying to revitalize a deck on your own. We can inspect key parts of the deck to give you an accurate assessment of whether your damaged areas can reasonably be repaired or if it's time for a new deck build altogether.
The main things we observe are the footings, wood condition and general structural integrity of the deck. Deck footings can become unstable when exposed to moisture over the years, and deeper footings can often take care of this issue immediately. When we survey structural integrity, we're getting an idea of whether a remodel would even be safe or if the right course of action would be to start over with a brand-new deck build. This will ultimately depend on both the age and maintenance of the deck in question.
Revitalize a Deck
To kick off a deck remodel, we first must remove the old components. Step 1 of this process is to remove the old rails and boards. When we do, we're always careful not to cause any structural damage, as we want to make an effort to save customers money by reusing structurally sound components. Once the decking material itself is removed, homeowners will have the unique opportunity to reassess their material choice. Perhaps the pressure-treated lumber you chose last time didn't last as long as you were hoping? Now would be the perfect time to upgrade to tropical hardwood or cedar. Depending on the specific remodeling job, you may even be able to switch to a composite decking material and largely forget about pesky maintenance throughout the year.
Revitalize Your Deck with Excel Fencing and Decking
Excel Fencing and Decking is proud to meet the needs of every customer, whether searching for a deck designs, a wrap around porch, or repairs to wood decking. Excel is a full-service fencing and decking company working throughout the greater Baltimore area since 1998. Excel carries top brands including Trex, Azek, Shoreline Vinyl Systems, and Wolf PVC Decking. Reach out to Excel with any questions you may have regarding any fence, deck, or remodeling project. Call us directly at 410-803-9499 or fill out the contact form and one of Excel's representatives will get in touch with you shortly.