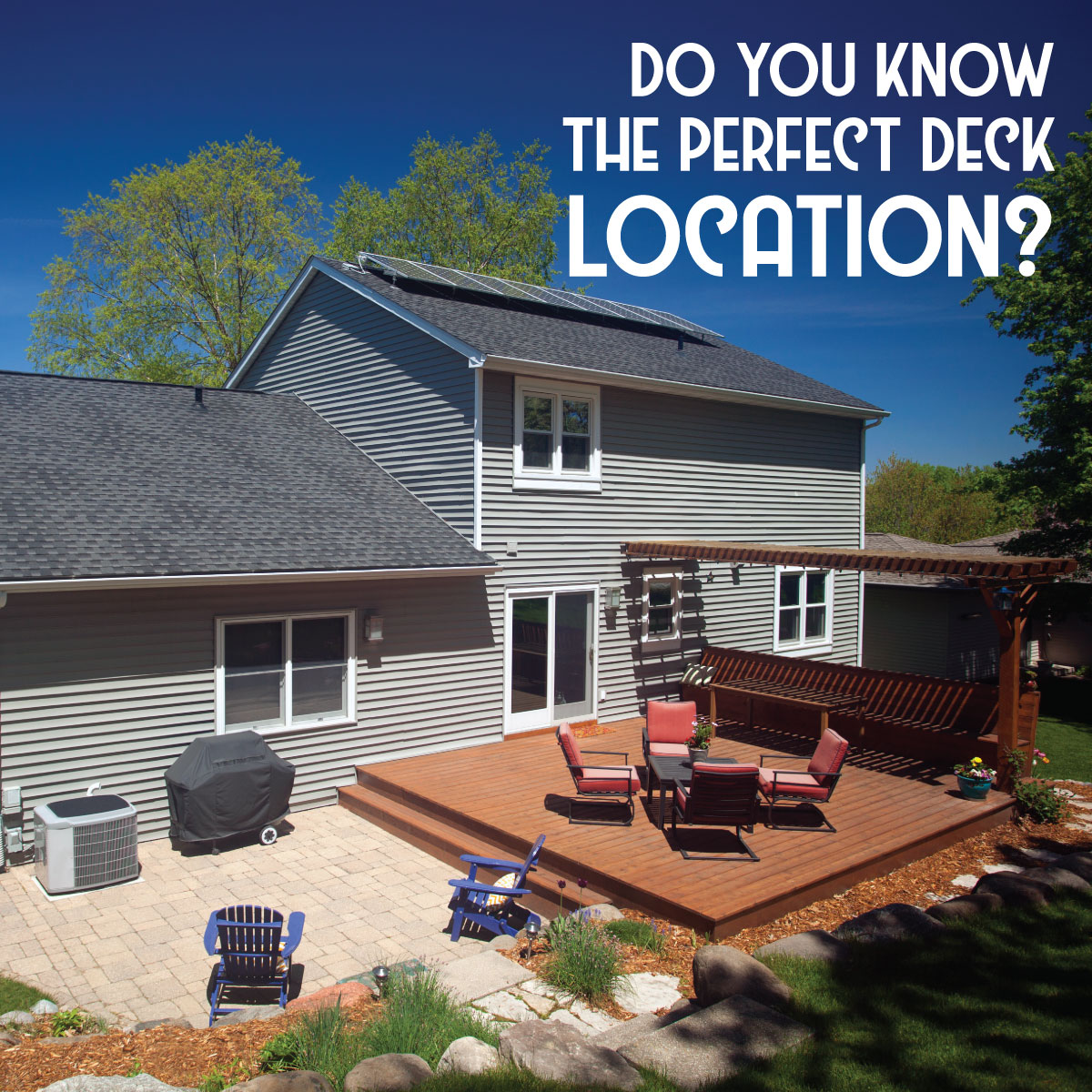 Deck Location
3 Questions for Choosing Your Deck Location
We have plenty of content available to help you choose the perfect material for your new deck. But what about your deck location? As it happens, your deck location is right up there with its material in terms of key decisions you'll make for the new addition.  Here are three questions you ask yourself to ensure you are building your deck in the perfect spot!
Have You Considered Privacy?
Privacy should be one of your primary concerns when planning a new deck build. Naturally, you'll want the deck location in one of the more private areas of your yard. But, of course, sometimes complete privacy won't be achievable, and that's okay! You'll still be able to create privacy using added features like screens, canopies and even creative plant placement.
What is the Purpose of Your Deck?
Be sure to have a clear idea of how you intend to use your deck before building it. For example, could you see yourself enjoying some outdoor dining in the warmer months? If so, connecting the deck to your kitchen will make the most sense. On the other hand, if your deck is an outdoor living space, or simply a place to unwind and escape, you might consider connecting it to your living room instead.
How Will You Access Your Deck?
Your deck is an extension of your home. As such, accessibility should be at the forefront of your mind when deciding your new deck location. For example, where will the primary entrance be? Do you need to accommodate some extra space for stairs? If you keep both of these questions in mind, we can be sure to build your deck to meet your exact needs and specifications.
Trust Excel Fencing and Decking for Your 2021 Deck Build
Excel Fencing and Decking is proud to meet the needs of every customer, whether searching for a custom deck design, replacing or resurfacing an existing deck, repairing a wood decking, or building a new composite or PVC deck.. Excel is a full-service fencing and decking company working throughout the greater Baltimore area since 1998. Excel carries top brands including Trex, Azek, Shoreline Vinyl Systems, and Wolf PVC Decking. Reach out to Excel with any questions you may have regarding any fence, deck, or remodeling project. Call us directly at 410-803-9499 or fill out the contact form and one of Excel's representatives will get in touch with you shortly.