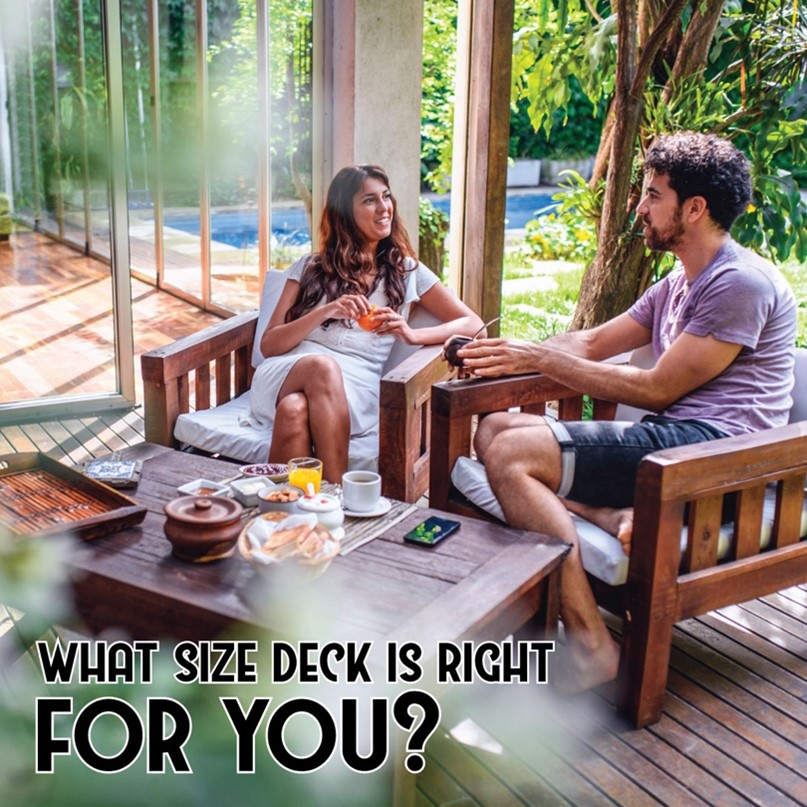 Figuring Out Deck Size and Height
A deck is a significant investment that can greatly improve your home's curb appeal and the usability of your outdoor space. With that in mind, you'll definitely want to get the size and height just right to maximize your enjoyment of the investment. Here are some tips to help Figuring Out Deck Size and Height that is perfect for your needs!
General Advice
Usually, the smallest deck size we build is around 12′ by 12′. This size allows homeowners to easily create a space to congregate around a table with adequate spacing for seating. There is no set-in-stone "correct" size for decks, but we find that they often end up being around 300-400 square feet. If your home has a conventional design, you'll likely want the wider part of your deck to run along your home, with the shallower depth extending into your yard.
Purpose
The purpose of your deck should be directly tied to its size. As we established, a 12'x12′ deck will be perfect if your deck will be primarily used as a dining area with a little room to spare. As you add more features or ideas to your deck, you'll want to increase its size. We often see homeowners build larger decks to accommodate features like furniture, grills and hot tubs. If you have space, you could also consider a multi-level deck to section off each element.
Selecting the Perfect Height
How can you select the ideal height for your deck? If you have a ground-level home, sticking with a low elevation deck is the obvious choice. If your home is raised or multi-level, you can be a lot more flexible with the design. Perhaps you'd prefer a split-level deck? Maybe you stick with a high elevation deck with stairs to access the rest of your yard? There is no wrong choice here. You could even create an outdoor living space beneath your high elevation deck. If you go that route, we recommend creating a drainage system to stay dry and building your deck at least 8 feet off the ground to give adequate space beneath.
Figuring Out Deck Size and Height with Help from Excel Fencing & Decking
At Excel Fencing and Decking, we are proud to meet the needs of every customer, whether they are searching for new wood decking, deck staining or replacement, composite or PVC decking, or low maintenance decks. We are a full-service fencing and decking company working throughout the greater Baltimore area and carrying top brands including Trex, Azek, Shoreline Vinyl Systems and Wolf PVC Decking. To learn more about our services, please contact us at (410) 803-9499.