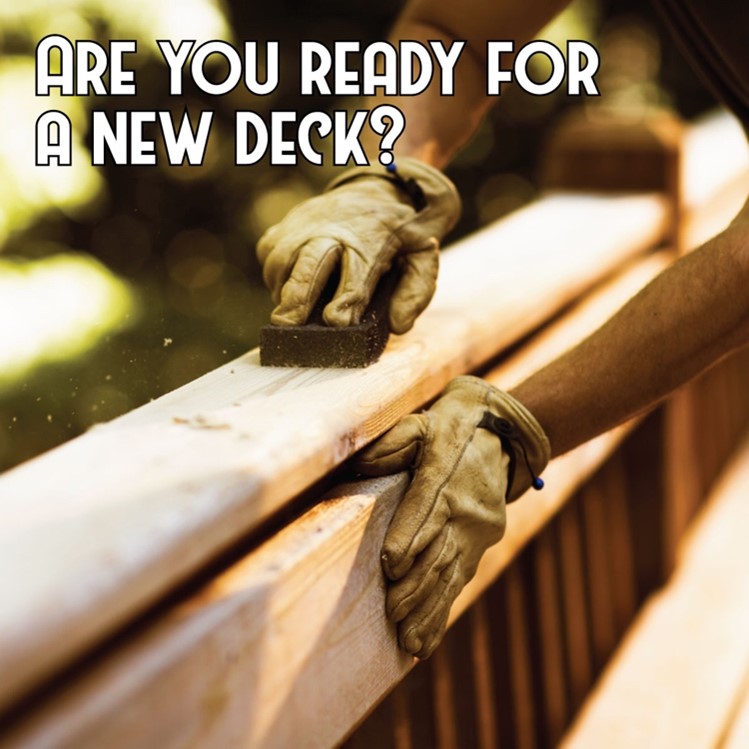 Before Purchasing a Deck Consider …
Deck season is here! Are you planning on installing a deck this year? If so, there are a few considerations you should have in mind before diving into the project. Here are three thoughts to consider before purchasing your deck this year.
Budget
You should have a general idea of what you'd like to spend on your deck installation so you can choose your deck's features and design accordingly. If you DIY, you'll have to research every aspect of the project, including lumber, tools and hardware. If you choose a contractor for your project, they will be able to deliver a ballpark estimate up front and refine it as you work out the specifics of the project together to avoid any cost surprises once the building process starts. If your initial estimate exceeds your budget, a good contractor can work with you to see how the price can be worked back down. Most often, this is done by switching construction materials or completing the project in stages.
Before Purchasing a Deck Consider Material
The material of your deck will be one of the biggest choices you make for the project. Luckily, there are no wrong choices here. We have a lot of content published already to help you make the decision, so we'll give you the short version for this blog:
The most popular options are pressure-treated lumber and composite decking Composite materials are generally more expensive, but they are longer lasting and require significantly less maintenance than wooden decks.
Wooden decks are the most affordable option, but they require a little more upkeep (power washing and staining/ painting) to maximize their lifespan. Many homeowners choose wooden decks because they enjoy the classic aesthetic they offer.
Access
How would you like to use your deck? Would you like a dining area, a spot to relax or a means to access the rest of your yard from above ground level? Any of these factors will play a role in choosing the size and location of your deck. For example, if you want to use your deck as a dining area, you'll want to have it installed as close to your kitchen as reasonably possible. If you want access to your yard, you'll want to start thinking about your options for stairs.
Before Purchasing a Deck Consider Excel Fencing and Decking
At Excel Fencing and Decking, we are proud to meet all the needs of every customer, whether replacing an old deck with a new one or staining an existing deck. We are a full-service fencing and decking company working throughout the greater Baltimore area and carrying top brands including Trex, Azek, Shoreline Vinyl Systems, and Wolf PVC Decks. To learn more about our services, please contact us at (410) 803-9499.