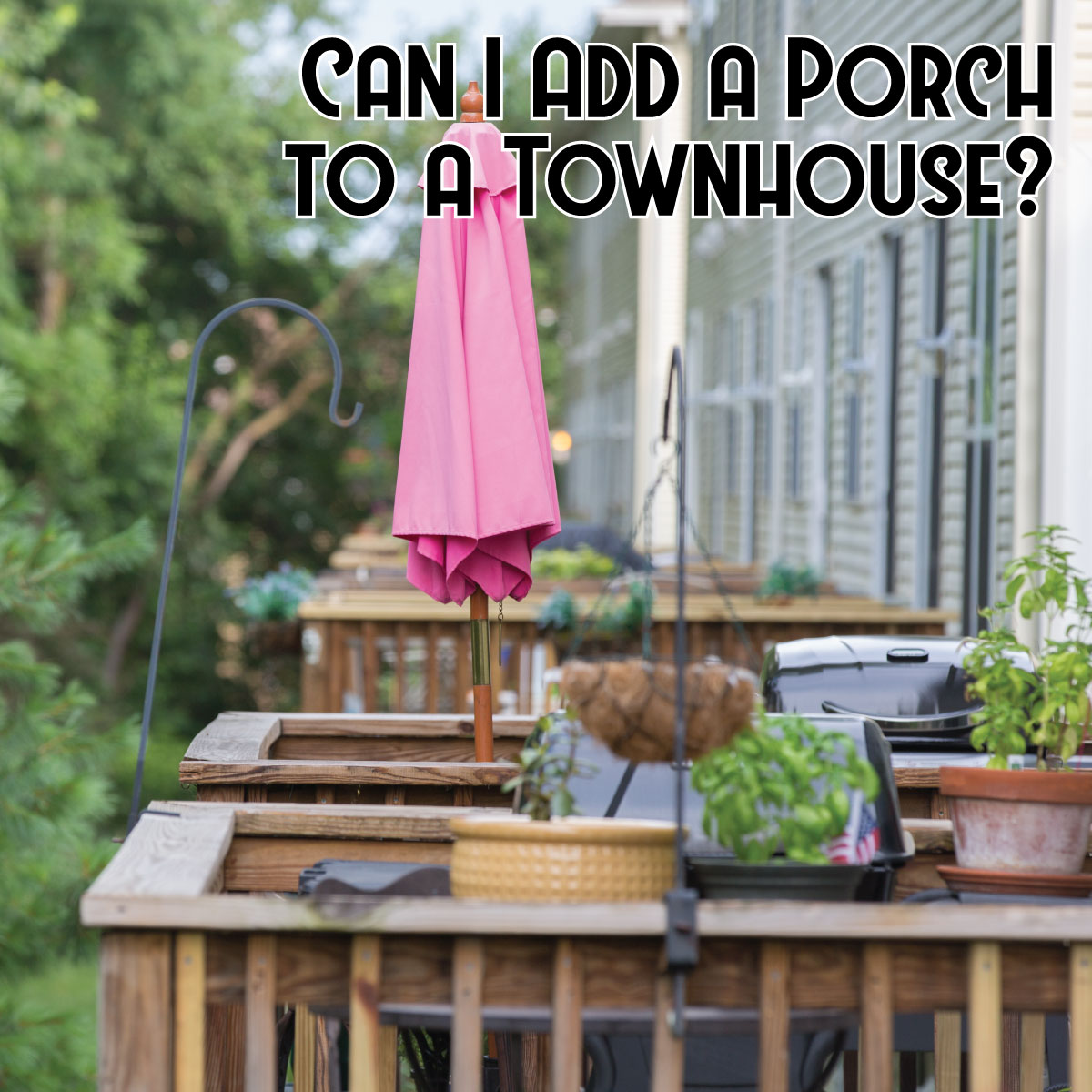 How Can I Add a Porch to a Townhouse ?
Where do you head when the weather is gorgeous and you want to enjoy a great book or conversation with some friends? While the backyard might be the most popular choice, if you don't have a porch it could be your only choice! If you own a townhome, the investment you make to add a porch to a townhouse can be more than worth it. Should you choose to upgrade and add a porch to your home?
The Benefits of Adding a Porch to an Existing Home
The house that you purchased might not be your dream house, but it can be made into it! Choosing to add a porch to a townhouse has plenty of benefits:
Adding Curb Appeal: A front porch helps to complete the exterior of the home, and it can give a big boost to your curb appeal. The porch is a focal point that adds dimension to the front of the home and stops it from seeming flat and boring. When you have a gorgeous porch, it is often the first place that the eyes will go when driving by your home.
Updating Your Home: If your home exterior seems dated, adding a porch in the architectural style of your choosing can completely transform its look. Whether you love the look of craftsman, Victorian or more contemporary styles, your porch style can instantly update the appearance of your home to match your aesthetic preferences.
Fixing Architectural Blemishes: Sometimes homes have glaring architectural blemishes that don't take away from the safety of the home, but that make it less stunning than it could be. The right porch can refocus the attention of someone driving by the home, help to fill in extra blank space and make a home more symmetrical.
Expand Your Living Area: The biggest benefit of choosing to add a porch to a townhouse is expanding your living area and giving you more space to enjoy the great outdoors! Porches are particularly wonderful if you don't have a deck or backyard space.
Can You Add a Porch to a Townhouse?
Yes! The team at Excel Fencing and Decking can help to design and install the perfect custom porch for your townhouse. If you want to update your exterior or distract from another part of your landscape you aren't a fan of, we will work hard to meet your needs.
Add a Porch to a Townhouse with Excel Fencing and Decking
At Excel Fencing and Decking, we are proud to meet the needs of every customer, whether they are searching for new residential wood fencing or repairs to aluminum decking. We are a full-service fencing and decking company working throughout the greater Baltimore area and carrying top brands including Trex, Azek, Shoreline Vinyl Systems and Wolf PVC Decking. To learn more about our services fill out a contact form or give us a call at (410) 803-9499.