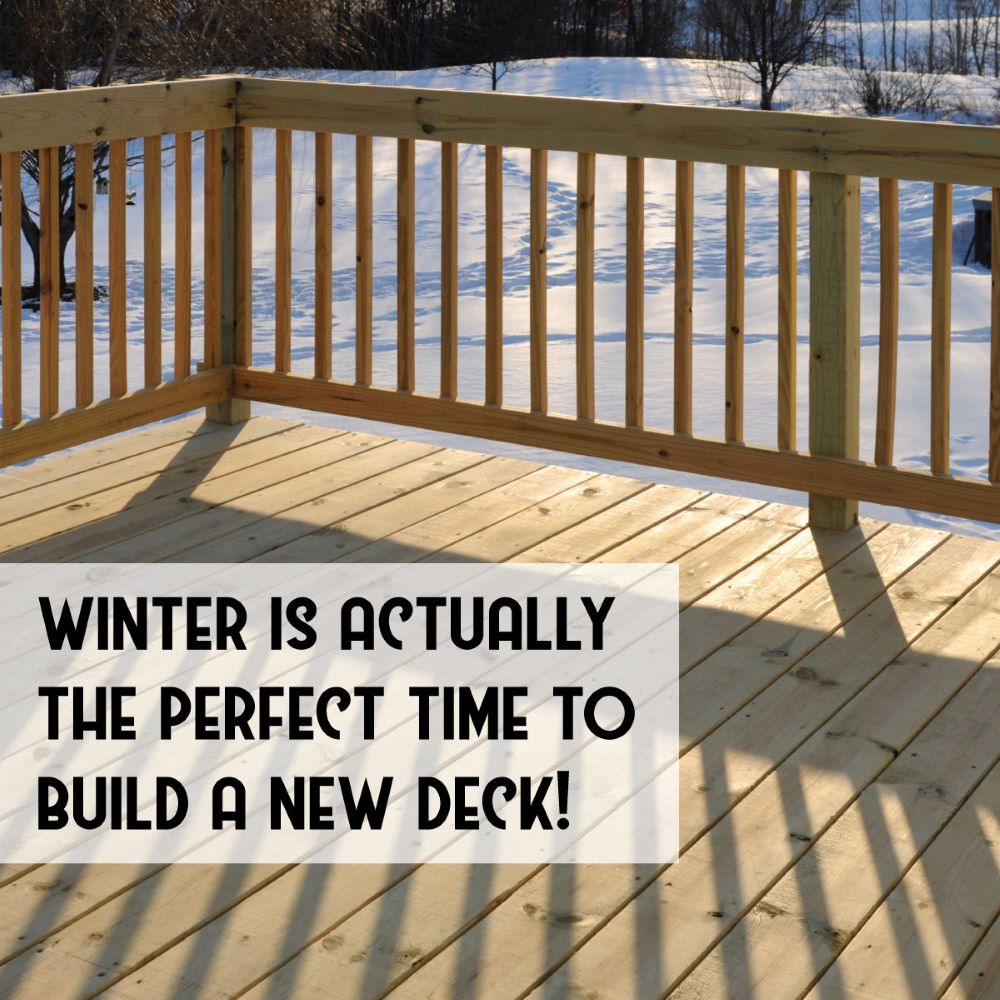 Building a Deck in the Winter
Waiting for the spring to start your new deck build? There's nothing wrong with that at all, but you might be surprised to learn that the winter is actually the perfect time to build a new deck! Here are four reasons to start building a deck in the Winter!
Less Risk of Landscaping Damage
When warmer weather is here to stay, that means a massive ground thawing will begin. A deck can be built on frozen ground or thawed ground, but there are a few advantages to building while the ground is still solid and stable. Mainly, you won't have to worry about any potential unnecessary landscaping damage taking place.  Waiting until late spring or even summer means that new growth could be disturbed as your deck is being constructed.
Building a Deck in the Winter Leaves Time for Building Permits
Regardless of any of the other specifications of your deck, you'll need to secure a building permit if it is supported by footings. Starting this process in the winter will buy you plenty of time in the event that there are any hiccups along the application process. Once it's approved, you'll be fully prepared to build and enjoy your new deck by spring!
You Can Actually Fully Enjoy Your New Investment
April will be here in just a hand full of weeks, and the sights, sounds and smells of spring will come along with it. Instead of building your deck during deck season, you should be enjoying it. If you start that process soon, you'll be able to do just that!
Winter is the Perfect Time to Stain
Do you want to build a wood deck this year?  If you build it early on in the year, you can follow it up right away with staining. Due to the dryer air, winter is actually a great time of year to stain. Once the humidity of summer arrives, your staining agent may have a more difficult time properly adhering to the wooden surface of your deck.
Building a Deck in the Winter with Excel Fencing and Decking
At Excel Fencing and Decking, we are proud to meet the needs of every customer, whether they are searching for new residential wood fencing or repairs to aluminum decking. We are a full-service fencing and decking company working throughout the greater Baltimore area and carrying top brands including Trex, Azek, Shoreline Vinyl Systems and Wolf PVC Decking. To learn more about our services, please contact us at (410) 803-9499.