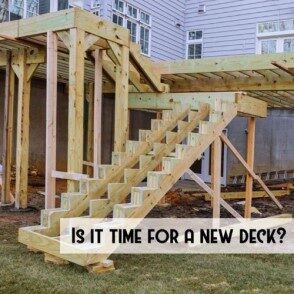 4 Ways to Know it is Time to Build a New Deck
If you've had a deck for many years, you may start to notice signs of wear over time. How can you tell if it is the right time to build a new deck, replace your deck, or if a simple repair will take care of all your needs?
Assess the Material of Your Current Deck
There are a few different types of materials your deck could be made of, and they all wear slightly differently. If you currently have a wooden deck, be sure to inspect it for warping or insect damage thoroughly. Both of these are common symptoms that it's time for a replacement. If you have had a composite deck for many years, fading can be a giveaway that it's time to upgrade and rebuild your deck.
Observe Joist Condition
Deck posts can generally be repaired if needed, but if your joists show signs of damage, it will probably be best to start fresh with a new deck altogether. This is because we often have to tear up a portion of the deck even to access the joist for repair in the first place. Joist damage usually starts to occur because of old age or insects/ pests.
Test Railings
Your guests will naturally congregate to your railings to observe your yard scenery, so be sure that they are sturdy enough to hold them up! If you've noticed your railings are starting to feel wobbly, this may be a symptom that other critical parts of the structure are beginning to weaken as well.
Time to Build a New Deck … Ask the Pros!
If you are struggling to decipher whether it's time for a new deck, give us a call!  We can work with you to determine if it would be more cost-effective to repair parts of your deck or if it would be safest to start fresh with a brand-new solution.
Create the Perfect Deck Experience with Excel Fencing and Decking
At Excel Fencing and Decking, we are proud to meet every customer's needs, whether they are searching for new residential wood fencing or repairs to aluminum decking. We are a full-service fencing and decking company working throughout the greater Baltimore area and carrying top brands including Trex, Azek, Shoreline Vinyl Systems and Wolf PVC Decking. To learn more about our services, please contact us at (410) 803-9499.