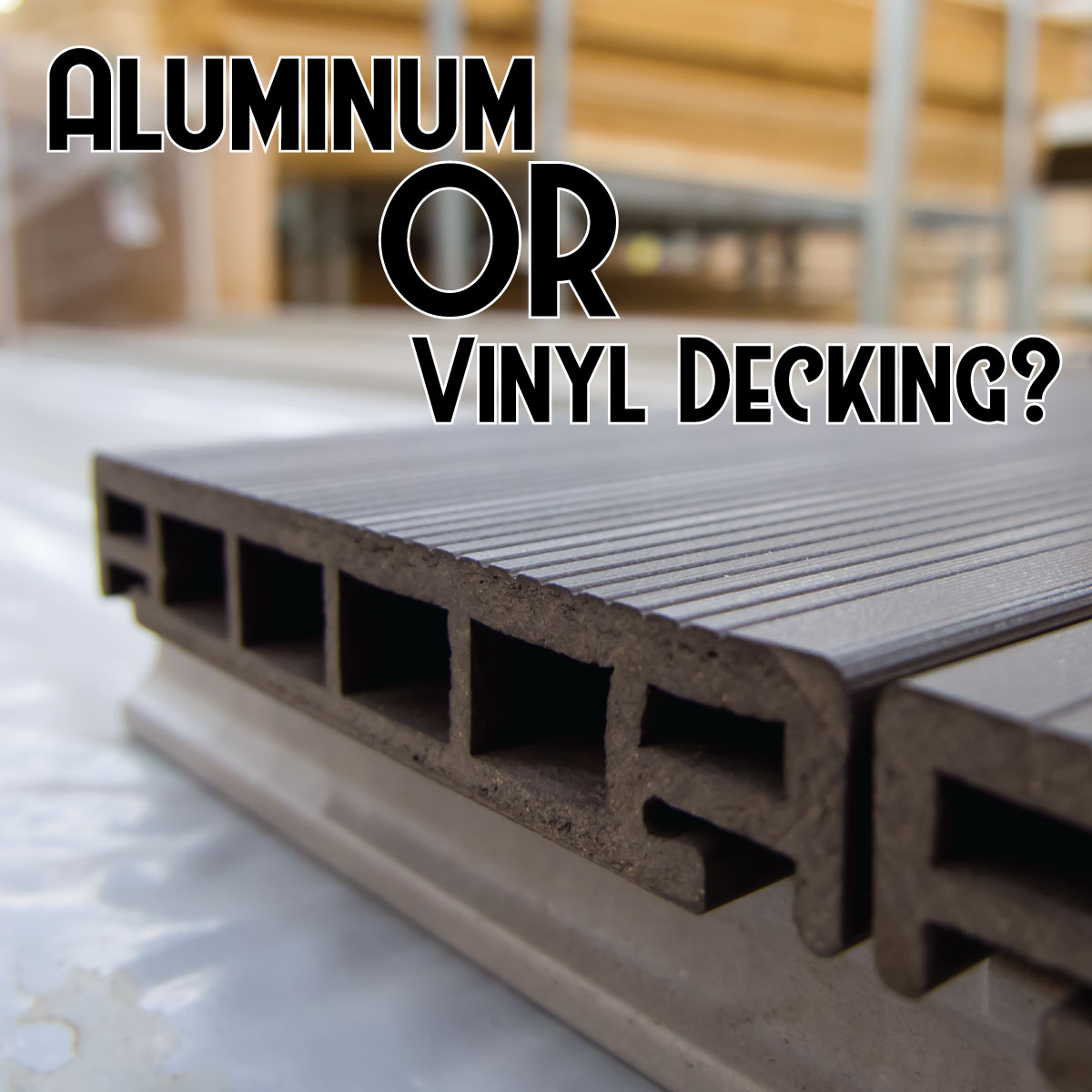 Aluminum or Vinyl Decking
There are several factors you want to consider when contemplating choosing aluminum or vinyl decking. The good news is that they are both very durable solutions that will stand up to the weather. So, let's get to it and breakdown the comparison factors between these two options.
Cost of Material
Unlike vinyl, aluminum pricing is extremely consistent. Before delivery, you are probably looking at a price around $12-$15 per square foot. When considering the value of that aluminum decking over time you have to factor in coating that you will applying to it. But we'll get to that part later.
Vinyl or composite decking can vary in price dramatically, from $3 to $12 per square foot. There will be other cost factors to consider though. In the end, the lifetime costs of a composite deck fall pretty well in line with the lifetime costs of an aluminum one.
Aluminum or Vinyl Decking Maintenance
Aluminum decking is almost always given a protective coat. They will never be ravaged by water the way a wooden deck is. The Aluminum deck does need to be kept clean though, to prevent mold from growing. Mold can grow on any surface in the right conditions.
Vinyl decking is resistant to cracking, mold, splinters, and warping. Just like Aluminum it fends off every issue that wood faces. Use a soft bristle brush and gentle soaps and you should be good.
How Long Will It Last – Aluminum vs Vinyl
You can expect an aluminum deck to carry a warranty of 20 years or more, easily. Many brands offer lifetime warranties. Different coatings have different impacts though. Make sure you read up on your aluminum deck coating warranties. Even with minimal care, an aluminum deck will last for decades.
Vinyl deck warranties typically max out at around 25 years. The warranties vary from brand to brand. Depending on their exact make-up, they are better or worse at protecting against different environmental hazards. Vinyl decking can start to fade over time.
Aluminum or Vinyl Deck Color Options
Aluminum obviously comes in fewer color choices. You can find it sometime in "mill finishes", which gives a very industrial look. The color options are typically solid color solutions as well.
Vinyl gives you more of a color variety. They especially have a wide range of tones within the spectrum of their colors. Some vinyl decking solutions look almost exactly like wood.
Time To Install The Deck
Installing an Aluminum deck is different than vinyl or wood for sure. Many feel that aluminum installation is more difficult than vinyl or wood, and professional installation is often recommended because of it. On the plus side, most aluminum decking options have water management solutions built in, unlike vinyl, which requires an addition.
Vinyl decking is heavier than wood, but it works similarly. If you are a DIY person, vinyl is going to be the more intuitive option for you.
Take all of these aluminum or vinyl decking factors into consideration when thinking about adding a new deck. And remember, for all your home improvement projects, including basement and bathroom renovations, outdoor living spaces, porches, sidewalks, driveway paving, windows, and much more…. call Excel Fencing & Decking at 410-803-9949.