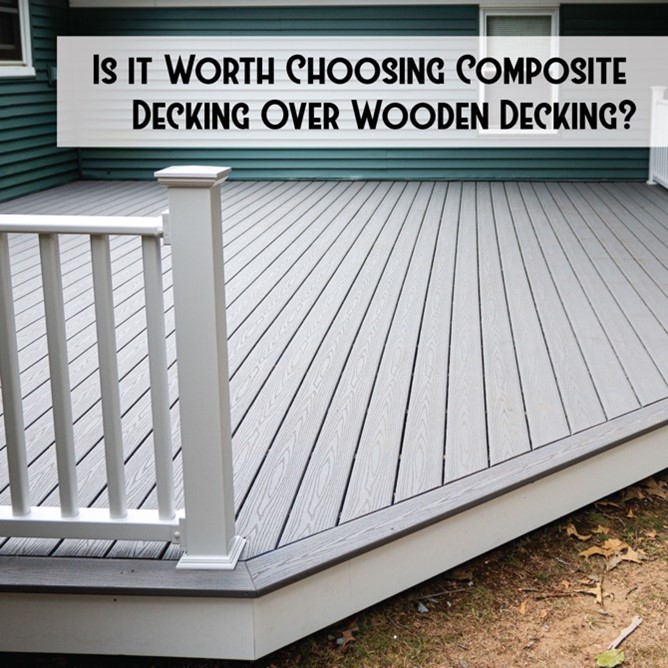 Is it Worth Choosing Composite Decking Over Wooden Decking?
As the weather starts to warm up, it's time to plan our spring backyard projects! Over the years, composite decking has continued to increase in popularity. At this point, is it even worth considering building a wooden deck this spring? What are the pros and cons of composite over wood decking?
The Case for Wood Decks
While composite decks are the newest decking material choice, there are still a few reasons why some homeowners have chosen to stick with wood. For starters, wood, specifically pressure-treated lumber, is by far the cheapest decking option available. If budget is a significant factor, then that will likely be the best solution for you. Some homeowners also simply prefer the classic look of a wooden deck over the modern appearance that composite decks offer.
The Case for Composite over Wood Decking
There is a hand full of advantages that come along with choosing a composite deck.
Durable and Low Maintenance
There is no such thing as a no-maintenance deck, but a composite deck is the closest you can get to it. There are several different kinds of plastic and wood that go into the making of composite decking. The result is a robust and durable plank that resembles wood but has much greater resilience facing the elements.
This strong resistance means that you shouldn't have to worry about yearly maintenance nearly as much as you would with a wooden deck. If you skip your annual pressure washing and sealing for your wooden deck, signs of deterioration will undoubtedly surface as a result.
Highly Customizable
Composite decking looks fake compared to real wood, right? Wrong! Wolf PVC, our composite decking material supplier, creates composite decking available in a wide variety of styles, colors and configurations. A large portion of their selection flawlessly mimics the look of natural wood. Check out some of our work to see for yourself!
Create the Perfect Deck Experience with Excel Fencing and Decking
At Excel Fencing and Decking, we are proud to meet every customer's needs, whether they are searching for new residential wood fencing or repairs to aluminum decking. We are a full-service fencing and decking company working throughout the greater Baltimore area and carrying top brands including Trex, Azek, Shoreline Vinyl Systems and Wolf PVC Decking. To learn more about our services, please contact us at (410) 803-9499.