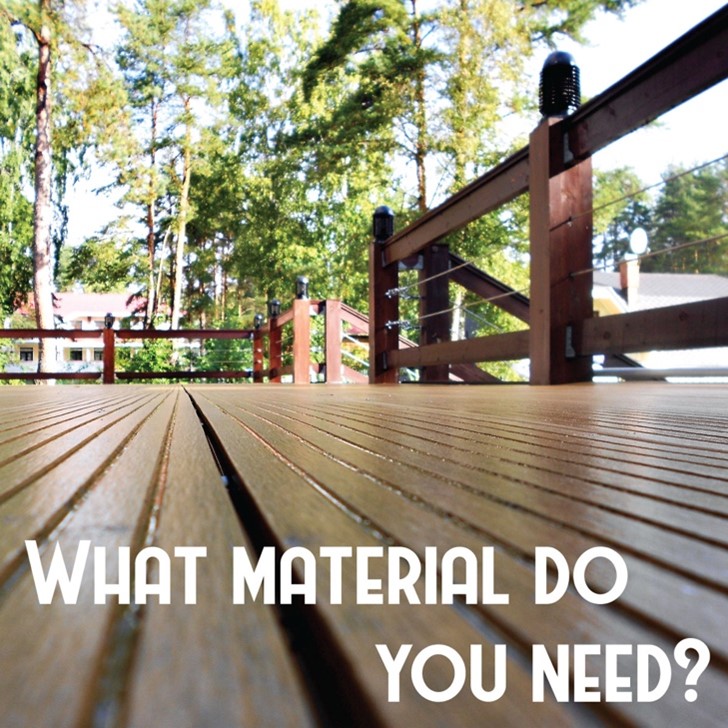 What Deck Materials Should I Choose?
A deck allows you and your family to enjoy the great outdoors and spend more time together. What is better than relishing in the bright summer sun and crisp fall breeze? Thinking about adding a deck for family bonding? One of the first steps in the process is choosing the right deck material for your landscape, budget, and maintenance goals. What deck materials are appropriate for your decking project?
Wood Decking
Wood is a classic choice of deck material. It offers an unparalleled look and plenty of flexibility in terms of design. Wood decking does require regular maintenance, including re-staining or re-sealing the deck. Also, pressure washing it annually and regularly inspecting it to ensure there is no cracking or warping. If you are interested in choosing a more exotic wood, you can also choose from cedar and redwood. Cedar, redwood and cypress are all naturally rot-resistant and can withstand salt spray even in coastal areas.
Many wood decks use pressure-treated wood. Which has been treated with innovative chemicals to prevent water from penetrating the surface and keep insects away. Pressure-treated wood decks that are properly maintained and sealed can last up to three decades. This is an amazing investment in a decking material!
Composite Deck Materials
Composite is a low-maintenance deck material. It is weather resistant and perfect for homeowners that want more longevity than wood. You will not need to worry about re-staining or re-painting your composite decking over time. Some homeowners find that it does not look exactly like wood. Designers are constantly coming up with new designs and textures to improve composite decking, but there is nothing quite like the real thing.
Overall, composite decking is strong, durable, and more resilient to weather than traditional wood decking. If you want a deck material that you don't need to think about other than enjoying it and doing minimal maintenance, composite is a great choice.
Our team is here to help you choose the perfect deck material for you, whether you know exactly what you want or can't decide between our many options.
The Perfect Deck Materials and Design with Excel Fencing and Decking
At Excel Fencing and Decking, we are proud to meet the needs of every customer, whether they are searching for privacy fencing or repairs to decking. We are a full-service fencing and decking company. Working around the greater Baltimore area and carrying top brands including Trex, Azek, Shoreline Vinyl Systems, and Wolf PVC Decking. To learn more about our services, give us a call at (410) 803-9499.