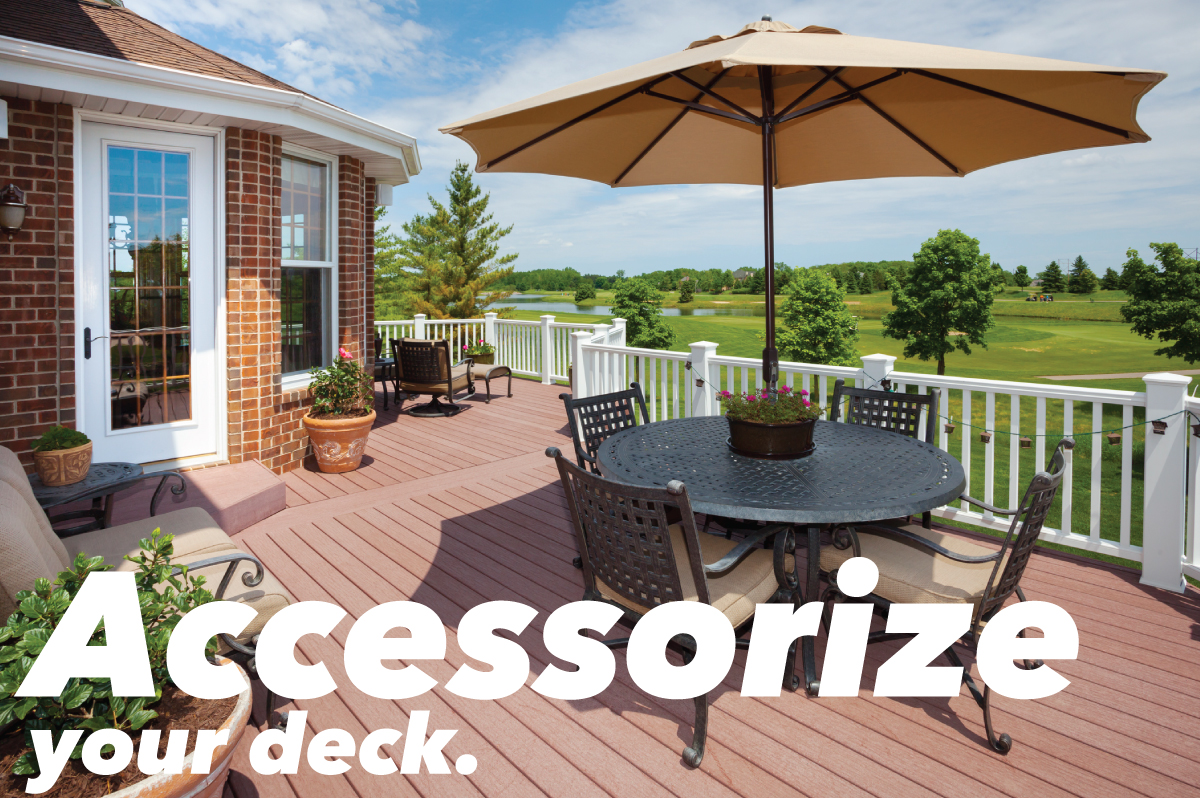 Deck Decorating Ideas
5 Tips for Accessorizing Your Deck
We still have several weeks before spring arrives and we can routinely go back to spending time on our decks whenever we please. In the meantime, let's check out some great deck decorating ideas you can use to spruce up your deck this year.
Pillows and Furniture
Choosing outdoor furniture that looks great and feels comfortable is an excellent way to enhance your deck experience. Once outfitted with enough seating for your guests, toss a handful of soft pillows on your furniture for added comfort. There are lots of pillows that are made of outdoor-proof fabrics, which can reduce fading and wear-and-tear. Consider local custom built furniture as well!
Deck Decorating Ideas with Flowers and Plants
Adding plants is another way to dress up your deck. Traditional flower pots are a classic choice to add style to your deck, but you can also go with hanging plants if your deck is covered or has an awning. If you're interested in growing food, you can even start a small herb garden on your deck!
Screening
Adding screening to your deck comes with a host of benefits. If you aren't attached to the view beyond your deck, screening can section it off from your view so you can focus on enjoying your cozy outdoor room. Alternatively, screening can also reduce any harsh sunlight you struggle with or create a better sense of privacy on your deck.
Rugs
Laying down rugs on your deck is the perfect way to gain style points and practicality. An outdoor rug can tie your whole color scheme together, provide extra comfort and help keep any dirt from being tracked into the house.
Lighting
If you like spending time on your deck after the sun sets, you should make sure you have a lighting system in place. This is especially true if your deck has stairs! The last thing you want is to have an accidental fall due to tripping on your poorly lit stairs.
Get More Deck Decorating Ideas from Excel Fencing & Decking
At Excel Fencing and Decking, we are proud to meet the needs of every customer, whether they are searching for new residential wood fencing or repairs to aluminum decking. We are a full-service fencing and decking company working throughout the greater Baltimore area and carrying top brands including Trex, Azek, Shoreline Vinyl Systems and Wolf PVC Decking. Reach out to Excel with any questions you may have regarding any fence, deck, or remodeling project. Call directly at 410-803-9499 or fill out the contact form and one of Excel's representatives will contact you promptly.