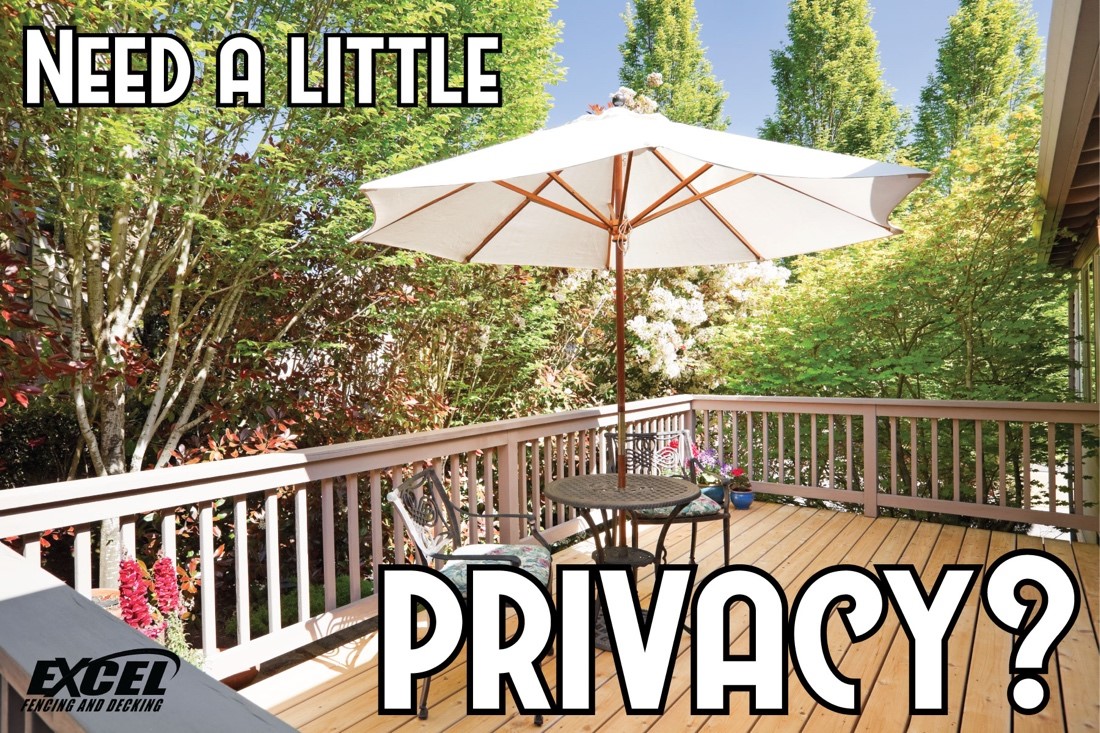 Deck Privacy:
Ways to Create Privacy on Your Deck
Deck Privacy is essential to outdoor enjoyment. During the spring, summer, and fall you love spending time outdoors in your yard, which you have carefully cared for to create your own personal sanctuary, but that also means that sometimes you feel like you're in a fishbowl. Or rather, you feel like your neighbors are watching everything you do.
You don't need to retreat indoors, it's your yard! Instead, you can make your outdoor living space more private with these helpful tips!
Deck Privacy Umbrella
Use a patio umbrella to help with privacy. We aren't talking about your traditional patio umbrellas here. Many modern patio umbrellas are all that you could need to create privacy on your deck. Some patio umbrellas are as large as 13 feet across. A patio umbrella is especially helpful if you live in a subdivision where large trees are few and far between and your neighbors' homes are 2 or more stories high.
Create a Living Wall for Deck Privacy
Sometimes your fence still doesn't quite cut it for providing enough privacy that's where having a living wall around the fringe of your deck can help! Having large flower planters and tall reeds don't just add to the atmosphere and make your deck more appealing, they can hide your deck from view from surrounding 2nd floor windows. Try filling those planters with coniferous trees and you will create a real living wall that adds greenery, atmosphere, and privacy.
Invest in the future
It may take a little time and won't be an immediate fix, but if you plan on living at your home for a little while you can cultivate your sanctuary by planting fast growing trees around the edges of your property. Some great fast-growing trees are Silver and Red Maple trees, which can grow more than a foot a year; or Eastern White Pine trees can grow almost as much as maples; and the hard to get Dawn Redwood can grow as fast as 2 feet per year. A local landscaping expert would be more knowledgeable about what plants grow the best in your area and which provide the most privacy.
Good Fences Make Good Neighbors & Deck Privacy
Consider bordering your outdoor living space with a wall on one or two sides. You don't need to put a wall up around your entire living space, but if you feel especially uncomfortable about the view from a direction or two, a well-placed wall can be aesthetically pleasing and functional for your privacy. There are so many options for how you can do this tastefully, box in a section of yard, add a lattice, weave vines through it… create a layered, beautiful, and private experience.
Entrenched Planters
Grounded flower planters in another way to frame your deck; you can also incorporate hanging baskets by building a beam-frame around your upper deck. It won't get you to 100% privacy, but it will add to your atmosphere while obstructing the view from the outside. Most importantly, it really enhances the environment and makes your deck a special place for you to enjoy.
Deck Privacy with a Pergola
If just framing your deck isn't enough, take your privacy to the next level with a full pergola. You can create an environment to grow beautiful vines, include a solid roof for protection from the elements as well as enhanced privacy, drapes to create a mood and privacy from the sides, and plenty of opportunities to incorporate more plants! Pergola's are great steps towards creating that complete, private, outdoor experience.
For more information contact Excel Fencing and Decking, Maryland's first choice for deck building, deck privacy, fence companies, fence and deck builders in Owings Mills, Baltimore, Harford County, & surrounding areas.