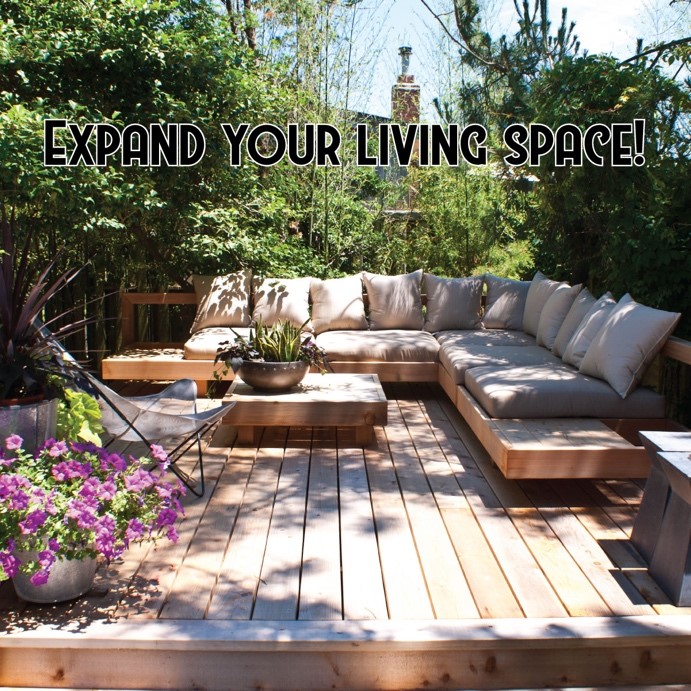 Extend Your Outdoor Living Spaces
Cut down on the mess and headache of hosting an indoor gathering and take your party outdoors. If you're cramped in terms of indoor square footage, what better way to expand than add to your outdoor living spaces.
You can start by sweeping and cleaning your space and then add some ambient lighting such as candles. You can paint or stain your wood features or even add a garden. You can add a simple herb garden in containers to personalize and add a flair to your area.
Delayed Gratification of Foliage
Greenery is a great way to brighten up your backyard. Plant directly in the ground or in pots to add color and freshness. Maybe you're even adventurous enough to plan a cutting garden to have fresh flowers throughout the warmer months.
Native wild grasses are also gaining in popularity. Depending on the variety they can add depth and height, with the added benefit of a privacy curtain.
Play Games
Basketball courts, horseshoe pits, and croquet fields are just a few ideas for family games in your backyard or on your property. You can find a wide selection of options at your local big box or sporting goods store like corn hole or ladder golf. When in doubt, resort to the basics: a bucket of chalk.
Brighten Your Backyard with Color
The right addition of color can change the entire appearance in your backyard. Some fun accessory options include throw pillows, outdoor carpeting, and pottery. One technique is to buy several small plants to save money and just create plant groups. Bird baths are also a fun way to incorporate nature in your layout.
Outdoor Curtains
Curtains on the sides of your front porch or deck are a trendy way to create privacy. Pre-made panels are all the rage, especially soft material that gives your area a tropical feel without spending much money.
Tabletops
Don't be afraid to add a personal touch to your tabletops. Experiment with a collection of plants, candles, plates, cups, and flatware. Many designers suggest the use of succulents to add greenery to your eating area. They also create a perfect focal point (Source: East Bay Times). Consider some custom built furniture as well!
Call Excel Fencing & Decking to begin the design process for your backyard deck. 410-803-9499.