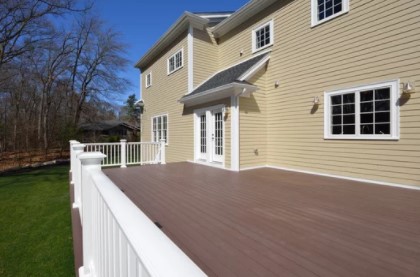 Pros and Cons of Composite Decking
As you think about adding a deck, you're probably picturing all of the fun activities you'll be able to enjoy with it.  From backyard barbecues to a lazy weekend day, it's easy to imagine.  However, you also need to think about other aspects of your new deck, such as maintenance and materials.  If you want to spend more of your time on the fun stuff, and less scrubbing or replacing your new outdoor area, then you need to consider composite decking. Here are the pros and cons of composite decking.
What is composite decking?
Introduced in the 1990s as an alternative to wood decking, this manmade material combines wood fiber, plastic, and a binding agent.  Typically, manufacturers use recycled materials for this compound, including shredded polyethylene (which comes from old shopping bags and milk jugs) and ground-up waste wood (from furniture factories and mills).  Originally, the looks and colors of composites were limited, but now, they come in a variety of finishes that can mimic the look of real wood.  Thus, you can choose the one that's right for you and extend the material to the railings, or beyond.
What are the pros of this type of decking?
Because it's a combination of both plastic and wood, composites are actually stronger than either material alone.  Moreover, you can choose your finishes upfront, which eliminates the need for more tedious tasks like power washing and staining.  Low maintenance in nature, composite decking is also much more durable, so you won't have to worry about the colors fading or boards warping/splintering in the long run.  The color might fade when exposed to the sun for the first few months, but then it will stop.  Fortunately, it won't turn that gray hue that most wooden decks inevitably become—unless you chose a gray finish, of course.
The plastic portion of composites further deters common pests like termites and ants, which extends the life of your new deck.  The fact that this option largely comes from recycled objected is also a big benefit.  The largest composite producer, Trex, recycles approximately 6 million pounds of plastic every year!  Thus, this option is much more environmentally friendly than any other currently in existence.
What are the cons?
Just because composites mimic the look of real wood, doesn't mean that they will actually fool your friends and neighbors.  If you look closely, or feel the boards, you'll know pretty much immediately that it's more plastic than wood.  It can also show stains (especially grease) and/or scuffs a little more than some of the other decking options, so you'll want to be careful while it's new.  In the summer, the darker finishes will hold more heat, so you'll need to be strategic about shade and shoe-wearing.
It's also a more expensive option upfront.  In comparison with a standard pine deck, one of the same size made from composite materials will cost more to install (usually around 30 percent).  Fortunately, many homeowners save enough money on replacements and treatments within the first 5 years to offset the additional expense.
Excel Fencing and Decking serves Baltimore County Maryland and the surrounding area. Contact the Deck and Fence experts for more information about the pros and cons of composite decking.