How to Choose the Right Wood for Your Deck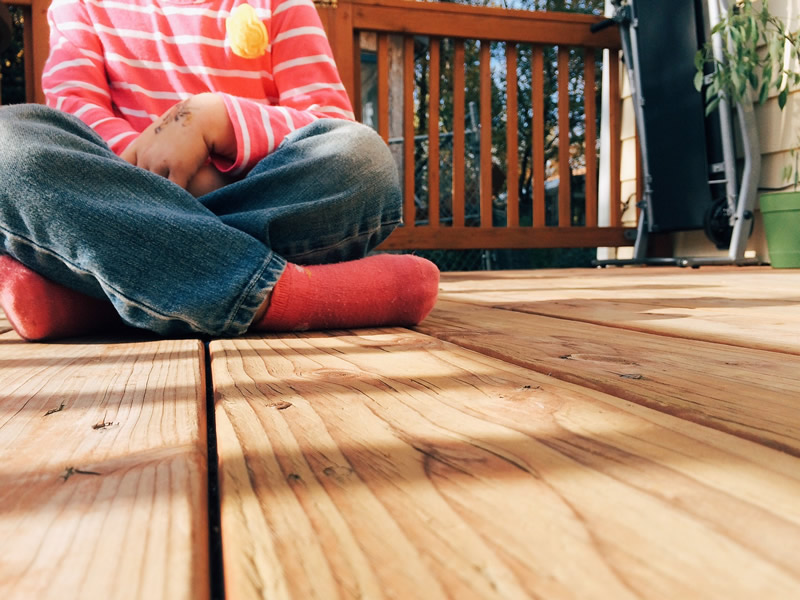 If outdoor living was noticeably absent from your summer, it might be time to build a deck. Adding a deck—with the right wood, of course–opens your home to a world of outdoor entertainment. From family dinners to backyard barbecues. Even your morning cup of coffee is taken to a whole new level when enjoyed on decking in the cool morning air. Since spring is typically our deck-building season, fall is the perfect time to start your deck-building plans. If you favor a natural, rustic look with a strong, durable design, then a wood deck is probably for you. But what kind of wood should you use? Learn more about the three most popular options today.
Pressure-Treated Wood
As perhaps the most popular wood deck material, pressure-treated (PT) lumber provides homeowners with several advantages. Unmatched in affordability, PT wood is chemically treated to provide resistance against insect infestations, fungal growth, and rot. Also noted for its durability, it is regularly used for frames and support systems. Longevity is another advantage, with some brands even carrying lifetime warranties.
Still, you'll need to perform regular maintenance if you go with pressure-treated wood. Power washing is advised at least annually, and staining should be done every two or three years. Although this type of wood is often recognized for its economic advantages, be wary of cheaper brands. Some companies sell pressure-treated lumber that contains moisture, which leads to twisting or shrinking over time. You'll also have to be extra cautious about splinters.  Because of the chemicals used during treatment, even small splinters may cause infections.  So, it may not be the right wood for homes with pets and small children.
Cedar and Redwood Decking
If you want a classic, natural look for your wood deck, softwoods like cedar and redwood might be ideal. Redwood offers a robust, dark red color, while cedar's hue is generally somewhere between a light brown and salmon pink. Both are naturally resistant to moisture, rot, and insects. Plus, they hold up well in a wide variety of weather, which is important for freeze-thaw climates like Maryland. These softwoods require less maintenance than PT lumber, although regular staining will help the wood last longer.
There is a price for this greater protection against cracking and warping. Since both of these options are more expensive than pressure-treated wood.  Redwood is usually more costly than cedar, though it makes up for that with its superior strength. In terms of durability, both are evenly matched with lifespans of approximately 15 to 20 years. Splintering is still a common problem, no matter which option you choose. Just be extra careful when moving heavy furniture, as softwoods are prone to scratches and dents.
Tropical Hardwoods:  The Exotic Option
When it comes to strength and durability, tropical hardwoods have no peers. Considered by many to be the best deck woods, these materials are so tough that you can't hammer a nail directly into them. Even burning the wood is difficult! Overall, these options offer a beautiful appearance, little-to-no maintenance, and natural insect-, mildew-, and rot-resistance. To narrow your choices down the right wood, you may have to do some research.  Tigerwood, mahogany, and cumaru are popular options, while ipe was used for the Atlantic City and Coney Island boardwalks.
The downfall with these woods, though, is the price. They are quite expensive, costing three times (or more) what you would pay for other lumber. If sustainability and responsible harvesting are also concerns for you, you may want to look elsewhere.  Because of its high density, the wood is incredibly heavy, making it inaccessible for most DIY projects.
Whatever option you decide is the right wood, Excel Fencing & Decking can work with it. We have over 30 years of experience with professional deck installation in Maryland, and we're eager to build the wood deck of your dreams. You'll be astounded at our low, competitive prices, and it all starts with a free quote! No job is complete until you are 100% satisfied, so give us a call today!