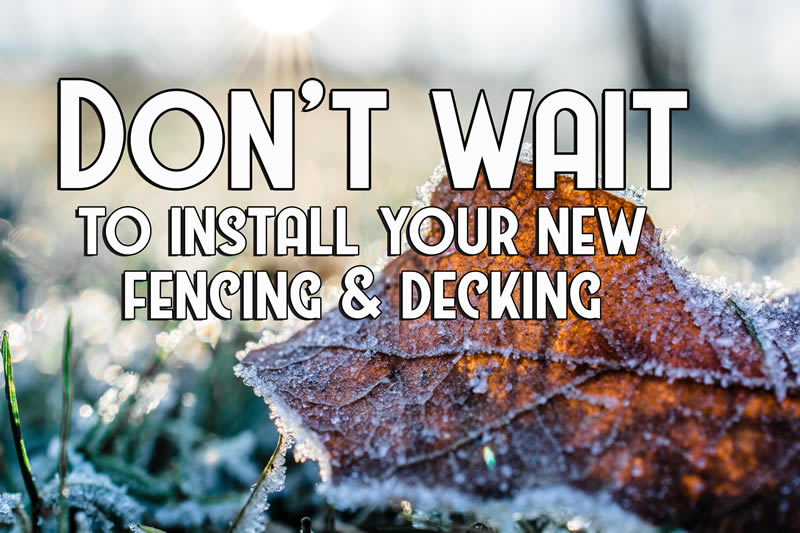 Why Fall is the Perfect Time to Install a New Deck 
Why not?  Fall in Maryland is pretty perfect on its own.  But when you install a new deck to take advantage of the colorful views, you can't go wrong.  If you want to transform your backyard with one key project, then call the experts at Excel Fencing & Decking.  We can manage your installation from start to finish and give you the deck of your dreams.  Honestly, we prefer to install exterior features, like decks, during this time of year.  Mainly because…
Fall Weather is Beautiful
From an objective standpoint.  Whether or not you're excited about the cooler temperatures ahead, you have to appreciate the conditions in our area lately.  It's not too hot, or too cold, and humidity has been fairly low.  Which is great for deck installation!  With mild conditions, and fewer rainy days, we can squeeze more working days into a shorter installation period.  Meaning you can start enjoying your decking sooner!  Plus, we get a more pleasant work environment during the process.
For wood decks, humidity plays a huge role.  If there's too much moisture, then the planks will swell and shift, making it difficult to install a uniform surface.  Pressure-treated wood is especially difficult to work with when humidity's high.  So, why not take advantage of these perfect conditions while they last?
You Can Avoid the Busy Season
Most people don't really think about installing a new deck in fall.  Or if they do, they decide to put it off until the following spring/summer when temperatures warm back up.  The logic is sound, but it makes for an incredibly busy season in the deck installation world.  Save yourself the hassle of scheduling your project at the same time as everyone else.  Then, you'll have more options for installers, even as your chosen design team gives your plans the attention they deserve.  By starting now, you can still enjoy your new deck before the end of the year!
There's No Time Limit to Enjoy Your Deck
Just because fall has arrived doesn't mean deck entertaining is over.  Depending on how you decorate, you can still use this outdoor space year-round.  Set up a table and enjoy your morning coffee surrounded by all the colors of autumn.  Add a firepit to create a toasty focal point for your weekend gatherings.  You can even incorporate a hot tub to warm up your decking well into winter.  The possibilities are endless once you have a new deck!
Let us handle the installation while you decide on decorations.  The sooner we start, the sooner you can enjoy your decking this fall.  If you have any questions/concerns about your timeline, don't hesitate to contact us!