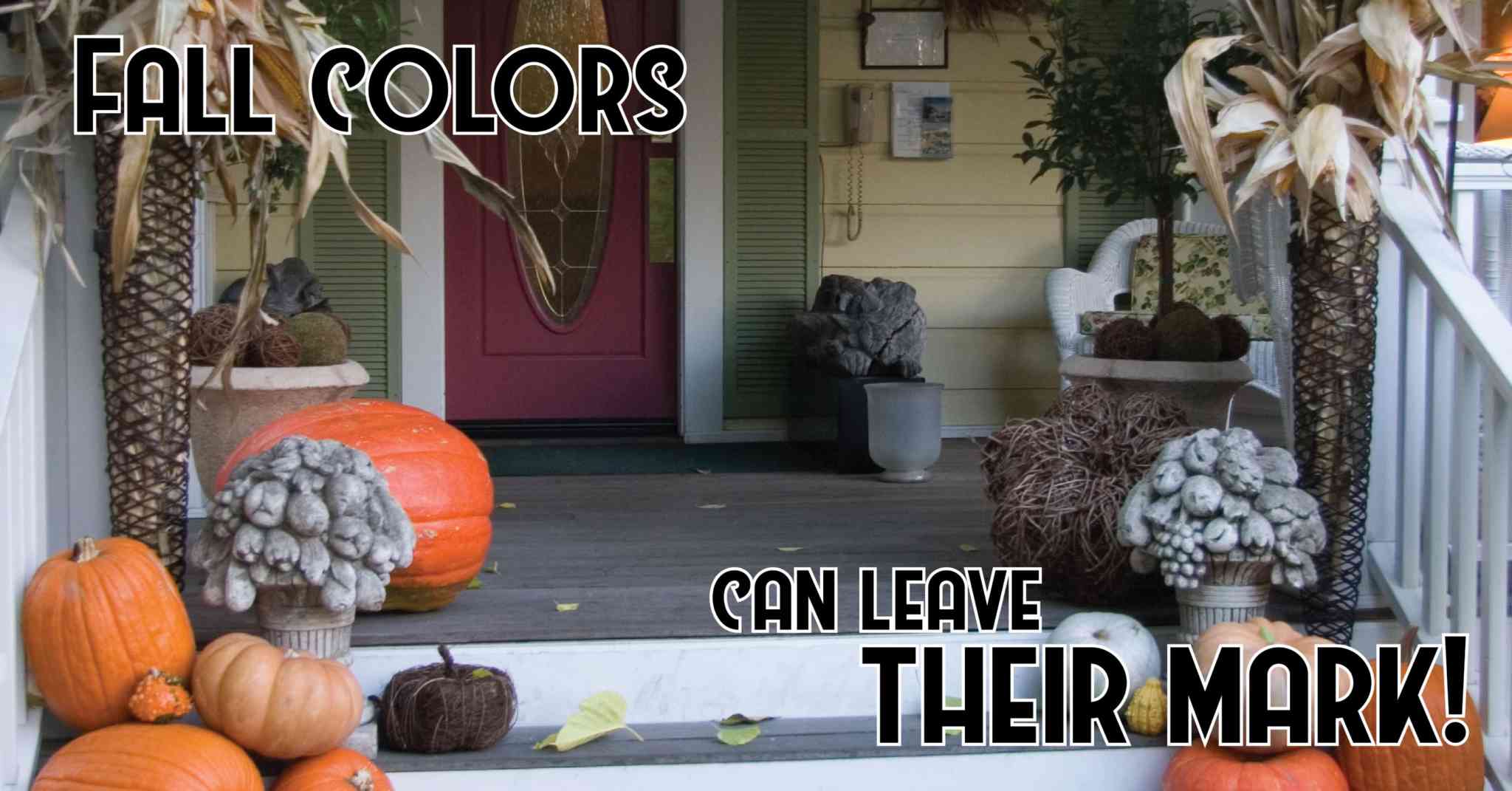 Pumpkins, Leaves, & Other Seasonal Stains
As you decorate your home for fall, protect your exterior from seasonal stains.  Some of the best live decorations, like colorful leaves, pumpkins, and pinecones, can harm outdoor surfaces.  Leaving mold, mildew, and other markings behind long after you take them down.  At Excel Fencing & Decking, we're not just here to help with installation.  We also want to give you tips to protect your investment(s), from your wood deck to your concrete pathways and everywhere in between.
Keep Your Fencing Clear
Not that we're against fence decorations.  You just have to be a little more careful about how you enhance this exterior element for fall.  Many people like to add live garlands and/or lights around the perimeter, using fence posts to bear the weight.  But no matter what type of fence you have—whether it's wooden, vinyl, aluminum, or other—most designs aren't made to withstand a lot of extra pressure.  So, by adding layer upon layer of decorations, you could be harming the structural integrity of your fence.
Additionally, your fall flourishes may leave unsightly stains behind.  Pine cones are pretty, but the sap they leave behind will take some serious scrubbing to remove.  Leaves and other live materials can cause mold and mildew to build up—especially if we have a wet autumn.  Not to mention, they provide they provide the perfect cover for insects seeking shelter from cooler temperatures.  Protect your fence this fall by inspecting it regularly for potential problems.  You should also seal and/or power wash its surface before (and possibly after) hanging seasonal decorations.
Protect Your Wood Decking from Pumpkins
Yes, you read that correctly.  We love pumpkins as much as the next person, but we've also seen the damage they can leave behind on decks.  If you plan on displaying a variety of pumpkins, gourds, and other fall produce, we recommend putting a protective layer down first.  Consider using a plastic or sturdy fabric tablecloth that carries all the colors of autumn, rather than placing your live decorations directly on your deck.  You can also arrange produce on a bench or in crates for a more elaborate display that serves a dual purpose!
These elements won't stain exterior surfaces right away.  But after a few weeks outside, they can rot, encouraging mold and mildew.  If you notice dark spots under your pumpkins and gourds, make sure you move it right away and clean the affected area with these bleach alternatives. Composite decking is more resistant to seasonal stains like this, but you'll still need to wash it after you remove your fall decorations.
Concrete & Leaves Don't Mix
Strange as that sounds, the same compound that causes leaves to change color can stain concrete pathways and sidewalks.  Because concrete is porous, it naturally absorbs the tannins decaying leaves release.  You can prevent this common problem by stay on top of leaf removal this season.  But, if you miss a few, don't panic.  With the right cleaner, you can have your concrete surfaces looking new again.
Whereas bleach is harmful to wood, it's actually the perfect ingredient for removing stains on concrete.  Most experts recommend a versatile cleaning product, like Oxiclean, to tackle this particular problem.  You may still have to do some scrubbing, but it's better than looking at leaf stains all season long!
Hopefully, you won't need to use too many of these tips this fall.  Just know that the experts at Excel Fencing & Decking are always on your side.  Whether you need help installing outdoor features or maintaining them, we hope to be your local resource.  Have a great, seasonal-stain-free autumn!