Closing / Winterizing a Pool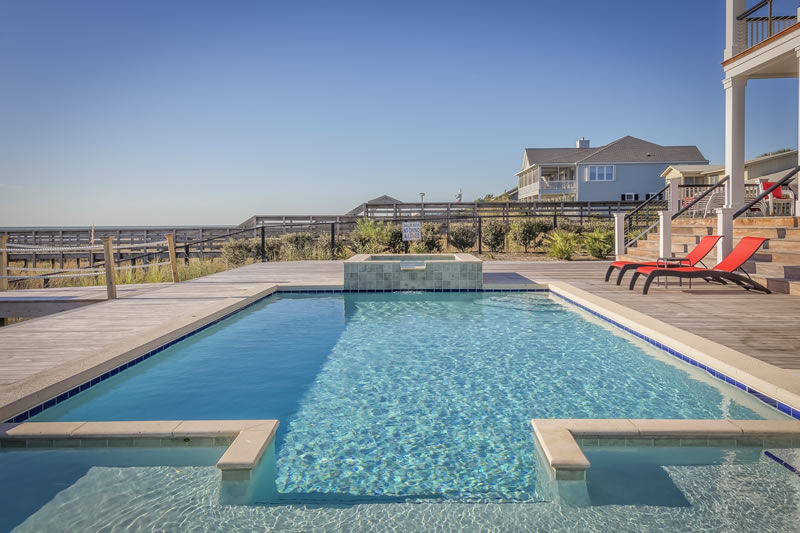 Summer's official end is less than a week away, and cool temperatures are already coming. If you haven't thought about it yet, it's time to start figuring out when and how to close your pool for winter. After all, a swimming pool that is not properly treated and covered for the season may look like more of a cesspool come spring, that's why winterizing a pool is essential. Here's how to protect your pool and ensure a smooth opening next year:
It's All About Timing
Depending upon where you live in Maryland, the leaves will start changing colors—and dropping—in a matter of days or weeks. Ideally, your pool will be closed before autumn's falling leaves create additional clean-up. However, it's best to wait until the water temperature is consistently under 65 degrees to reduce the risk of algae growth.
Water Level and Balance
In areas where temperatures frequently drop below freezing (like Maryland in winter), you should set your water level to four to six inches beneath the tile line or skimmer. Then, balance the water using a home testing kit. Alkalinity should be in the range of 80 to 150 ppm, with pH between 7.2 and 7.6, and calcium hardness from 175 to 275 ppm. If your pool's current measurements are way off, invest in additional chemicals or professional services to bring it back within the desired range.
A Shocking Step
Shocking the pool kills bacteria and removes other contaminants that cause damage during winter. Follow the manufacturer's guidelines for proper procedures, but try to perform this step a few days before closing the pool. This provides ample opportunity for the water to circulate and evenly distribute the product.
Clean and Vacuum
Don't assume that chemicals alone will clean your pool.  To truly protect your investment, be prepared to put a little elbow grease into it.  Start by thoroughly cleaning the walls with a pool brush. Next, vacuum the floor and clean all skimmer and pump baskets. Use the pool skimmer to eliminate any floating debris before finishing winterizing a pool.
Pump It Up and Let It Drain
Add algaecide to the water to prevent algae blooms, then allow the pump to run for at least 24 hours. Follow up by backwashing the filter and cleansing the filter cleaner. To prevent freezing and bursting pipes throughout the colder seasons ahead, you'll need to remove all plugs before draining the pool filter, pump, and heater.  As an extra precaution, add antifreeze. This also is a good time to remove and clean filter cartridges and DE grids. Don't forget to store pumps, hoses, and other equipment indoors for the winter!
Put on Your Pool Cover
Once you have removed ladders and other accessories, it's time to install the pool cover. Make sure there are no gaps where leaves or other debris could enter. A tight fit is essential, so use cover clips to keep it secured. For above-ground pools, an air pillow should be used to account for the expansion caused by ice.
Prepare for the Future
Don't let the end of pool season get you down. Instead, think about all the fun you'll have next summer! Plus, you've got plenty of time now to consider potential upgrades to your pool area. Pool fences are great additions for providing both safety and privacy. Installing a pool deck or extending a patio will increase your outdoor entertainment space. A decorative walkway cuts down on dirt and debris entering the pool. While adding a pergola or awning provides shade on sunny days, and installing an in-pool bar takes pool parties to a whole new level.
Excel Fencing & Decking is here to help with all your pool additions. Give us a call today to discuss any upgrades you have in mind. Although we can't offer hands-on help when closing your pool for winter, we'll have you set up with an amazing new poolside before the start of next year's swim season!